Irish Cream Mini Cheesecakes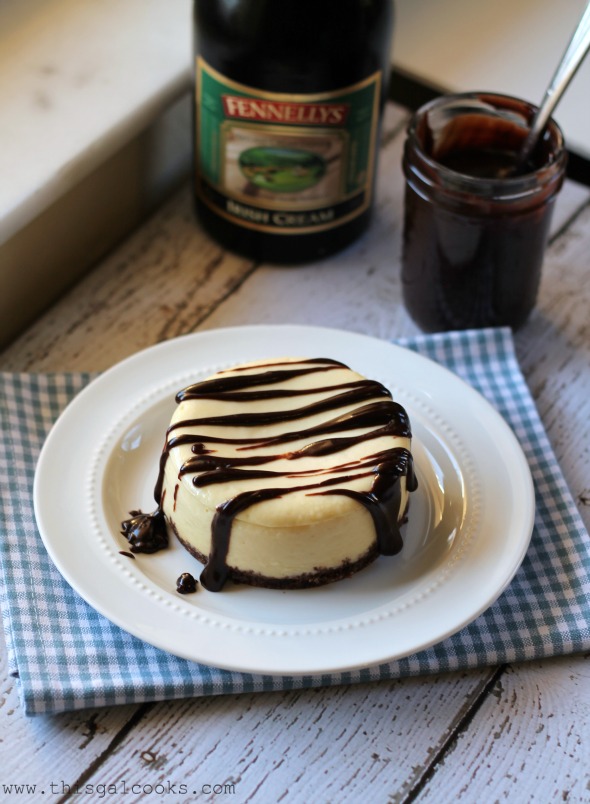 Irish Cream Mini Cheesecakes
Good morning and welcome to the Irish Cream Spiked! Recipe Challenge reveal day. Carrie and I cannot wait to see what you created with Irish Cream!  Carrie posted her recipe on Saturday. You don't want to miss her Irish Coffee French Toast Casserole recipe.
What did I decide to make? Well, if you read the title of this post, then you already know. But just in case you missed the title of the post, I'll tell ya right here..I made Irish Cream Mini Cheesecakes with an Irish Cream Chocolate Sauce! These cheesecakes are PERFECT for St. Patrick's Day. Beacuse I-R-I-S-H C-R-E-A-M!
These cheesecakes aren't the muffin size mini cheesecakes. I was actually able to find a 3 pack of 4 inch spring-form pans at Target so I snagged those them right on up because they were perfect for my recipe and I had wanted to buy some of them for a while. I made three 4 inch mini cheesecakes and had enough batter left to make 3 muffin sized cheesecakes. This recipe would make 4 of the 4 inch cakes but unfortunately, I only had 3 pans. I hope you enjoy this recipe!

Irish Cream Mini Cheesecakes
Author: This Gal Cooks
Recipe type: dessert
Serves: 3-6 servings
Ingredients
1 C graham cracker crumbs
2 tbsp cocoa powder
3 tbsp melted butter
3 tbsp white sugar
3 eggs room temp
3 8oz packages of cream cheese, softened
¼ C Irish Cream
¼ C sour cream
¾ C white sugar
¼ tsp vanilla
For the chocolate sauce
¾ C semi sweet chocolate chips
½ C Irish cream
Instructions
To make the crust, combine the graham crackers, cocoa powder, melted butter and 3 tbsp of white sugar. Press into the spring form pans (and muffin cups, if you have leftover batter).
To make the filling, beat together the cream cheese and ¾ C sugar. Add the vanilla and beat in the eggs, one at a time. Then beat in the sour cream and mix in the Irish cream.
Pour the filling into the spring form pans (and muffin pans, if you have leftovers) and smooth the top with the bottom of a spoon.
Bake at 300 for 40-45 minutes.
Meanwhile, make the chocolate sauce. In a sauce pan, bring ½ C Irish Cream to a boil. Add the chocolate chips and whisk together until melted and smooth. This will be a thick sauce.
All the cheesecakes to cool on a wire rack and then refrigerate overnight before serving.
Notes
You can serve 3 full cheesecakes to 3 people or halve them to serve to 6 people. You could also make these into appetizers by cutting each cheesecake into small wedges.
Nutrition Information
Serving size: 1 cheesecake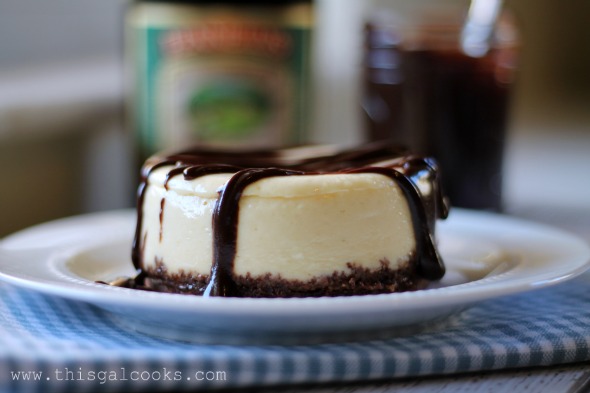 RELATED POSTS for St. Patrick's Day
Because a sinfully delicious cheesecake calls for balance – 17 Healthy Green Recipes for St. Patrick's Day