Simple Spinach and Sausage Pasta
If you love simple recipes, raise your hand! Today I am sharing a super simple pasta recipe with you. This Simple Spinach and Sausage Pasta recipe is pretty versatile so if you don't have the same meat or vegetables that I used, you can substitute them with something you do have. I do recommend using a green vegetable such as zucchini, broccoli or asparagus in this pasta recipe.  Any any type of meat will work – some ideas for meats – ground sausage, ground beef, shredded chicken. Make the meal your own – that's what I did.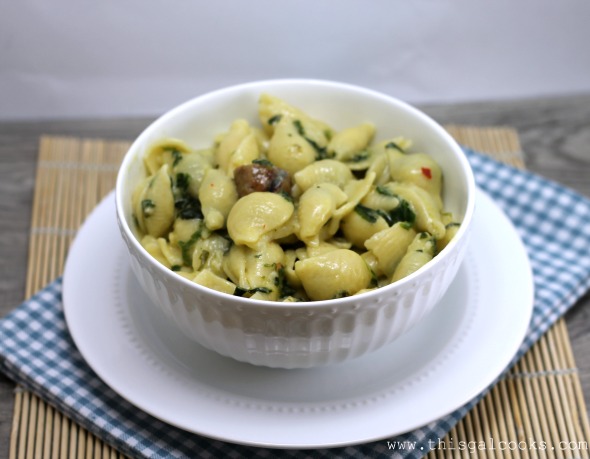 You see, I just received the latest edition of Food Network Magazine (April 2013) and highlighted on the cover is a fantastic looking pasta recipe. I didn't have the turkey sausage or broccoli called for in the recipe so I substituted spinach and some leftover beer brats in place of those items. This recipe only took twenty minutes to prepare, making it the perfect busy weeknight meal. I hope you enjoy this recipe!
Simple Spinach & Sausage Pasta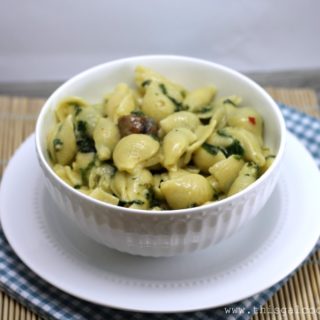 Recipe: Simple Spinach & Sausage Pasta
Yield: 6

Prep Time: 10 minutes

Cook Time: 10 minutes

Total Time: 20 minutes
Ingredients
2 cooked beer brats, sliced
3/4 C frozen spinach, thawed, rinsed and drained
1/2 C Parmesan cheese, grated
3/4 tsp crushed red pepper flakes
4 cloves of garlic, minced
3 tbsp olive oil
1 egg
1/2 tsp salt plus more to taste
2 -3 tbsp all-purpose flour
1 tbsp white wine
2 tbsp whipping cream
10 oz shell pasta, cooked tender
1 C of the pasta water
Instructions
Cook the pasta. Bring a large pot of water to a boil. Add the pasta and cook until desired tenderness is reached. Before draining, reserve 1 C of the water from the pot.
Saute the garlic and spinach. In a large pot or large skillet, heat the the olive oil over medium heat. Add the garlic and spinach and saute until the spinach is wilted.
Prepare the pasta dish. Add the salt, crushed red pepper, pasta and sliced sausage to the spinach mixture. Mix well. Then whisk the egg and the pasta water together and then add to the pasta mixture. Sprinkle with flour and mix until the sauce starts to thicken. Once thickened, add the cream, parmesan cheese and white wine. Mix well and simmer until the sauce is thick and creamy, about 5 minutes.
If desired, add salt to taste.
Notes
Adapted from Food Network Magazine, April 2013