Cucumber noodles are like whoa.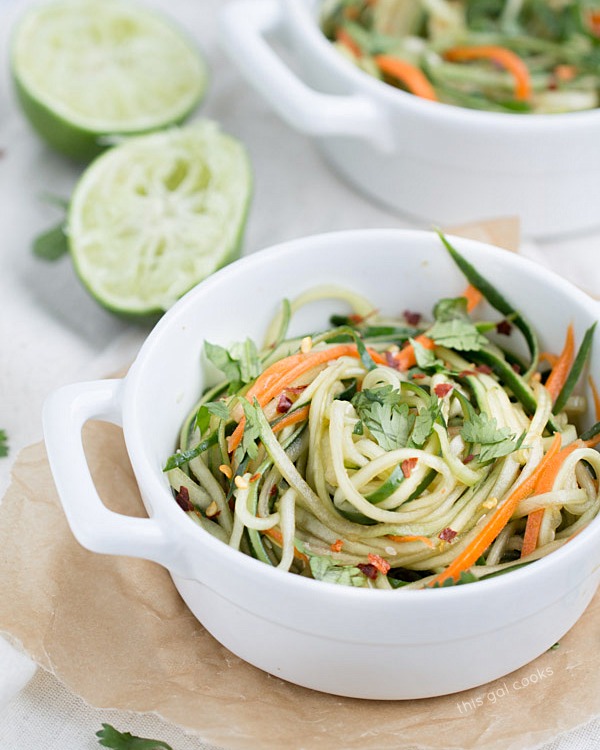 Seriously, they really are. If you've never had them,  you need to go try them like right now.
It's ok if you've never had the pleasure of enjoying cucumber noodles. I won't judge. How could I? It's not like I ever had them until about a week ago. Sometimes I question why I've waited so long in my life to try something. Well, if you want to call 32 years a long time, then we can say I waited a long time. But in reality, 32 years really isn't a long time. But I think it's a long time after I try certain foods for the first time.
WAIT? You've never had a cucumber before? Yes, silly. I've had a cucumber before. In fact, I've had it many times. Just not in noodle form.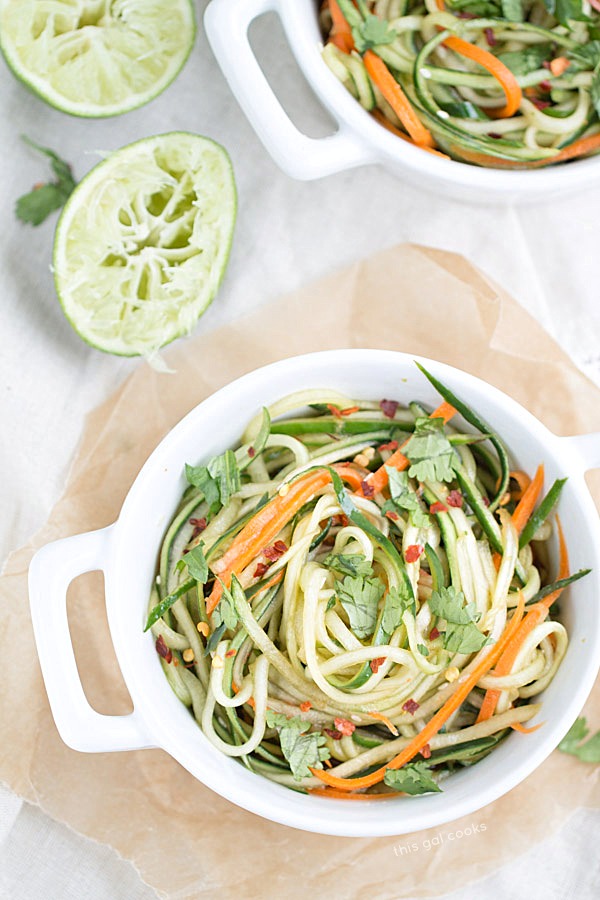 I decided to give cucumber noodles a try after seeing this Cucumber Noodles with Peanut Sauce recipe by Two Peas & Their Pod. The recipe mentioned that a julienne peeler could be used to make the noodles. YES! I have one of those, I exclaimed.
I decided to add carrot noodles to my recipe. Next time, I would leave them out. I didn't really dig the texture of the carrots. Nor did I enjoy the texture of the cucumber peel. All lessons learned that can be avoided on the next round of cucumber noodle making. Peel the cucumber, make this gal happy.
I totally have the weirdest issue with textures. But we won't even go there. That's a whole entire silly story in itself.
That's a lot of cucumber talk for a Tuesday morning, isn't it? Let's move along to the recipe now. Enjoy.

Cucumber Noodles + Spicy Sesame Soy Dressing
Ingredients
3 medium to large cucumbers
2 large carrot, peeled
For the dressing:
1 clove of garlic
Juice from half a lime
½ tbsp mirin
½ C soy sauce
1 tbsp sesame oil
1 tsp fresh grated ginger
1 - 2 tsp sriracha
1 tsp honey
Cilantro for garnish
Red pepper flakes for garnish
Instructions
Using a julienne peeler, slice the cucumbers. Do this by laying the cucumber and carrots down lengthwise and running the peeler across the top of the cucumbers and then carrots. For the cucumbers, once you get near the seeds, rotate it and repeat the process. Place the noodles in a bowl.
Make the dressing by whisking the remaining ingredients, minus the cilantro and red pepper flakes, together in a jar. You probably won't need to use all of the dressing but you can store it in the refrigerator in an air tight container for 7 days.
Toss the noodles in your desired amount of dressing and serve in bowls. Garnish with the cilantro and red pepper flakes.
Nutrition Information
Serving size:
1 C
Calories:
80
Fat:
3g
Carbohydrates:
10g
Protein:
3g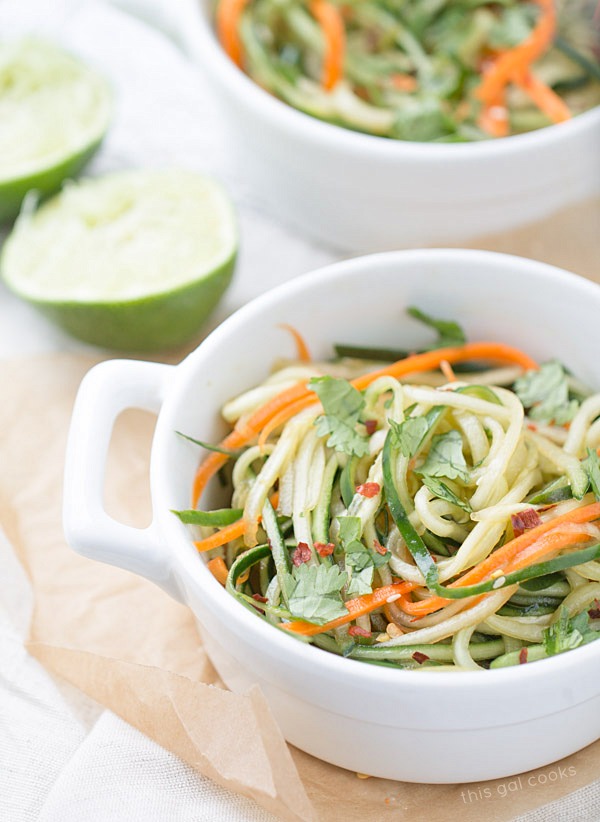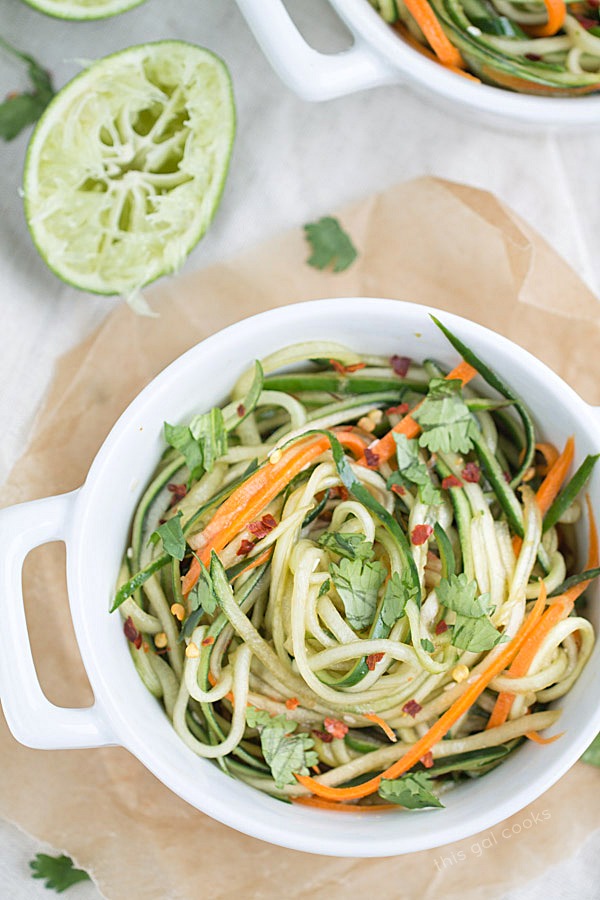 A Few More Recipes You May Enjoy