Greek Cucumber & Tomato Salad
This Greek Cucumber & Tomato Salad recipe is perfect for a hot Summer day. This salad is made with a homemade sauce and topped with kalamata olives and feta.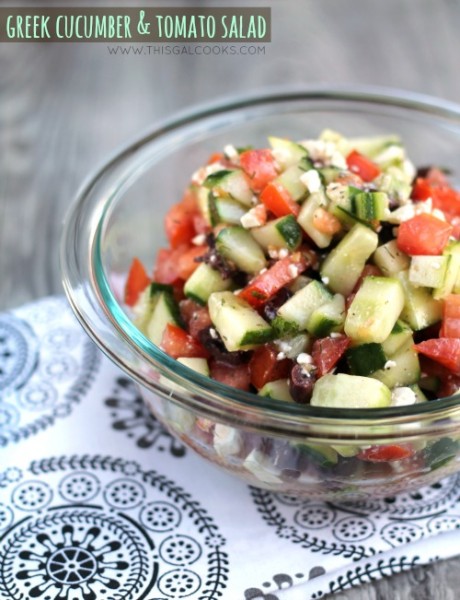 It's hot in Florida. Since we haven't hit the Summer months yet, there are still a few nice days but pretty soon, the lows will be in the upper 70's and the highs will be in the mid 90's. Add in the humidity factor and you're looking at feels like temps above 100 degrees. And that's every day from the beginning of June until the end of September.
Having grown up in Central Florida, I figured that all of Florida was completely unbearable during the Summer months. And it pretty much is but now that I live on the East Coast of Florida pretty close to the coast, I've found that coastal living is a little more tolerable. The almost constant breeze helps alleviate some of the heat.
What does all of this talk of heat have to do with food? Well, we all like to make as little use of the oven as we can during the summer months. And this salad is perfect since it's a chilled, meat free salad. No baking involved at all!
Now I have a slight love affair with all things Greek cuisine so I created this recipe with inspiration from Greek style ingredients. Cucumbers, feta, dill, mint, kalamata olives, tomatoes; you can find all of these ingredients in Greek dishes. Not only is this salad packed with nutrients from the fresh tomatoes and cucumbers, it's a low carb. I hope you enjoy this recipe.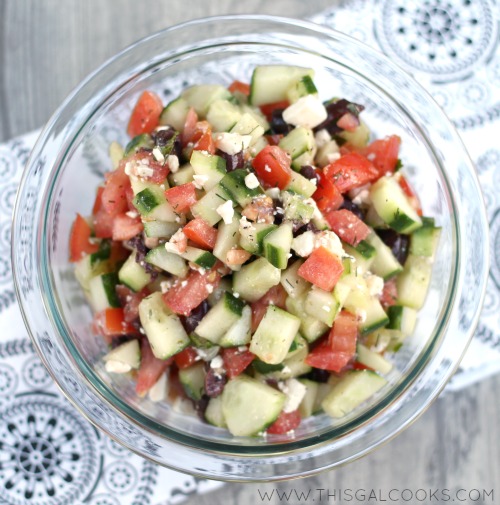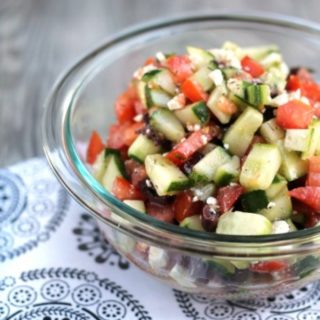 Recipe: Greek Cucumber & Tomato Salad
Yield: 4 servings

Prep Time: 15 minutes

Total Time: 15 minutes
Ingredients
1 English cucumber, diced (about 2 C of diced cucumber)
2 vine tomatoes, chopped
1/4 C sliced kalamata olives
2 tbsp olive oil
2 tbsp red wine vinegar
1 tsp lemon juice
1/2 tsp dill weed
1 tsp chopped fresh mint leaves
Greek seasoning, to taste
Feta cheese (I used about 1/2 C but you can use more or less according to your preference)
Instructions
In a mixing bowl, combine the cucumbers, tomatoes and olives.
In another mixing bowl, whisk together the olive oil, vinegar, lemon juice, dill and mint. Pour over the veggies.
Start out with 1/2 tsp of the Greek seasoning, mix together and gradually add more until your taste preference is reached.
Mix in the feta cheese
If the mixture ends up being to watery, remove some of the liquid. The tomatoes and cucumbers will secrete water causing the mixture to become watery.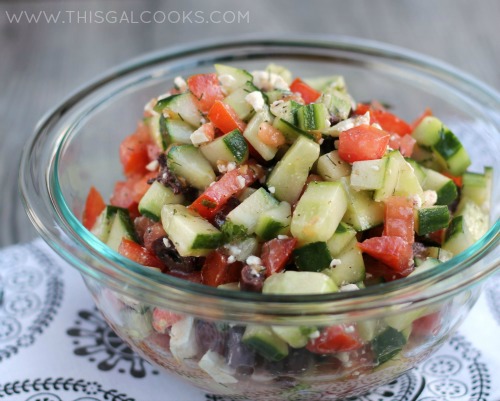 A few more salad recipes that you may enjoy: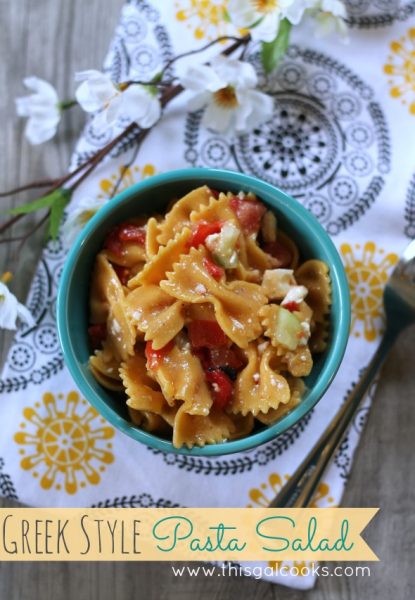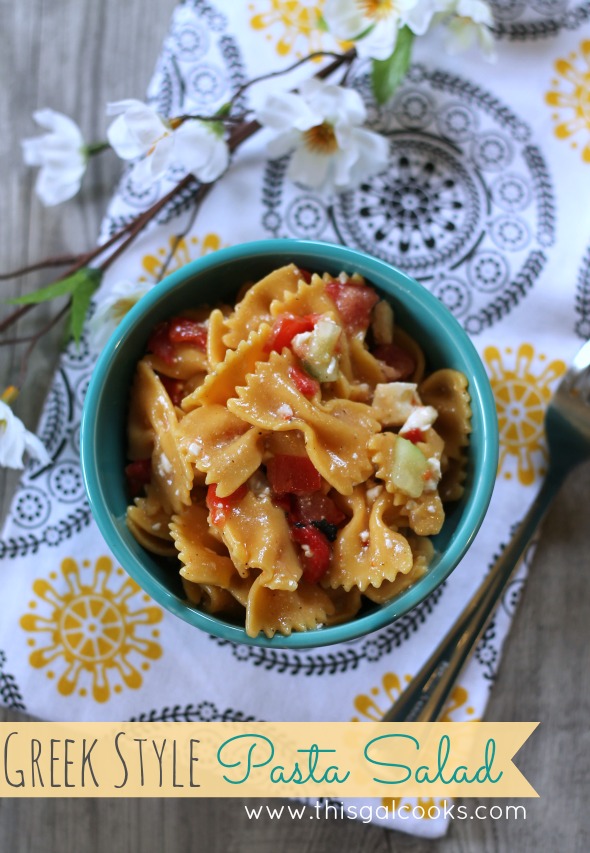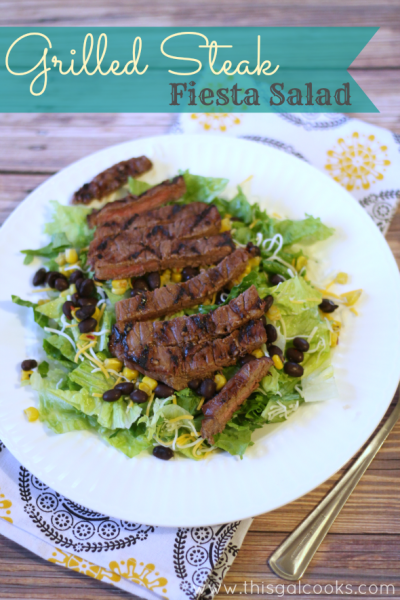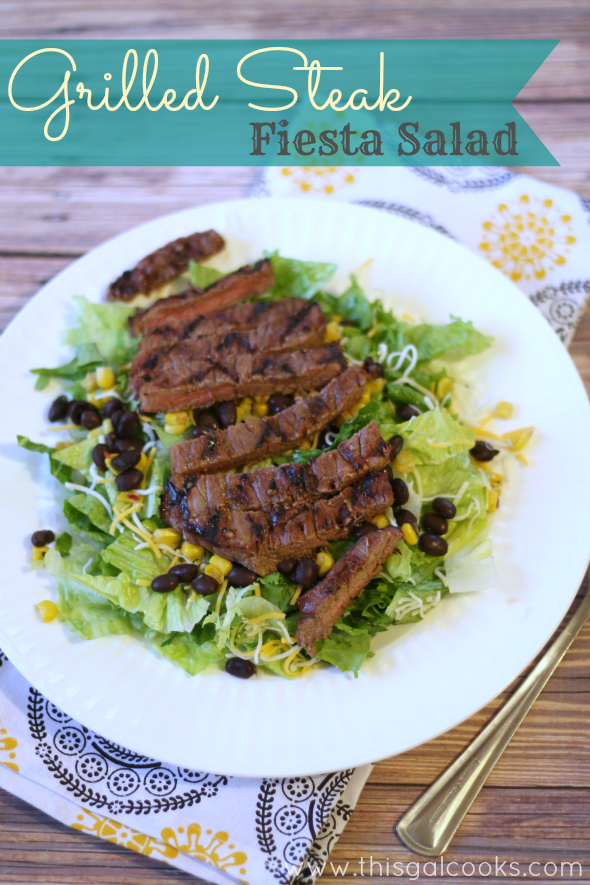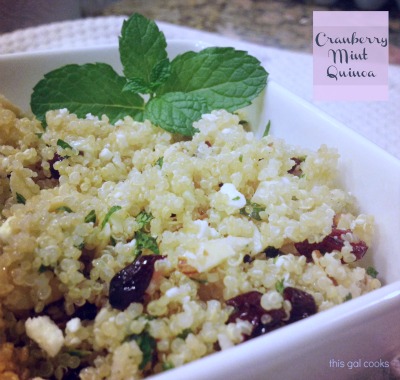 What meals do you like to prepare on a hot Summer day?