Greek Style Pasta Salad
This pasta recipe. Yum.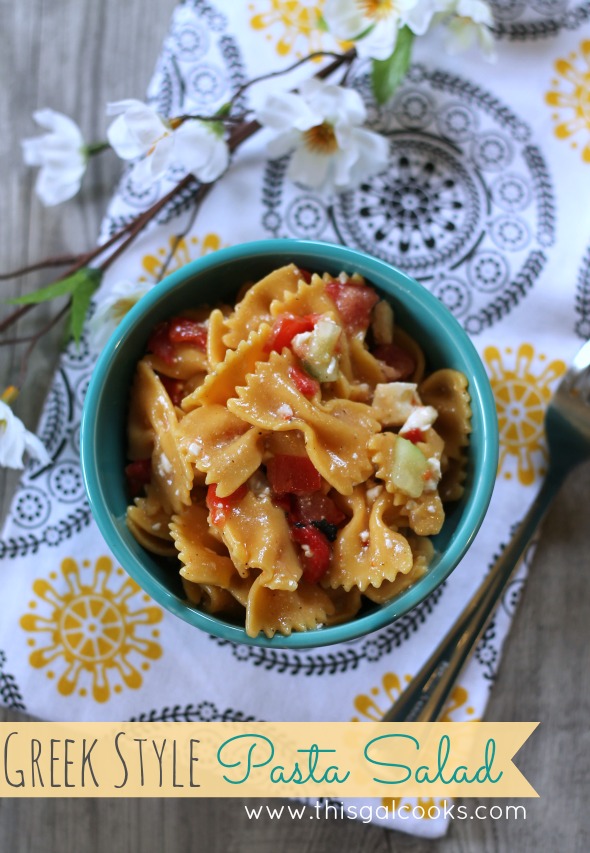 Today I'm sharing a pasta recipe with you, which is quite ironic because I started the low carb diet again on Saturday. But I made this last weekend so I'm ok. There isn't any carb cheating going on.
Why low carb, you might ask? Well, I'm actually a pretty fit individual. I am still what most would consider small. But during the holiday season (the Christmas holiday season) I went a little crazy with the cookies, cakes and candies and I gained about 12 pounds.  I want to get back to my pre "complete lack of control with the sweets" self and exercise alone just isn't doing it. Exercise alone isn't working because I still continue to eat more sweets and other carbs than I normally do. So it's time to break my body from the carb addiction, get back to my ideal weight and lose the desire to eat sweets.
I know I can do it. I've been through this before. Luckily, I get back to my ideal weight fairly quickly. With that being said, expect to see some delicious low carb meals on this blog in the future!
So can you guess what this recipe is (don't look at the name in the photo!) Yep, it's Greek style pasta salad recipe. Perfect for a warm Spring day! See those farfalle pasta? They have a hint of orange, don't they? The pasta is made with pureed squash and carrot in addition to the normal ingredients used in pasta. The difference in taste to regular pasta is subtle but they still taste pretty darn good!
I first found out about this type of pasta while visiting Simply Gloria's Roasted Red Pepper Pasta Salad a couple of weeks ago. I knew I had to try the pasta, and I wanted to try her salad but I got a little experimental in the kitchen and created this recipe I am sharing with you today. I hope you enjoy it!
Greek Style Pasta Salad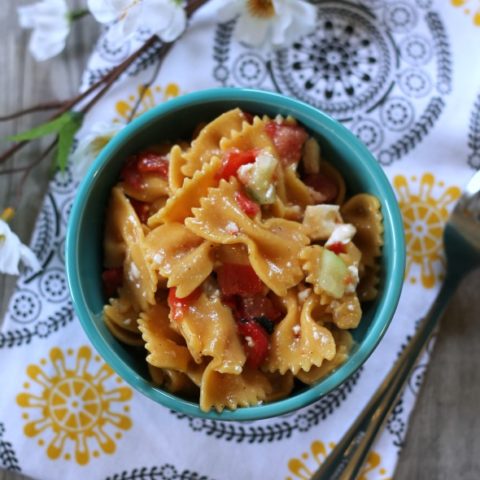 Recipe: Greek Style Pasta Salad
Yield: 6

Prep Time: 20 minutes

Total Time: 20 minutes
Ingredients
6 oz farfalle pasta
1/2 C roasted red pepper, diced (I cheated and used the jarred roasted red peppers)
1/4 C Italian dressing
1 tomato, seeded and diced
1/2 C crumbled feta cheese
1/2 C cucumber, peeled and diced (about 1/3 of an average cucumber)
1/2 tsp Greek seasoning (plus more, if your taste desires it)
Instructions
Cook the pasta until tender. Drain and chill.
In a medium mixing bowl, combine the feta, tomato, red pepper and cucumber.
Stir in the chilled pasta.
Mix in the Italian dressing and the Greek seasoning.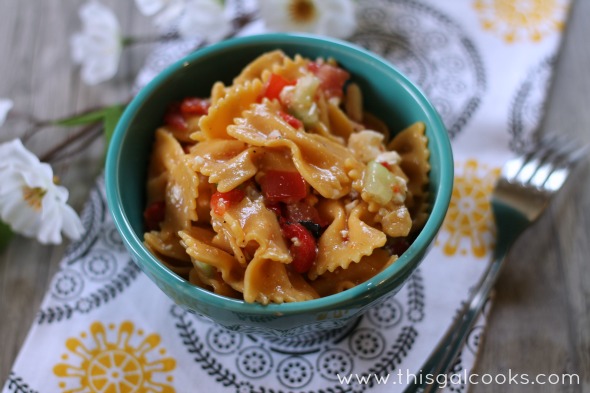 Salads galore! Here are a few more that you may enjoy!