Window Pane Mirror Makeover
A few months ago my boyfriend and I went to a Greek Festival that was held at a small church in our area. The church has a thrift store on premises, they were open during the Greek Festival, so we went in and checked it out. This thrift shop had some treasures and I think I found the best one! I found an awesome old window pane that was turned into a mirror. When I first laid my eyes on it I knew I had to have it. As I walked up to it, I cringed, expecting the price tag to present to me an unpleasant price of $30 or $40 but alas, the price tag made my day. It told me that this old window pane was going home with me for only $15!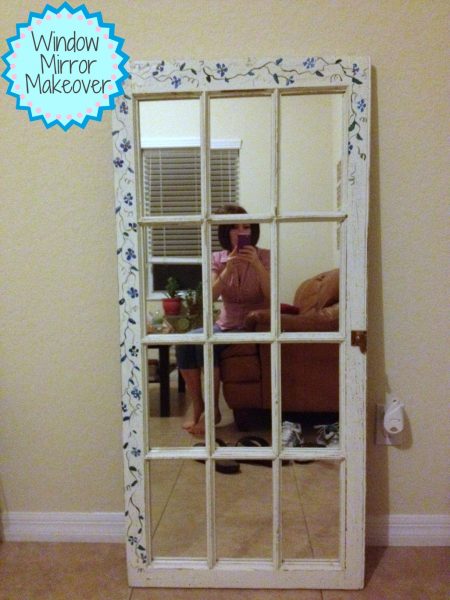 We drove this baby home and it sat for 6 months until I finally got around to doing something with it.
Yesterday I went paint crazy. I mixed 1 part ASCP Aubusson Blue with 4 parts ASCP Old White and got an amazing shade of blue that I just had to use on multiple items. Along with this window mirror, I also painted a window shutter that I scored for $7 as well as this Metal Table. So here she is all prettied up! And that little metal table is the one I madeover yesterday. They look great together!
– I removed the hardware (on the right side there is a little knob)
– I gave it two coats of paint
– Did some distressing
– One light coat of ASCP clear wax
– A little more distressing
– One light coat of ASCP dark wax
– And then another light coat of ASCP clear wax.
– I put the hardware back on
To secure it to the wall, I attached a hook to the back of it and then used a drywall bolt that will hold up to 143lbs. This window doesn't weigh anything near that but it is quite heavy so I wanted to make sure that it was held securely in place.
This is located in our front room. I am decorating this room in a way to give it a nice relaxing beachy feeling.