Vegan Pumpkin Cream Sauce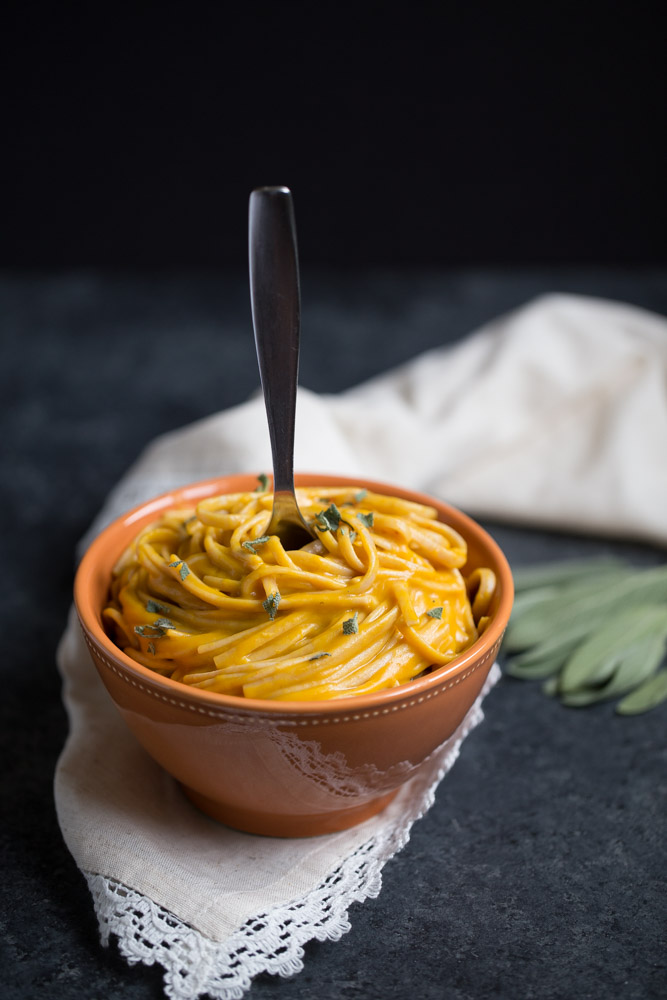 Today we continue the sharing of the pumpkin recipes, this time with Vegan Pumpkin Cream Sauce. It's a sauce that takes 15 minute tops to prepare. It boasts a beautiful color, quite similar to cheese sauce. You could play tricks on your friends – tell them it's cheese sauce, only to wow them with an incredible flavor that is not cheese sauce. Rather it's a sauce full of pumpkin flavor with hint of garlic and a little touch of heat from the red pepper flakes. If you're not a fan of heat, you may simply leave out the red pepper flake.
Vegan Pumpkin Cream Sauce
You can do many things with this sauce, like use it as a pizza sauce, use it as a dip, drizzle it over a burrito bowl or toss it with pasta. I tossed the sauce with whole wheat linguini. I kept my portions vegan and didn't top them with any cheese. I garnished mine with a little fresh sage. I served Ken's topped with shredded smoked gouda cheese. He said it was good.
I may have gone a little overboard with the photos in this post. Typically I include three photos to a post. Today I'm including four. I shot these using my newest Erickson Wood Works purchase – a dark concrete board (opposite side is light concrete). I'm exceptionally happy with the way the photos turned out. I almost always critique my photos, often finding something I don't like or not being 100% happy with them. That didn't happen this time. ♥︎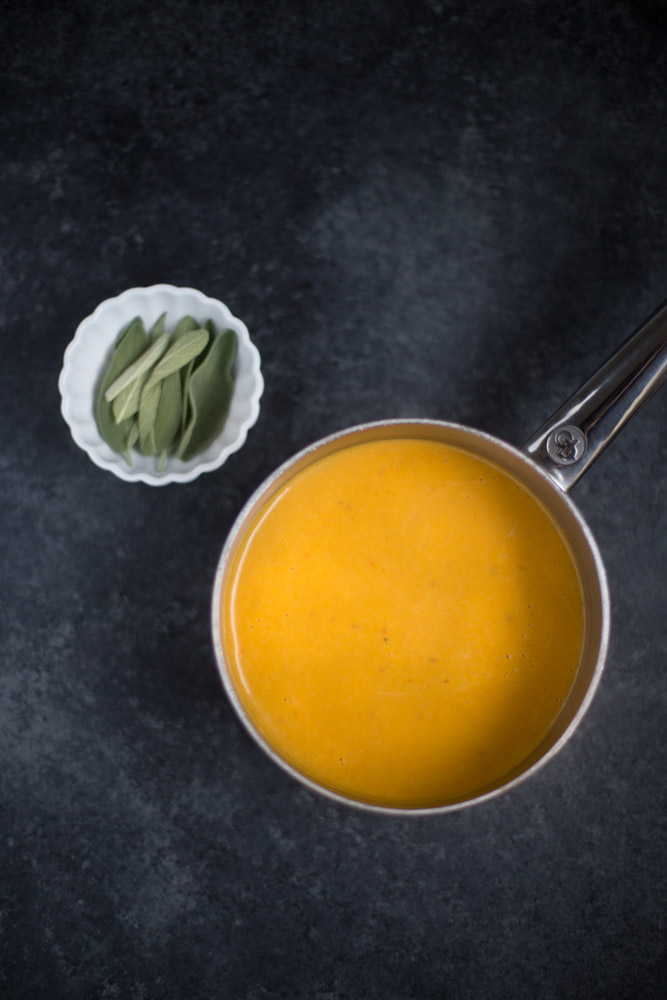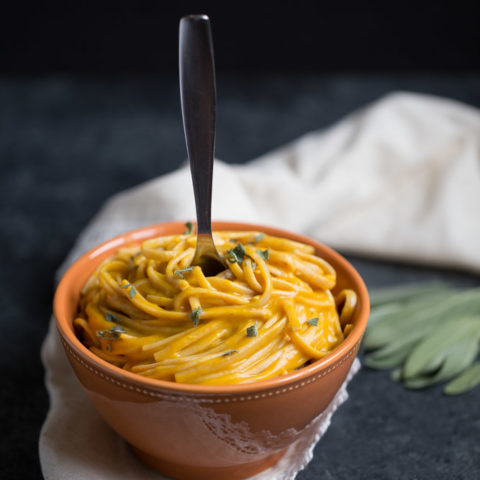 Vegan Pumpkin Cream Sauce
Yield: 4 C

Prep Time: 5 minutes

Cook Time: 10 minutes

Total Time: 15 minutes
Ingredients
2 tbsp extra virgin olive oil
3 cloves garlic minced
1/8 tsp red pepper flakes
1 tbsp Cornstarch
1 1/4 C Almond milk
1 can Pumpkin purée
Salt to taste
Instructions
Heat olive oil in a sauce pan over medium heat. Add the minced garlic and red pepper flakes and sauté until the garlic is tender, about 2 minutes. Sprinkle with the cornstarch and then whisk until thickened. Gradually Whisk in the almond milk. Bring to a boil and then reduce heat and simmer until thickened, about 2-3 minutes. Add the pumpkin purée and stir until combined.
Toss the sauce with your favorite pasta or use it in other dishes such as burritos, enchiladas, pizza or as a dip. I tossed the entire batch of sauce with 8oz (pre cooked weight) of cooked whole wheat linguini.
Nutrition Information:

Amount Per Serving: Calories: 57 Total Fat: 4g Trans Fat: 0g Unsaturated Fat: 2g Cholesterol: 0mg Sodium: 47mg Carbohydrates: 5g Fiber: 1g Sugar: 1g Protein: 1g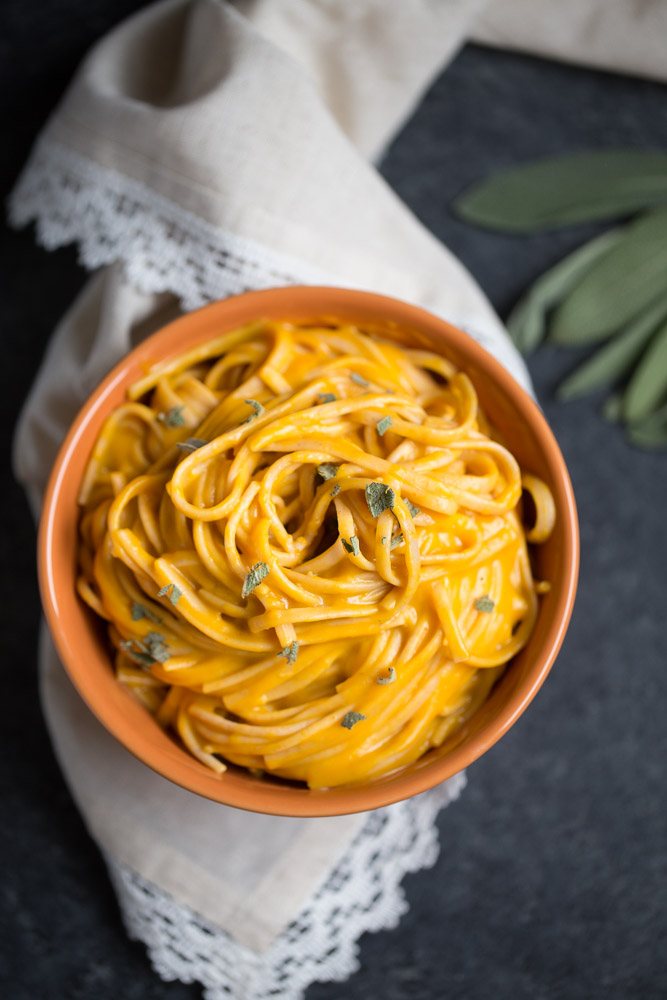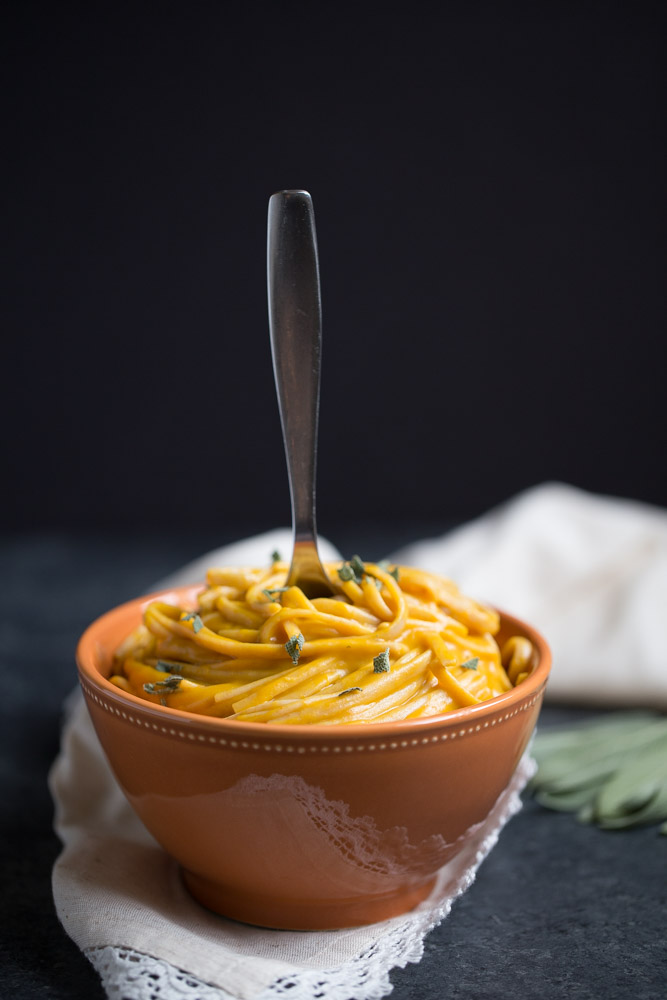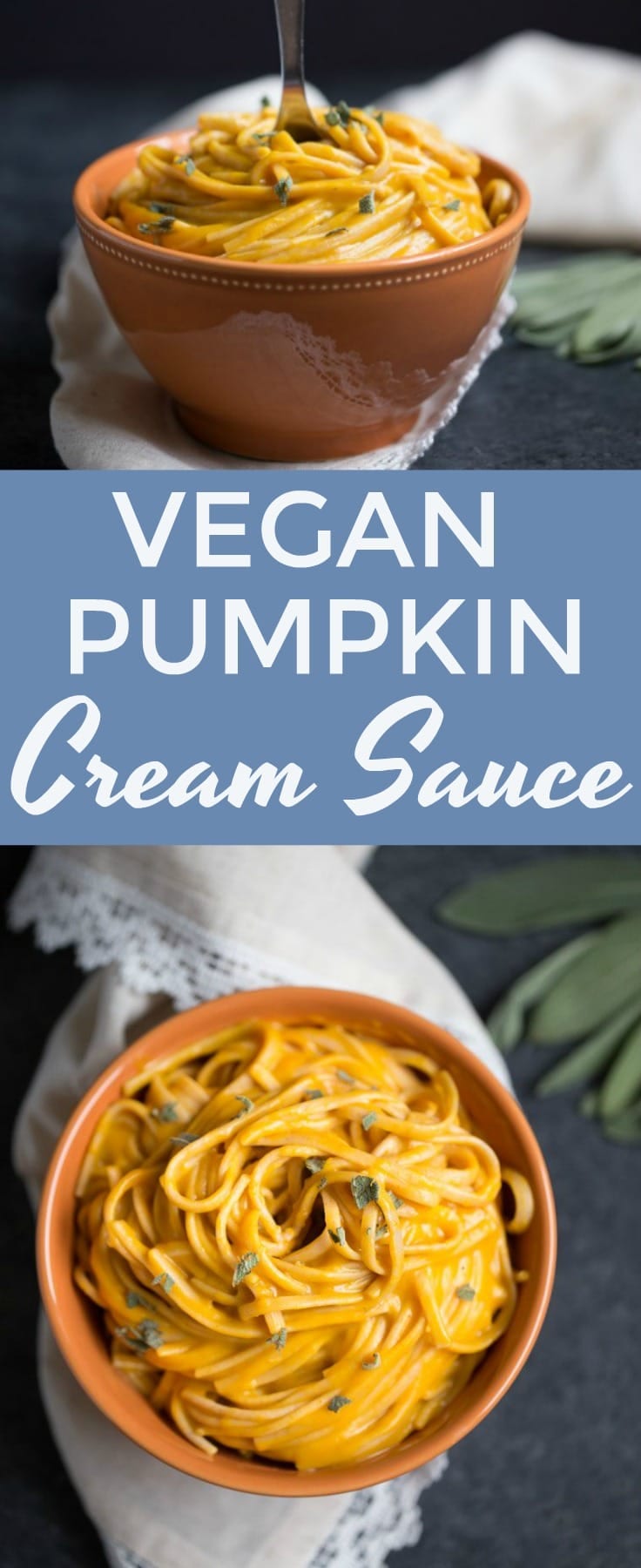 Let's be friends on INSTAGRAM, FACEBOOK, TWITTER and PINTEREST!