Quick Quinoa Bowl with Roasted Tomatoes (Vegan)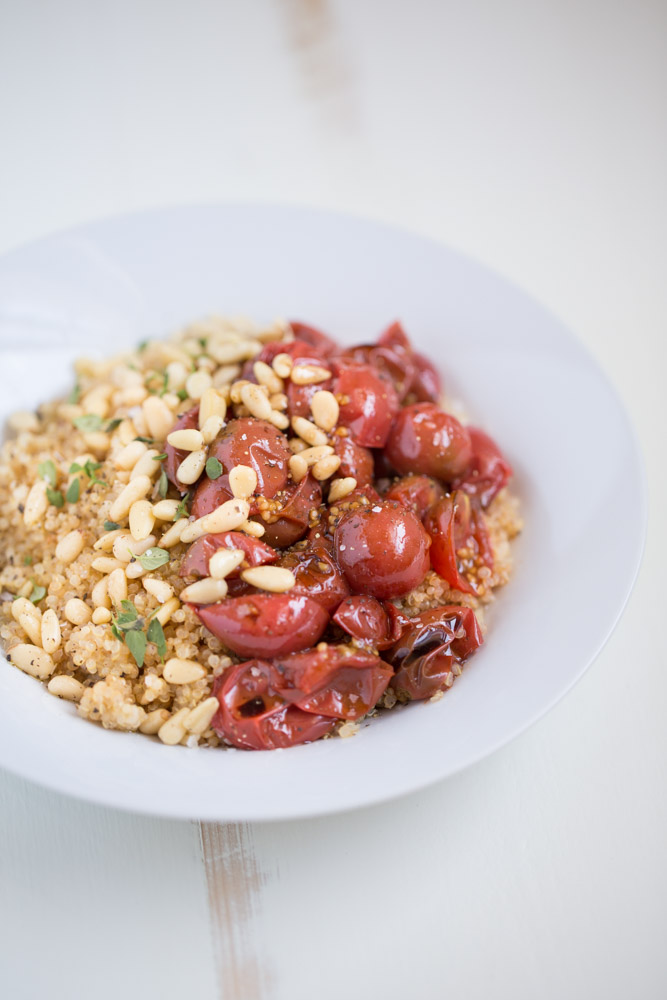 A couple of weeks ago I mentioned that I was going to try to use items that were in my pantry rather than buying new food ALL THE TIME. I was going to limit my trips to the grocery store to once per week. I'm happy to say that I have been sticking to those goals. I have only been to the grocery store twice during the past two weeks and I've been creating recipes and making meals using items that are already stocked in my pantry, like this quick quinoa bowl. I feel like I've made a great accomplishment and I'm very proud of myself for sticking to the new rules and goals that I've created for myself.
Another goal that I didn't mention was to become more organized. First battle: my refrigerator. My refrigerator used to look like a hot mess. Containers, condiments, veggies and beer were packed into the fridge in an unorganized mess. I spent what seemed like hours (ok, exaggeration) looking for the leftover black beans or the bag of cilantro that I "knew" were somewhere in there. The neatly stocked refrigerators that I saw on numerous HGTV shows made me a little jealous. I want that fridge. I want my fridge to look like that. Look how nice that is. Can I have that?
Yes. Yes you can.
I went shopping at Target on Sunday, a day that the pyrex glass storage containers happened to go on sale. I bought a lot of those containers because I knew they would make my refrigerator look nice and tidy while storing leftovers and because I desperately wanted to break up with my collection of annoying tupperware containers. I also bought 3 refrigerator baskets to hold miscellaneous containers, condiments and beer. I spent Sunday afternoon organizing my refrigerator with my new toys. It time spent well and I was extremely happy with the finished product. I boasted many times to Ken about how good our refrigerator looks now. It doesn't even look like the same refrigerator anymore. At least the inside doesn't, anyways.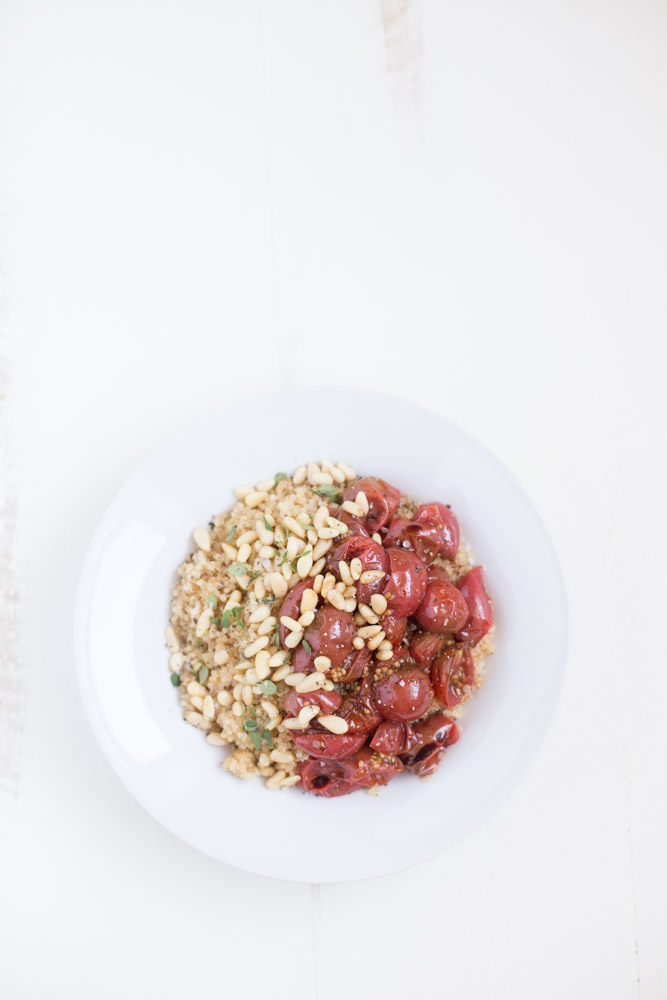 What I love about this quick quinoa bowl:
it's easy to make.
it's vegan.
it's made using up pantry items that I had on hand. a little creativity went into it. ♥︎
it has a little crunch, thanks to the pine nuts.
it contains healthy fats, fiber and vegan protein.
it's cholesterol free, low sugar and low sodium.
it's under 500 calories for a generous serving.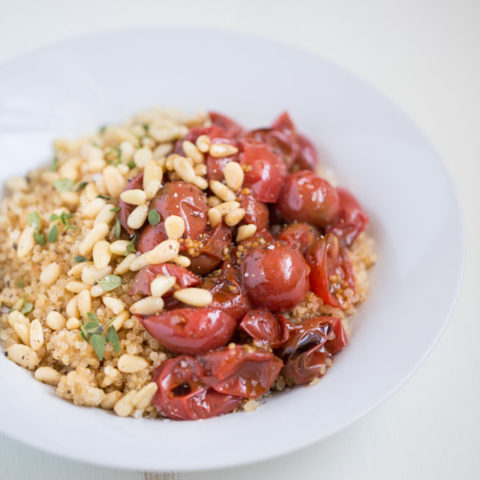 Quick Quinoa Bowl with Roasted Tomatoes (Vegan)
Yield: 1 serving

Prep Time: 5 minutes

Total Time: 5 minutes
Ingredients
1 C cooked quinoa
1/2 C roasted heirloom cherry tomatoes or regular cherry tomatoes (instructions for roasting in notes)
1 1/2 tbsp pine nuts
1 1/2 tsp balsamic vinegar
2 tsp evoo
Fresh thyme
Freshly ground pepper and kosher salt.
Instructions
Place the quinoa in a serving bowl. Top with the tomatoes and then drizzle the tomatoes with balsamic vinegar and olive oil. Sprinkle with pine nuts and chopped fresh thyme. Sprinkle with generous portion of ground pepper and a little kosher salt.
serving or split with a friend and serve with a salad.
Notes
To roast the tomatoes, place them in a baking dish and drizzle with a little olive oil and sprinkle with a pinch of salt and pepper. Place in your oven and broil until slightly charred, about 5 minutes.
Nutrition Information:

Amount Per Serving: Calories: 410 Total Fat: 22g Saturated Fat: 3g Trans Fat: 0g Unsaturated Fat: 17g Cholesterol: 0mg Sodium: 39mg Carbohydrates: 46g Fiber: 7g Sugar: 4g Protein: 11g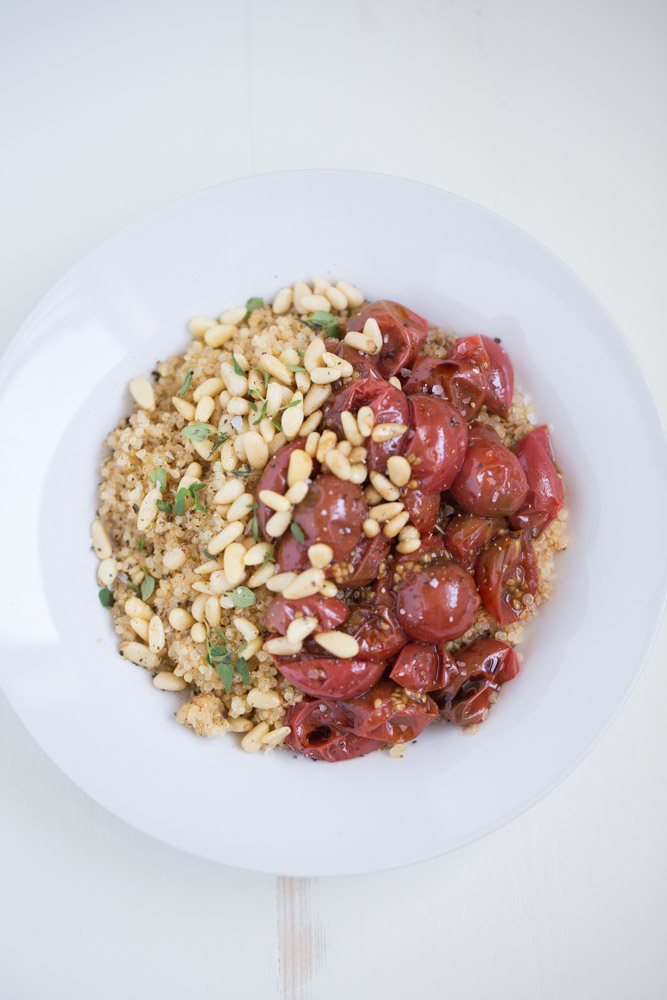 Let's be friends on INSTAGRAM, FACEBOOK, TWITTER and PINTEREST!