Spicy Asian Vegan Meatballs
Today we're gonna get crazy about meatless meatballs. Or as Ken said about them, "those aren't really meatballs." My response was that they are a great meatball-like alternative meatball for those who don't eat meat.
Farro, chickpeas and oats form the base of these vegan meatballs and flax egg holds them together. Flax egg equals 1 tbsp of ground flax seed mixed with 3 tbsp of warm water. Some Asian style seasonings such as Chinese 5 spice and sesame oil season the vegan meatballs. A toss of the meatballs in a spicy sauce made with ketchup, mirin, tamari and sriracha finish these meatballs off nicely. You can enjoy these vegan meatballs solo (a great appetizer) or over rice for a nice main course. Lunch or dinner, they'll work either way.
Lots of things going on in my life right now so I've been extremely busy. Work has been busy. The personal life has been busy – Ken and I went shopping over the weekend, did some grilling and I've been working out every day. OH and tomorrow is my birthday. The digits that form the age I'll be add up to 7. Can you guess how old I'll be? After I leave work on Friday, we are heading to Fort Myers Beach for a fun-filled birthday weekend. ♥︎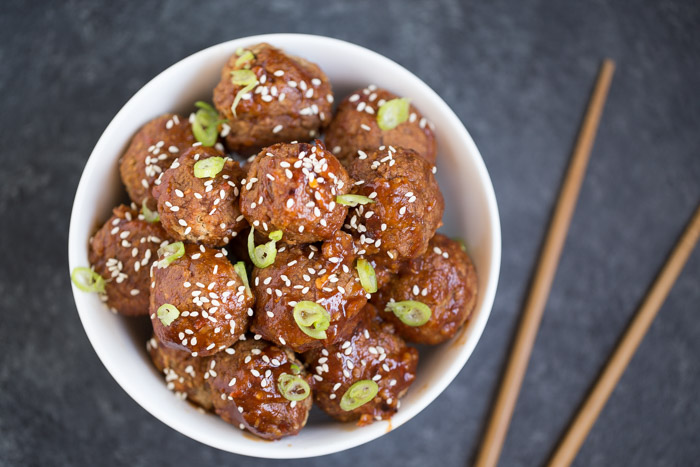 A few things I like about these Spicy Asian Vegan Meatballs
they're full of flavor.
they're easy to make.
they're vegan.
they don't fall apart.
they're made with ingredients that are typically stocked in any pantry, which means no trip to the store in order to make them.
they're great as an appetizer or served over rice for a main dish.
Spicy Asian Vegan Meatballs
Author: This Gal Cooks
Recipe type: appetizer
Serves: 14 meatballs
Ingredients
For the meatballs
1 15 oz can chickpeas, drained and rinsed
1½ C cooked farro
¼ C old fashioned oats
1 tsp Chinese 5 spice
¼ C thin sliced green onion
2 cloves of garlic, minced
1 flax egg
¼ tsp salt
1½ tbsp sesame oil
For the sauce
¼ C ketchup
2 tbsp Mirin (rice wine)
1 clove garlic, minced
½ tsp red pepper flakes
½ tsp ground ginger
2 tbsp tamari
1 tsp sriracha sauce
Pinch salt
Green onion and sesame seed for garnish
Instructions
Preheat oven to 400. Line a baking sheet with aluminum foil. Spray lightly with cooking spray. Wipe away excess spray with a paper towel.
Place all meatball items in a food processor or blender. Been until just combined. It's okay to have full pieces of farro. It gives the meatballs texture.
Roll into 1 tbsp balls and place on the baking sheet. Bake for 20-25 minutes.
Makes the sauce. In a mixing bowl, whisk together sauce ingredients.
Dip each meatball into the sauce to coat. Alternatively, you could place the meatballs in a bowl with the sauce and carefully toss to coat.
Garnish with green onion and sesame seed
Notes
Sauce and vegan meatball seasoning loosely adapted from this meatball recipe by
Gimme Some Oven
.
Nutrition Information
Serving size: 2 meatballs Calories: 155 Fat: 2g Saturated fat: 0g Unsaturated fat: 0g Trans fat: 0g Carbohydrates: 30g Sugar: 5g Sodium: 490mg Fiber: 6g Protein: 7g Cholesterol: 0mg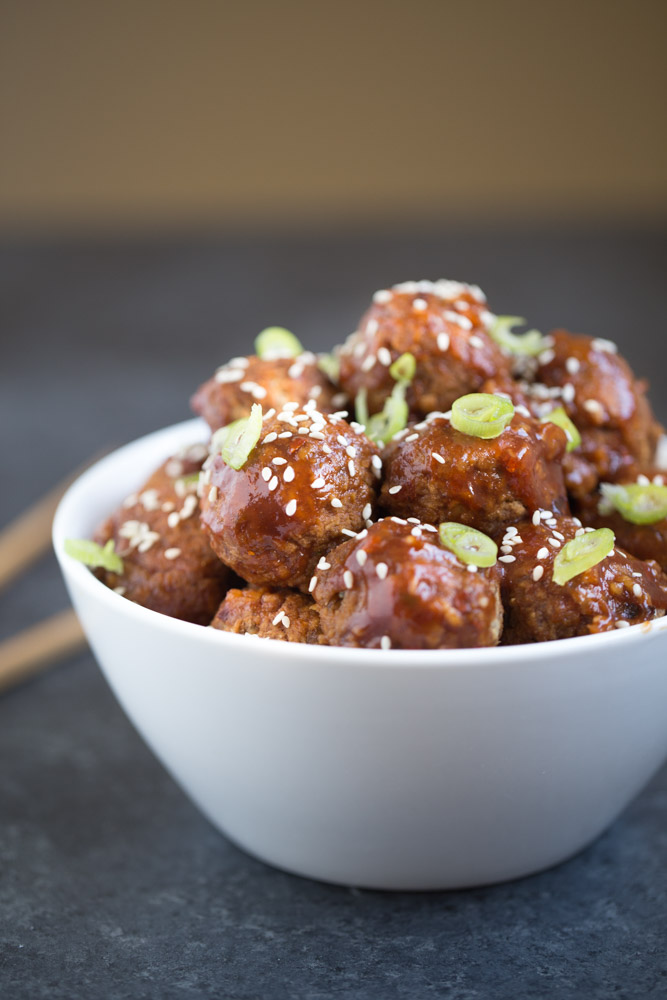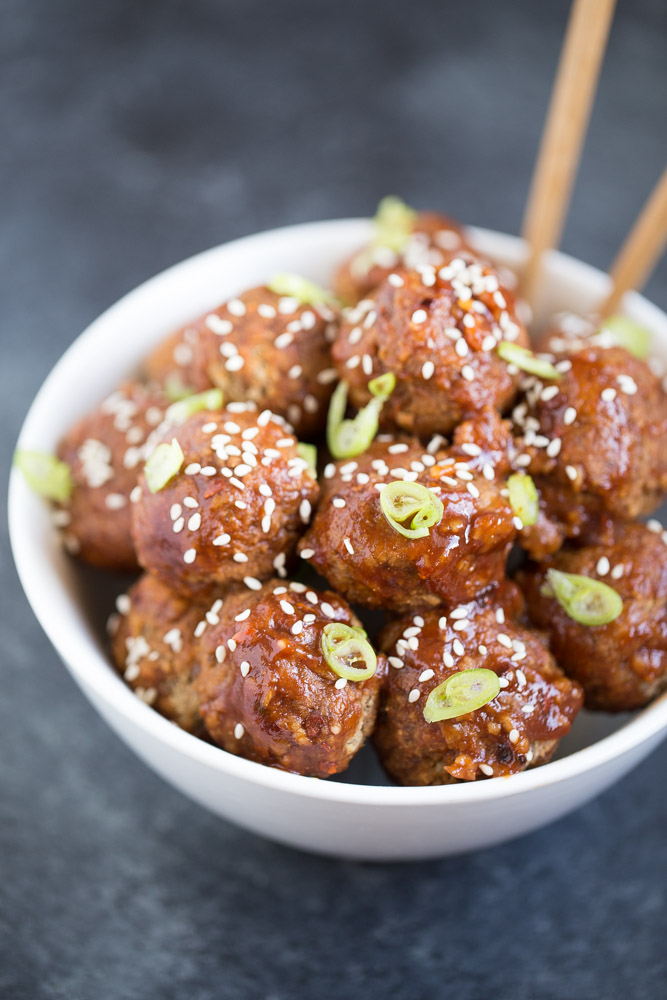 Let's be friends on INSTAGRAM, FACEBOOK, TWITTER and PINTEREST!