Vegan Pumpkin Spice Coffee Creamer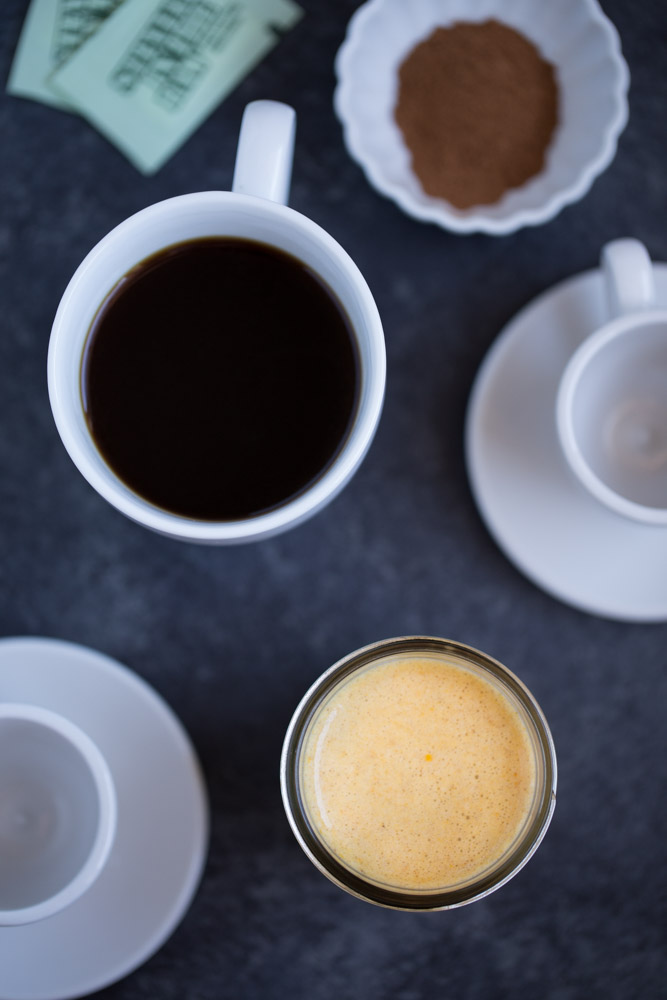 My quest to make a vegan pumpkin spice coffee creamer came into play after I realized the refrigerated "non-dairy" coffee creamers actually contain a milk derivative. They also contain a ton of processed crap like hydrogenated oils and stuff I probably cannot pronounce properly. Not going to lie – I used to use those creamers all the time but my goal to remove a lot of processed foods from my diet and not use any sort of dairy product in my coffee drove me to create my own pumpkin spice coffee creamer that actually contains pumpkin. Because it's fall, ya'll and because I love just about any kind of pumpkin recipe. ♥︎
Speaking of fall, if you live in an area that's already experiencing fall weather, please send some to me. Although the calendar says it's fall, the weather says otherwise here in Florida. It's hot. The temps have reached the high 80s and 90s all week and the humidity has been brutal. The weatherman says a "cold" front will be moving through Florida this weekend, bringing with it high temps in the low to mid 80s and lows in the high 60s and low 70s with low levels of humidity. BRING IT ON! I'm ready for Fall in Florida.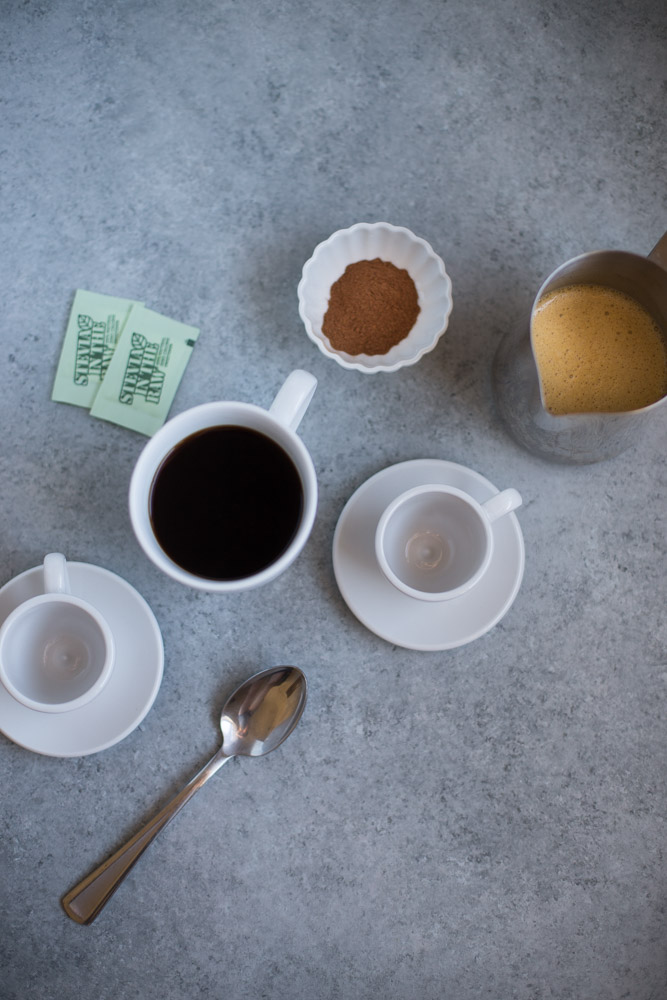 Things I love about this vegan pumpkin spice coffee creamer.
It's easy to make.
It's vegan.
It contains only four ingredients.
You can store it in mason jars for easy portability (I took some to work with me and left it in the fridge at work).
It contains REAL pumpkin!
It's low in sugar, fat and calorie content.
It's made with unsweetened vanilla almond milk.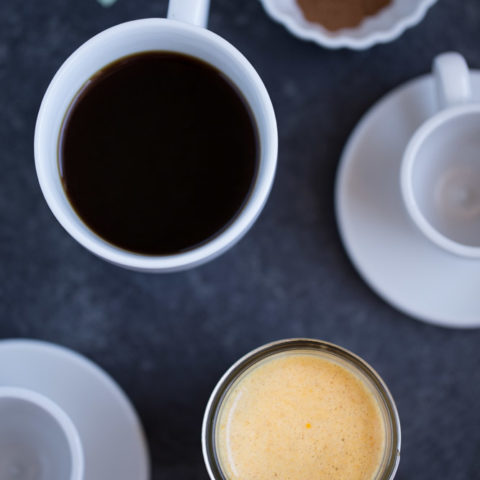 Vegan Pumpkin Spice Coffee Creamer
Yield: 10 servings

Prep Time: 5 minutes

Total Time: 5 minutes
Ingredients
1 C Unsweetened vanilla almond milk
3 tbsp Pumpkin purée
1/2 tsp Pumpkin pie spice
1/4 tsp Vanilla extract
Instructions
Place ingredients in blender and pulsate until smooth.
Place in an airtight jar and store up to one week in a refrigerator.
Notes
you can sweeten the coffee creamer with Stevia or any other sweetener. I didn't add any sweetener to my coffee creamer. I add the sweetener to my coffee after adding the creamer to my coffee.
Nutrition Information:

Amount Per Serving: Calories: 5 Total Fat: 0g Saturated Fat: 0g Trans Fat: 0g Unsaturated Fat: 0g Cholesterol: 0mg Sodium: 15mg Carbohydrates: 1g Fiber: 0g Sugar: 0g Protein: 0g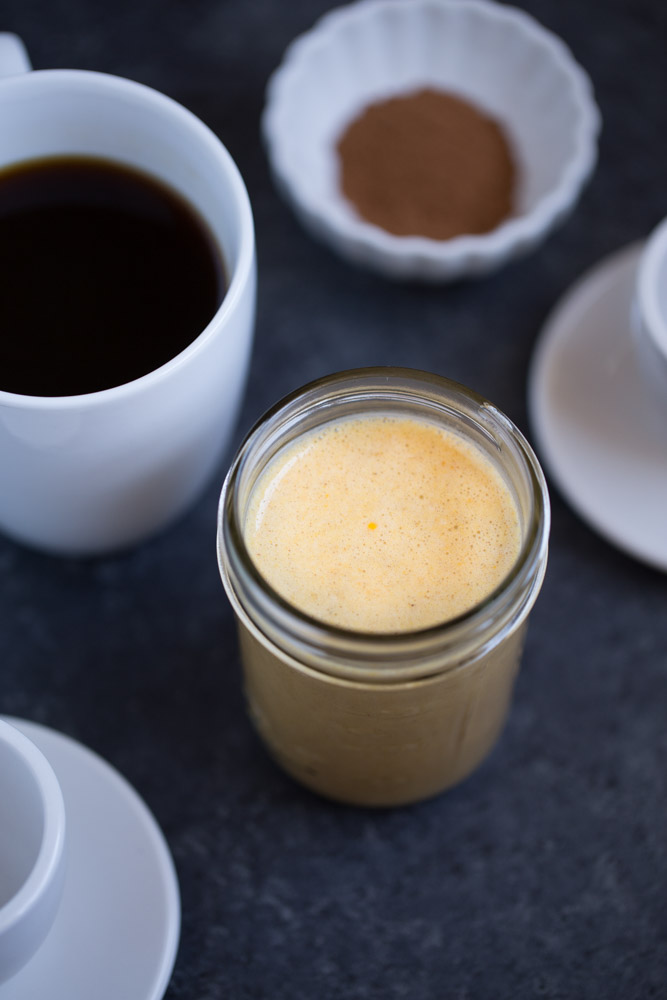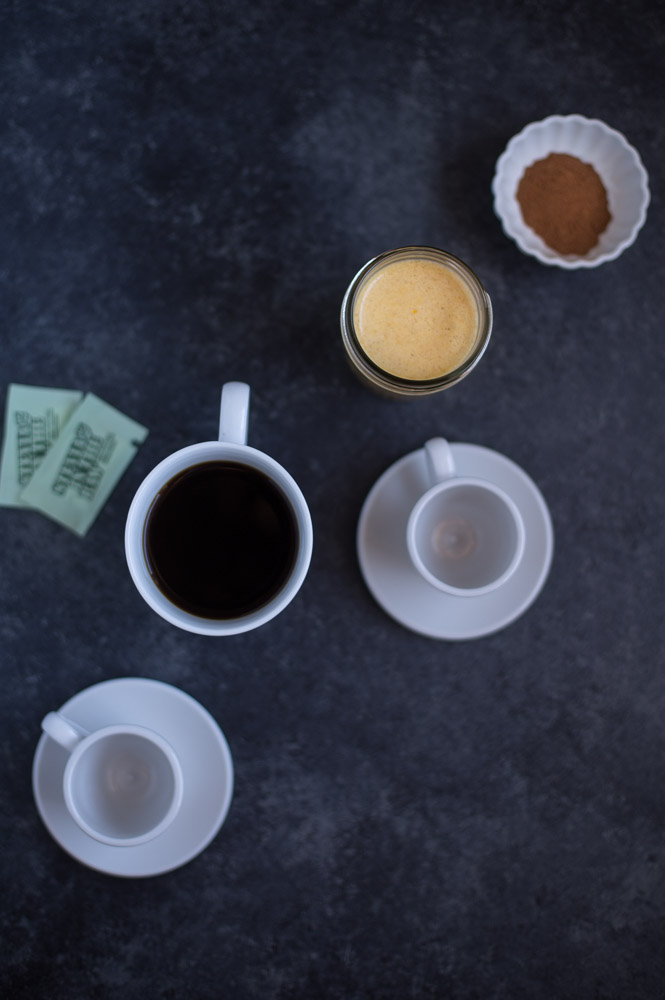 Let's be friends on INSTAGRAM, FACEBOOK, TWITTER and PINTEREST!