Tomato, Spinach and Artichoke Pizza
What's better than pizza?  This Tomato, Spinach and Artichoke Pizza is both healthy, tasty and easy to make!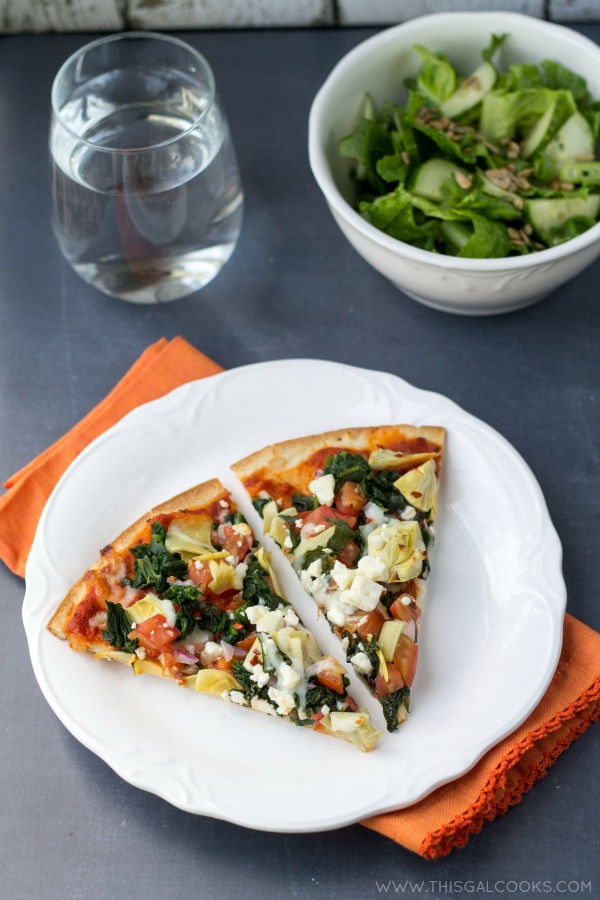 Ken loves pizza. Seriously, he could probably eat pizza most days out of the week. When I asked him what he wanted for dinner the other night, naturally, his response was "pizza."  Pizza. Yikes! I say "yikes" because I am trying to stay away from dairy. Pizza and cheese pretty much go together. And of course, cheese is dairy. I thought I would make this pizza without cheese but in the end, I decided to use a small amount of cheese on it.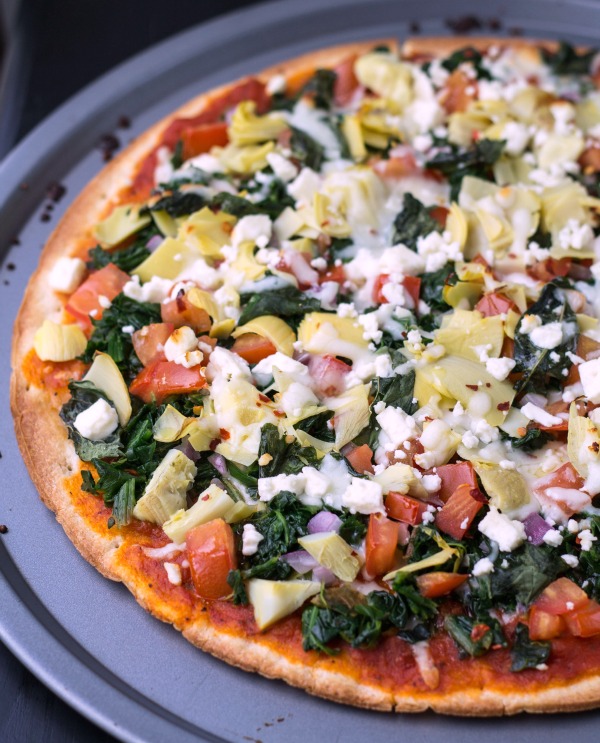 Ultimately, including cheese on the pizza resulted in me taking a lactaid pill. But it was oh so worth it. The feta cheese paired so well with the veggies on this pizza. Tomato, spinach, onions, basil, artichokes. That's a palate pleasing combination right there.
What are your favorite toppings for a pizza?
We have  a little independent Italian restaurant by our house called Giuseppe's. Their pizza is absolutely wonderful. I'd have to say that it's in my top 10 list of favorite pizzas. Another pizza joint on my top 10 list is Pusateri's Chicago Pizza. Want to talk about awesome pizza? Let's talk about that place. If you are ever in Stuart, FL, you MUST go there!
Anyways, let's get on to that recipe. I know you're starving for it.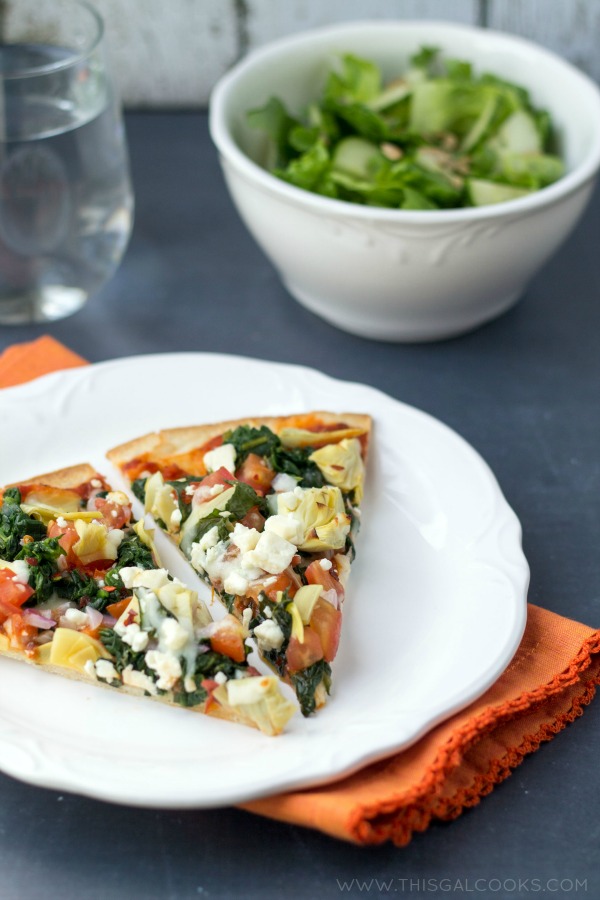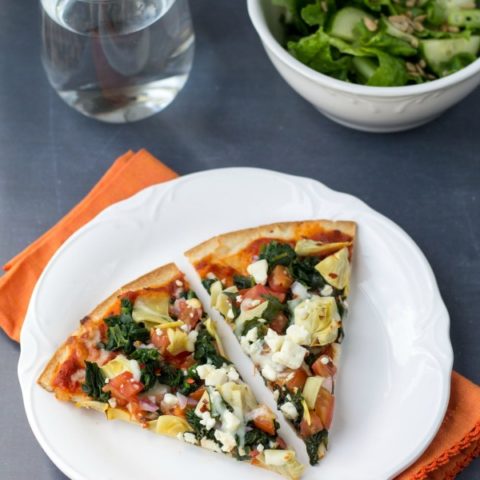 Tomato, Spinach & Artichoke Pizza
Yield: 6 servings

Prep Time: 10 minutes

Cook Time: 10 minutes

Total Time: 20 minutes
Ingredients
1 12 inch pizza crust
1/2 C pizza sauce
3/4 C spinach (I used frozen, thawed and squeezed dry)
1 tomato, cored and chopped
3/4 C canned artichoke hearts, chopped
1/4 C red onion, chopped
4-5 basil leaves, torn
1/3 C feta cheese
1/2 C mozzarella cheese
1 tbsp olive oil
1 tsp crushed red pepper, if desired
Instructions
Place the pizza crust on a pizza pan,
Spread the sauce over the pizza crust and then sprinkle with 1/4 C of the mozzarella cheese.
Place the spinach, basil, tomato, onion and artichokes on the pizza. Drizzle with the olive oil and then sprinkle with the crushed red pepper, if desired. Sprinkle with feta cheese and the remaining mozzarella cheese.
Bake at 425 for 8-10 minutes or until the mozzarella cheese is melted.
More pizza recipes from This Gal Cooks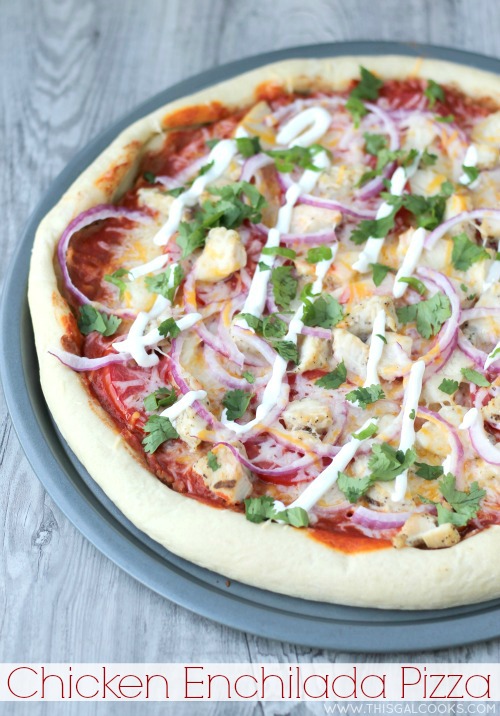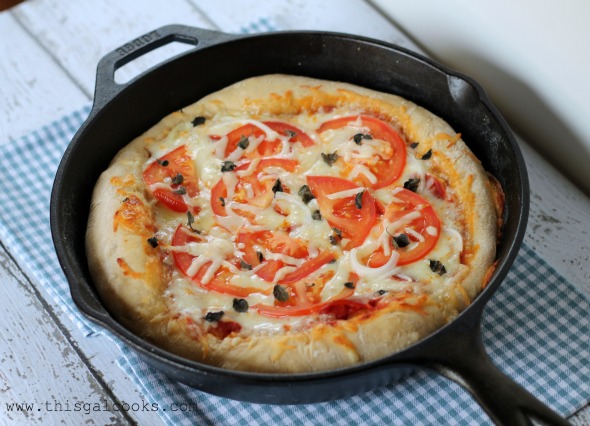 I often link up at these parties