Blackberry Mojito
Have a seat, prop up your feet and enjoy one of these Blackberry Mojitos made with fresh blackberry juice!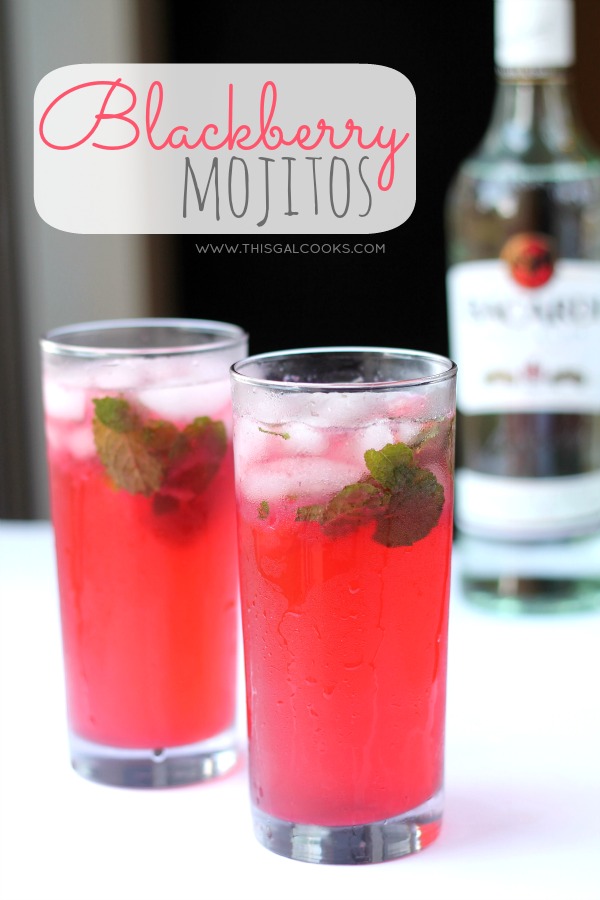 I'll be honest, I'm more of a beer drinker than a liquor drinker. Although, it wasn't always that way. I used to drink only mixed drinks, preferably rum and coke.  I didn't like beer. I didn't like it one bit. Looking back, I can attribute my dislike of beer to only trying mainstream beers such as Bud Light and Coors. Then I met Ken. He got me into drinking beers. He introduced me to good beers such as Yuengling (I know, it's pretty mainstream but it tastes pretty darn good) Leinenkugels and slowly into other craft beers. Now I'm a beer drinking fool. Not really. I don't drink all the time but I do enjoy a few once or twice a week.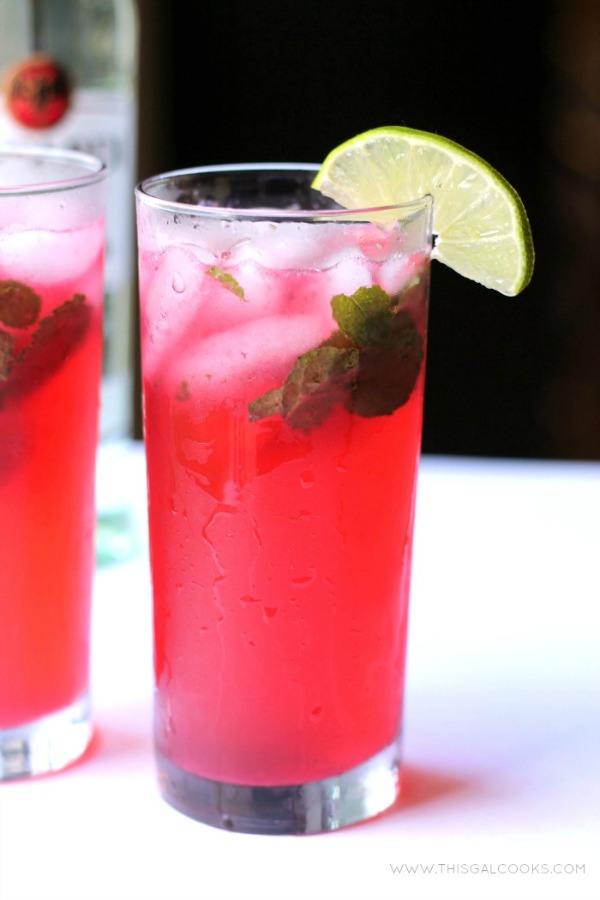 One of my favorite mixed drinks is the mojito. Fresh mint and lime are such a wonderful combination. In case you're unfamiliar with mojitos or just simply don't know the origin of them, I'll share a few facts with you (via Wikipedia.org.)
The mojito is a traditional Cuban highball.
A highball is a mixed drink composed of an alcoholic base and a larger portion of non-alcoholic mixer.
A traditional mojito consists of five ingredients: rum, sugar (traditionally sugar cane juice), lime juice, sparkling water and mint.
The original Cuban recipe uses spearmint.
Mint leaves and lime wedges are used to garnish the glass.
The mojito was a favorite drink of Earnest Hemingway
It's Friday so today is the perfect day to enjoy one of these drinks. I can picture myself enjoying one of these Blackberry Mojitos after work. I think I'll need it after how insane this week has been!
What is your favorite type of cocktail?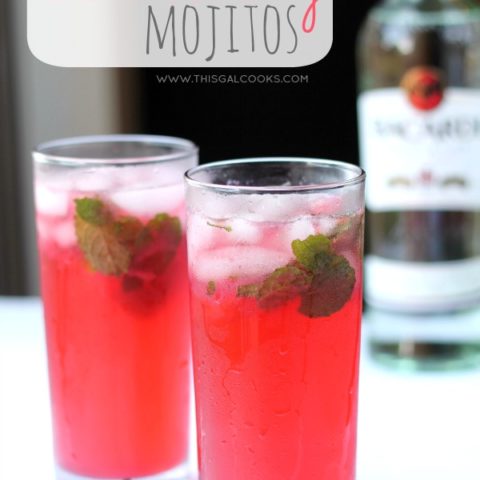 Blackberry Mojito
Yield: 2 servings

Prep Time: 10 minutes

Total Time: 10 minutes
Ingredients
2 tbsp fresh mint leaves
2 tbsp granulated sugar
4 oz rum
1/2 lime, quartered
2 tbsp fresh blackberry juice (I pressed the blackberries through a strainer to get the juice)
Club soda
2 mojito glasses or 2 tall glasses
Instructions
Place 1 tbsp mint leaves into each mojito glass.
Pour 1 tbsp of the blackberry juice into each glass.
Squeeze a little of 2 lime quarters into each glass. Then drop the lime quarters into the glasses.
Pour 1 tbsp sugar into each glass. Press with a muddler.
Add 2 oz of rum to each glass.
Add ice to each glass until it is 3/4 full.
Top off with club soda, shake (I used the glass and a cup since I don't have a fancy mixer) and then add the mixture back to the glasses.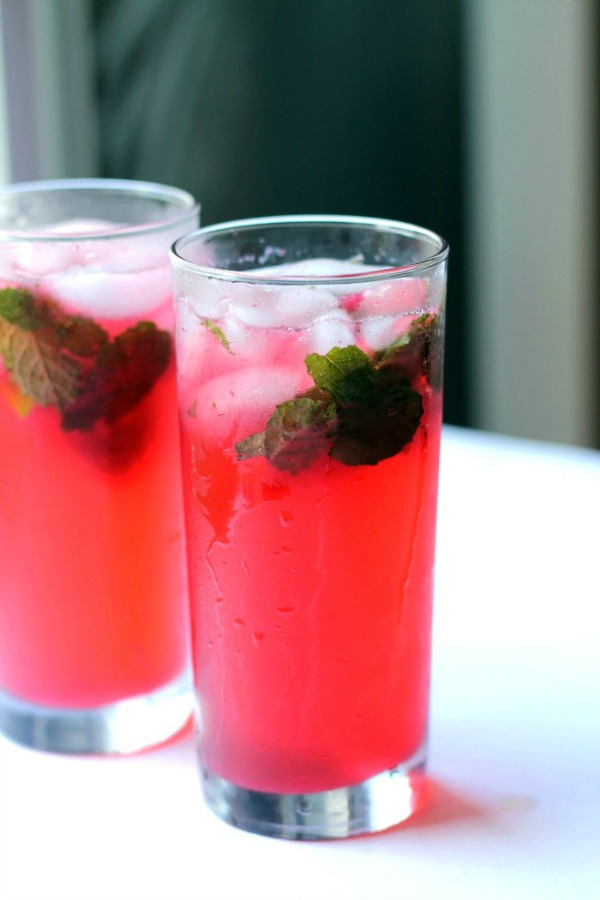 A few more recipes that you may enjoy: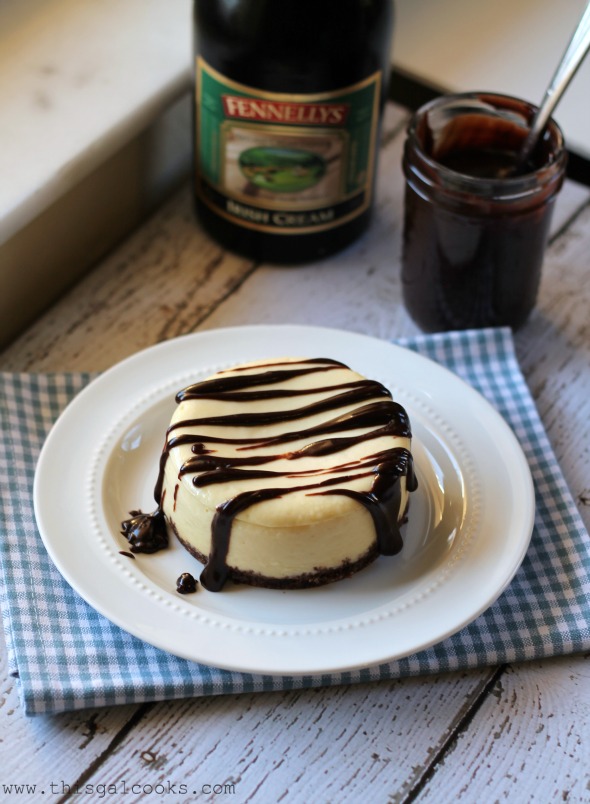 I often link up to these parties.