Thanksgiving Cooking Tools Giveaway!
Make your Thanksgiving Day cooking activities exceptional with some brand new cooking utensils and accessories! Enter the Thanksgiving Cooking Tools Giveaway hosted by Holly's Helpings and Friends!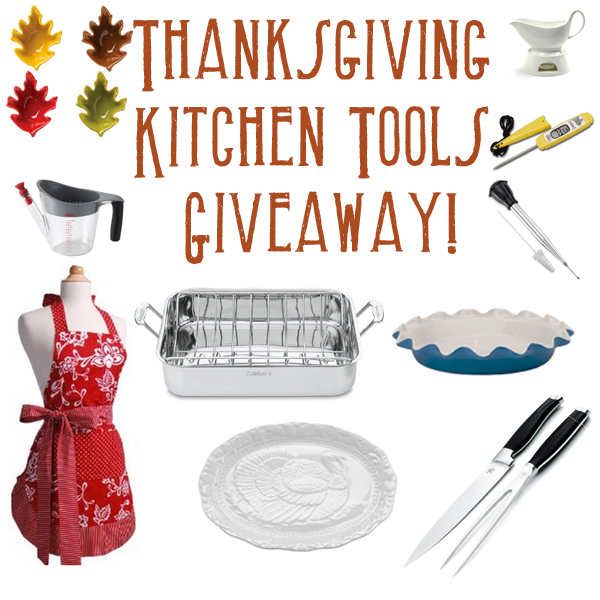 I love to cook. Ha, I bet the name of my blog didn't give it away to you, did it? You know what else I love to do? Acquire new kitchen utensils, gadgets and accessories! One of my favorite stores to shop at is Homegoods. I could spend hours in that store, browsing all of the cookware, drinkware, utensils and kitchen decorations. And Pier One, I could spend the night in that place! So you get the picture. I love anything cooking related! You know what else I like to do? Give cooking accessories away as gifts! Lucky for you, I'm participating in a nifty little giveaway right now. And the prizes include cooking accessories!
I've teamed up with Holly from Holly's Helpings, as well as some other bloggers, to bring this fantastic giveaway to you.
What's up for grabs?
Pie Plate
Roasting pan
Fat Separator
Turkey Baster
Digital Thermometer
Carving Knife Set
Holiday Apron
Turkey Platter
Heated Gravy Boat
Autumn Dipping Bowls
I'm uber excited about this giveaway. I wish I could participate because there are some fantastic goodies in this prize pack! The winner of this will be one lucky gal (or guy) and will be the hit of Thanksgiving dinner. ;)
So how do you enter? Just complete the entries in the rafflecopter below. Good luck and happy cooking!