Super Simple Crockpot Roast Beef
Who doesn't love a good roast beef dinner? This Super Simple Crockpot Roast Beef is slow cooked in an onion soup and beer mixture until it's so tender that it falls apart with the touch of a fork!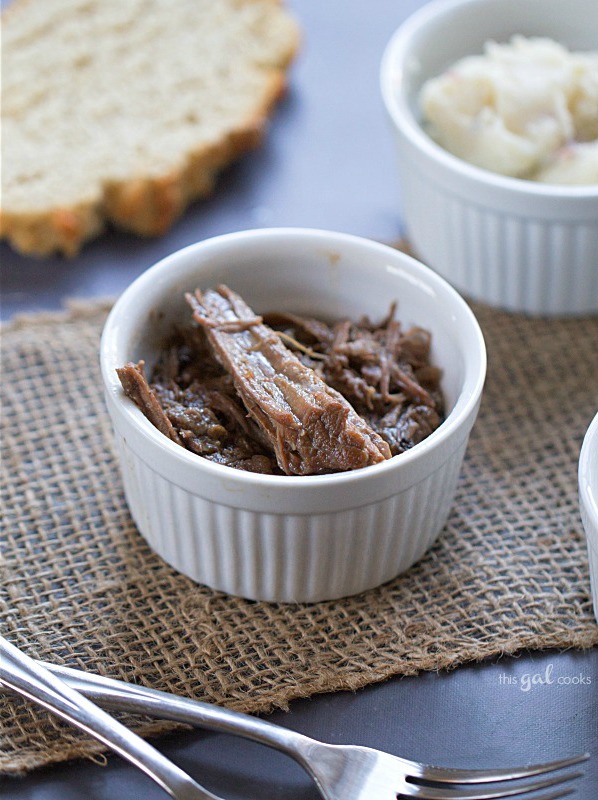 Super Simple Crockpot Roast Beef
I like beer. And I like roast beef. Did you know that you can use beer in cooking much like you use wine? Well, you can. You learned something new today, eh? The rules are basically the same as the rules for wine: when cooking with beer, be sure to use a good quality beer that you would actually drink. Experiment with different flavors. Make the same dish twice with two different beers and you'll notice subtle differences in the flavor of the food. When I use beer in beef recipes, I like to use a good hearty dark beer. For this recipe, I used Guinness.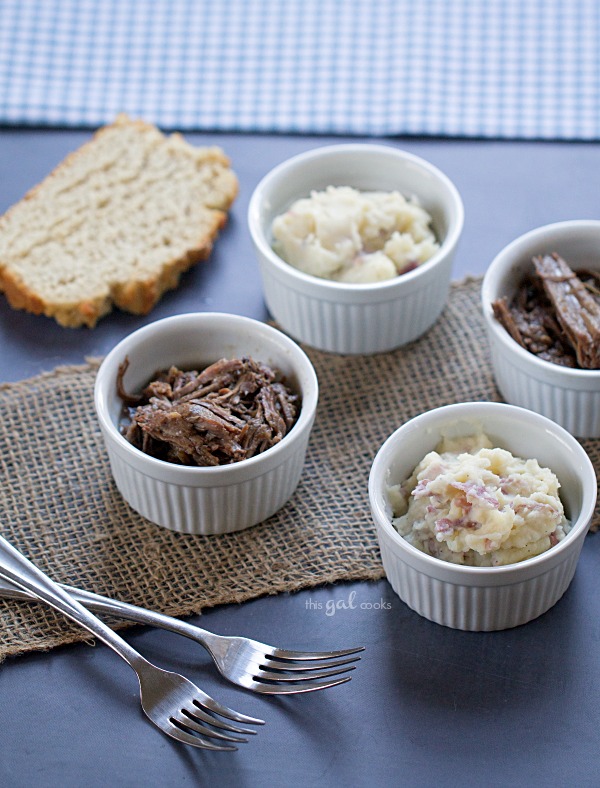 If you've been following this blog for a while, then you know I have a great love of a good beer. If you haven't been following that long, well hello there! I'm Julie and I love a good beer! My good bloggy friend Carrie from Frugal Foodie Mama loves beer too. We love cooking with beer and booze so much so that we started the Spiked! Recipe Challenge to get other home cooks motivated to cook with booze too! We will actually have another challenge starting tomorrow so stay tuned and join us if you love to cook!
This Super Simple Crockpot Roast Beef is well, super simple to make. I made a flour/spice mixture and coated the chuck roast in it and then browned the chuck roast in some butter. While that was happening, I mixed a packet of onion soup mix with a can of Guinness and poured it into my crockpot. I placed the browned chuck roast into the crockpot and then poured the juices from the pan over top, covered the crockpot and cooked on low for 8 hours. Serve it with mashed potatoes and roasted brussels sprouts with bacon and you have yourself on hearty meal! Enjoy the recipe!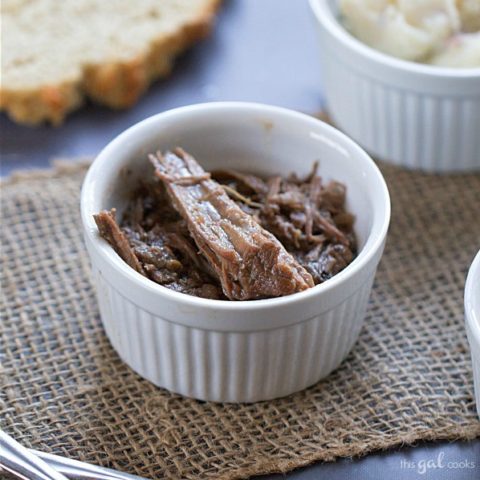 Super Simple Crockpot Roast Beef
Yield: 8-10 servings

Prep Time: 15 minutes

Cook Time: 8 hours

Total Time: 8 hours 15 minutes
Ingredients
1 packet of onion soup mix
3 lb chuck roast, trimmed of excess fat
1 14oz can of Guinness beer
1/2 C flour
1/2 tsp seasoned salt
1/2 tsp course ground pepper
1/4 tsp ground thyme
1/4 tsp kosher salt
2 tbsp butter
Instructions
In a mixing bowl, whisk together the flour, ground thyme, seasoned salt, ground pepper and kosher salt. Coat all sides of the chuck roast with the mixture.
In a large skillet over medium high heat, melt the butter. Add the chuck roast and brown on all sides, even the small sides and edges.
Meanwhile, whisk the onion soup mix and the Guinness beer together. Pour into the crockpot.
Once the chuck roast is done browning, place it in the crockpot. Scrape the skillet and pour the juices and bits into the crockpot, making sure to pour some on top of the roast as well as into the onion soup/beer mixture.
Cook on low for 8 hours or until fork tender (you stick a fork in it, it falls apart!)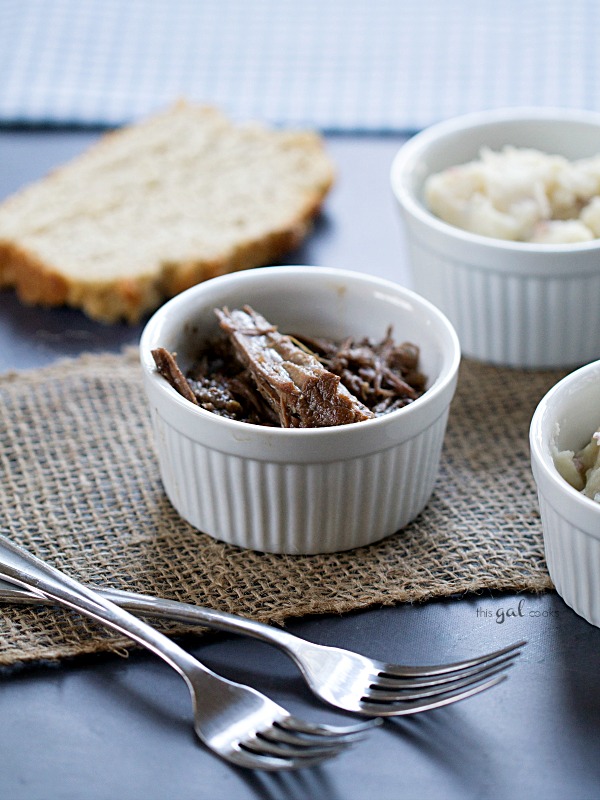 What is your favorite recipe to make in the crockpot?
What is your favorite type of beer?
What types of time saving recipes do you like to make?
More from This Gal Cooks