Teriyaki Grilled Chicken
Kick up your next chicken dinner with this Teriyaki Grilled Chicken. Simple ingredients that you probably already have in your pantry come together to create one fantastic marinade!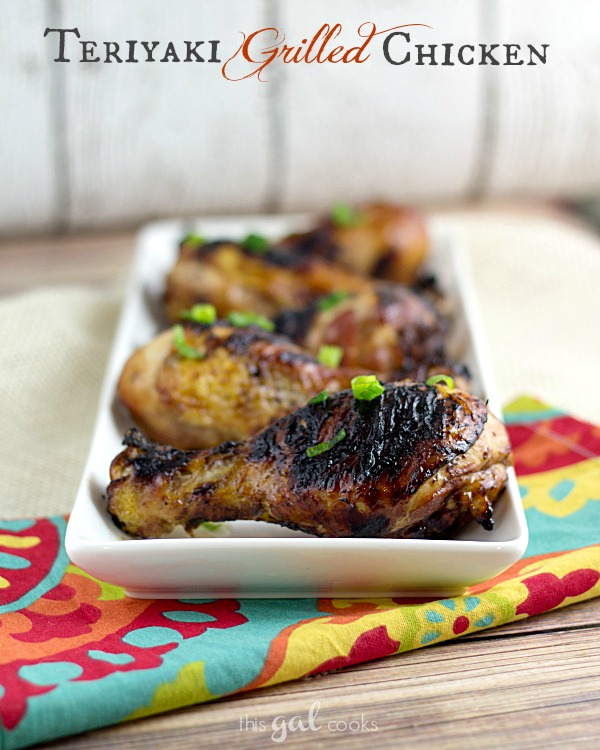 Do you ever have those weeks where you're off a day? You know, it's Wednesday and you think it's Thursday, or maybe it's Wednesday but you think it's Tuesday. This week has been one of those weeks for me. I attribute it to having Monday off. When I'm off on a Monday, the week seems to fly right by. Yesterday I kept thinking it was Tuesday and well Tuesday, I actually forgot it was Tuesday while I was sitting at my computer Tuesday evening. I went to link up at a party that I often link up at on Monday evenings and I was confused that it already had over 400 link ups when it just went live. What?! But then I realized it was Tuesday, not Monday.
So I sit here typing this on Thursday morning, a little baffled that it's already Thursday but I'm not complaining. The weekend is almost here and I'm hoping that I will actually get in some relaxation this weekend. There will be school work but hopefully, it won't be as time consuming as it was this week!
What is a relaxing weekend to you? To me, its being able to have one evening of fun time, whether it be grilling and having a few beers or going out for dinner and drinks. I usually consider any weekend where I'm not totally busy doing some type of school or house chore related activity a relaxing weekend. The last full blown relaxing weekend I had, where I didn't do a darn thing with school and very seldom with the blog was when I went to the Keys in June. Ah, I cannot wait to have one of those weekends again. Those are nice to have at least once per year.
So what will you be doing this weekend? How about making this Teriyaki Grilled Chicken? It's super simple to make and it's delicious! Grill up some diced seasoned potatoes to go along with it and you're set with a pretty darn good meal. Enjoy the recipe!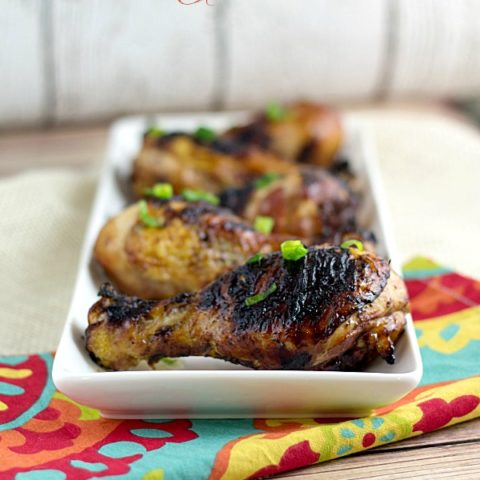 Teriyaki Grilled Chicken
Prep Time: 1 hour

Cook Time: 30 minutes

Total Time: 1 hour 30 minutes
Ingredients
6 - 7 chicken drumsticks, with the skin
1 clove of garlic, minced
1/2 C soy sauce
1 tsp ground ginger
2 tbsp orange juice
1 tbsp olive oil
1 tbsp sherry
1 tsp honey
1/4 C brown sugar
2 tbsp ketchup
Green onions for garnish
Instructions
Whisk together all ingredients, minus the chicken
Place the chicken in a large bowl or container that has a secure lid and pour the marinade over it. Secure with the lid and shake up. Refrigerate for 30 minutes to an hour (or even overnight).
Heat your grill to medium and grill the chicken over indirect heat for 20-30 minutes or until it reaches an internal temp of 165. During the first few minutes of grilling, Spread some of the marinade over the chicken. But only do this early in the grilling due to the marinade being in contact with raw chicken.
Remove the chicken from the grill and garnish with green onion, if desired.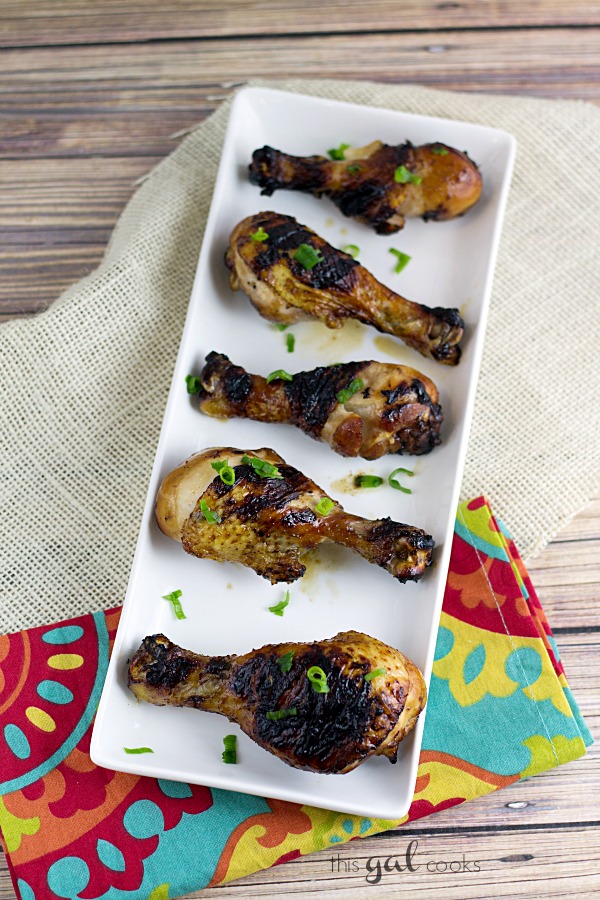 What are your favorite foods to grill?
Will you be grilling this weekend? If so, what will you be grilling?
Do you like to grill vegetables?
For my northern friends, what's the coldest temp that you ever grilled in?
More from This Gal Cooks