Dark Chocolate Chunk Pretzel Cookies
I participated in this post on behalf of Burst Media. I was compensated for my time and commitment, but all opinions are my own. This post is sponsored by GODIVA.
NEW Godiva Truffle FlightsTM and Dark Chocolate Chunk Pretzel Cookies: two fabulous little treats that are perfect to give as gifts this holiday season…or to enjoy all to yourself!
The NEW Truffle FlightsTM feature six hand selected truffles that are placed in order for the ideal tasting experience.  Tasting a GODIVA Truffle flight™ is a progressive exploration of flavors, textures and aromas. There are 6 NEW Truffle FlightsTM in all; Dark Decadence Truffle Flight™, Nut Lovers Truffle Flight™, Heavenly Mousse Truffle Flight™, Cake Truffle Flight™, Ultimate Dessert Truffle Flight™ and Milk Chocolate Lovers Truffle Flight™.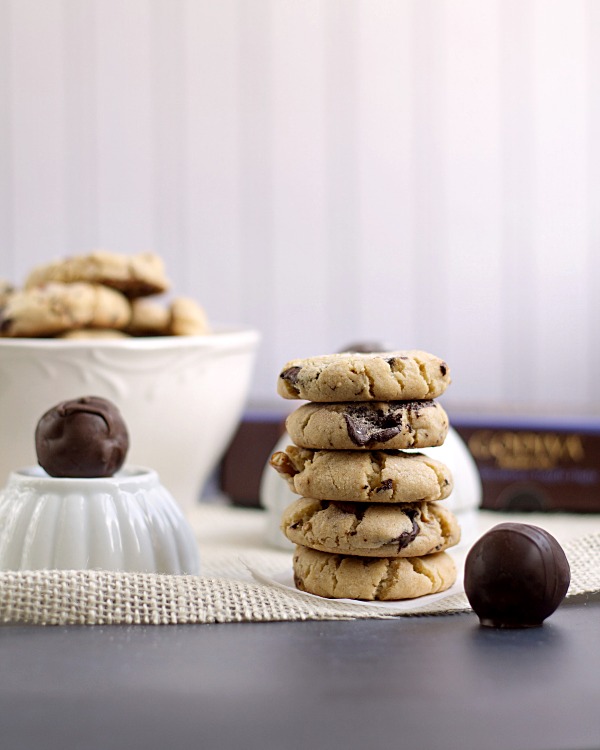 Chocolate and the holidays seem to go hand in hand. Whether it is cookies, cakes or candies, there's no shortage of chocolate lining the shelves at your favorite store, lining the tables at your family and friends get-togethers or nestled under the tree on Christmas morning. I happen to enjoy these festivities as I am a pretty big sucker for chocolate. Especially when it involves cookies. Or truffles.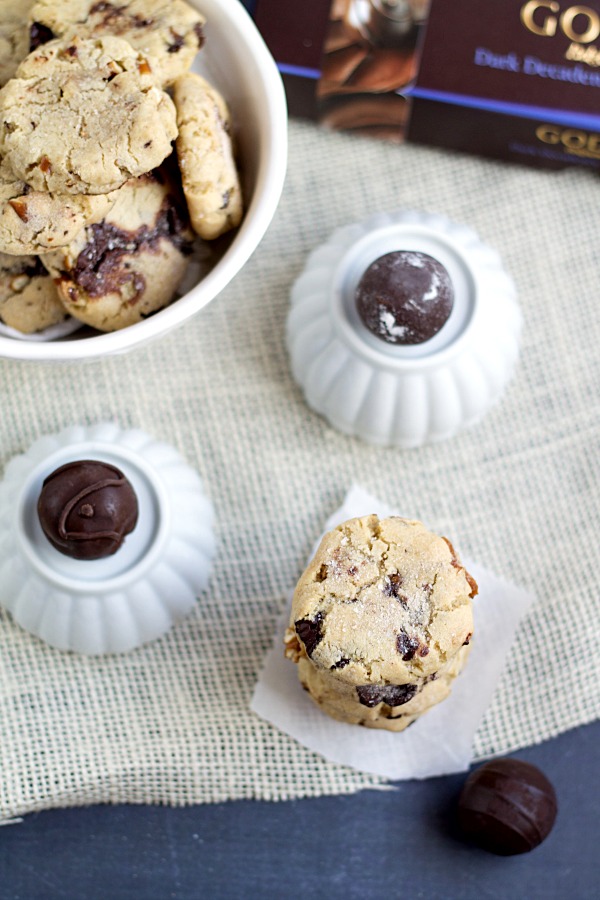 One of my favorite things to bake during the holidays is cookies. I love baking up a big batch of cookies and sending them to family and friends or bringing them into work to share with my co-workers. Experimenting with different flavors is quite fun as well.  When I was selected to participate in the Godiva Truffle FlightTM campaign, I knew I wanted to do something fun and a little different for the campaign. Cookies. YES! I'll make cookies. Now I couldn't exactly make cookies with the truffles but since I received the Dark Chocolate Godiva Truffle FlightTM to test out, I figured I would get a bar of Godiva Dark Chocolate, chop it up and use it in some cookies. And to make it even more interesting, I decided to throw some broken up pretzels into the dough to create a sweet & savory cookie that everyone would love. And everyone did love them!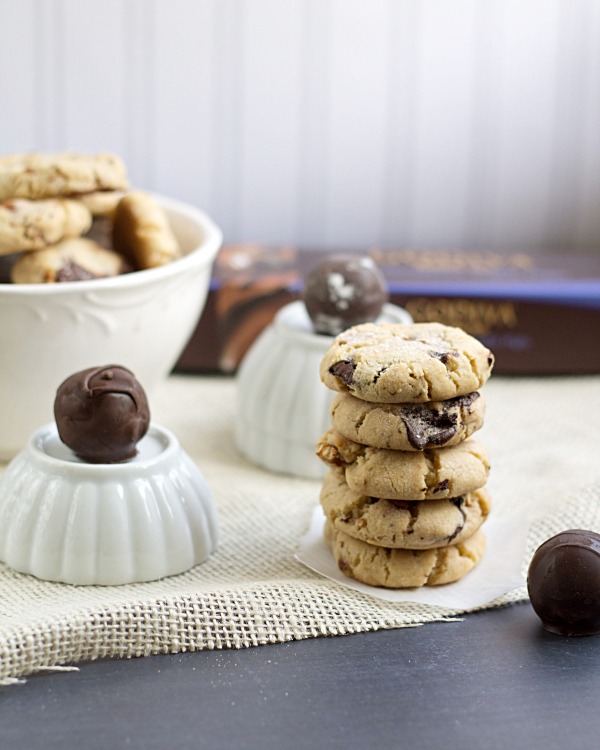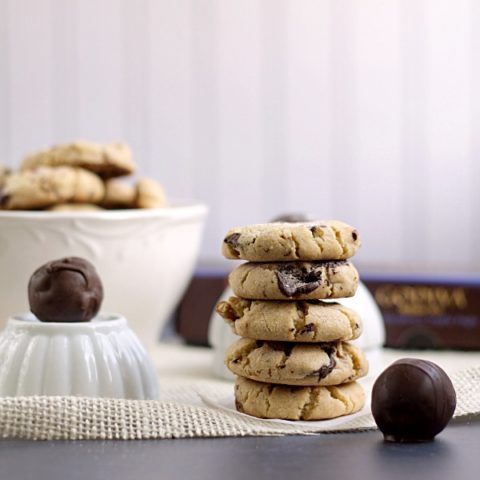 Dark Chocolate Chunk Pretzel Cookies
Yield: 36 cookies

Prep Time: 1 hour 15 minutes

Cook Time: 10 minutes

Total Time: 1 hour 25 minutes
Ingredients
1/3 C butter, room temp
1/3 C shortening
2/3 C packed brown sugar
1/3 C white granulated sugar
1 egg
3/4 tsp salt
2 C all purpose flour
3/4 tsp baking soda
8 squares from a Godiva dark chocolate bar, chopped
1/2 C pretzels, broken up
Cinnamon and Sugar from a cinnamon/sugar grinder
Instructions
In the bowl of a stand mixer with the flat attachment, beat together the egg, sugars, butter and shortening on speed 4 until smooth.
In a mixing bowl, whisk together the flour, salt and baking soda.
Gradually add the flour mixture to the butter mixture and beat on speed four until smooth.
Fold in the chocolate and pretzels.
Cover and refrigerate for 1 hour.
Place teaspoon sized balls of dough onto a parchment lined baking sheet. Bake at 350 for 8-10 minutes. If after about 6 minutes the cookies have not flattened, lightly flatten with the back of a table spoon. Then add some of the cinnamon and sugar from a grinder. Return to the oven and bake for about 2 minutes, or until about 10 minutes of baking time has been reached.
Allow to cool for 20-30 minutes before serving.
Repeat the process until all of the dough is used.

These cookies are perfect to give to your friends and family. Pack them up with the new Godiva Truffle FlightTM and you'll be talked about as the best gift giver for years to come. Ok, well maybe not years but your friends and family will be pretty darn happy with this gift!
About those Godiva Truffle FlightTM. I tried the Dark Chocolate Truffles. OMG. They are oh so good! I mean so good that I wanted to eat the entire box in one sitting. With flavors like Chocolate Lava Cake, Dark Chocolate Vanilla Mousse and Chocolate Souffle, it was hard to put them down.  But I was nice. I shared them with Ken. He enjoyed  them too!
How would you like to win your own box of Godiva Truffle FlightTM? Head on over to the Godiva Truffle FlightTM website, pick your favorite type of Flight Truffles and leave a comment below letting me know which type you'd like to try first. A winner will be randomly selected on Monday, October 21, 2013. One entry per person. Good luck and happy truffle time!