Halloween Cake Batter Fudge
Halloween lovers and fudgeaholics alike, you're gonna love this Halloween Cake Batter Fudge! It's bursting with cake batter flavor and decorated with spooky, fun Halloween sprinkles!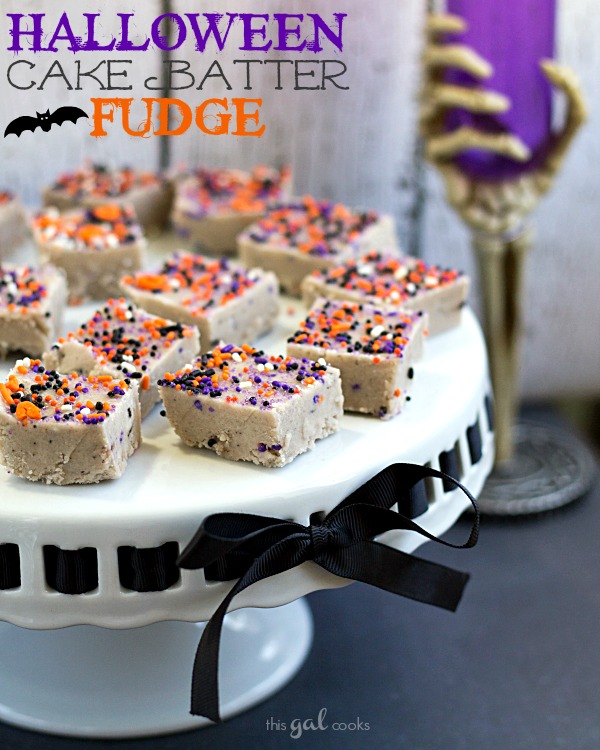 I had Monday off. Where I work, Columbus Day is a paid holiday. Want to know what I did on my day off? I worked my butt off! I cleaned, did yard work, rearranged some furniture and made this Halloween Cake Batter Fudge. Monday was a day full of hard labor compared to my desk job! I'm even a little sore from all of the work I did. But it was well worth it. My house is clean and neat, the flowerbed in my backyard looks great and I have delicious cake batter fudge to munch on. Last night I worked my butt off as well but it wasn't doing any hard labor. I had to compile a draft for the current paper I am working on in the Business Writing class I am taking. It's a group project and my part, besides being the leader of the group, is to compile the paper for this week's assignment! Needless to say, I am totally looking forward to graduation in May.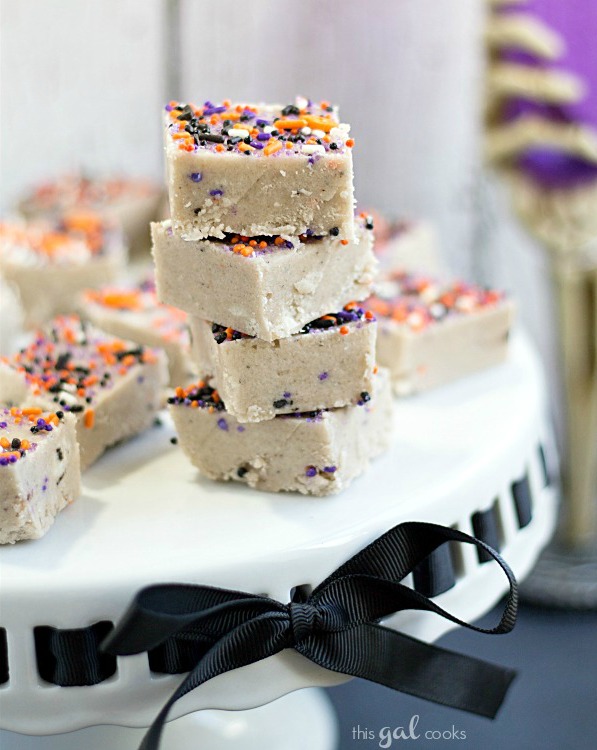 Halloween Cake Batter Fudge
So about this recipe. I based this recipe off of Joan from Chocolate, Chocolate and More's Cake Batter Fudge recipe. I added about 1/4 C of sweetened condensed milk to my recipe and I reduced the powdered sugar from 2 cups to 1 1/2 cups. Believe me, it was still rich and super sweet even after reducing the powdered sugar! I used a Pillsbury Halloween cake mix that already had sprinkles in it but they sorta melted while mixing everything together. So I used some Halloween sprinkles that I had on hand to add to the batter and top the fudge with. Doesn't it look spooktacular? Haha, I love that silly word spooktacular. It's so corny but I still think it's pretty rad.
This recipe requires no baking (which is pretty awesome if you are living in a state that is still seeing temps in the 80s) and it only takes about 10 minutes to whip together. The most time you will spend on this recipe is doing something else while you wait for it to harden in the fridge. Enjoy the recipe!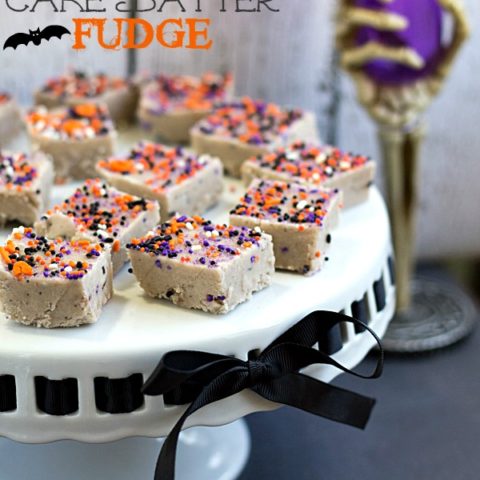 Halloween Cake Batter Fudge
Yield: 24 squares

Prep Time: 10 minutes

Total Time: 10 minutes
Ingredients
2 C Halloween funfetti cake mix by Pillsbury (or you can use plain ole white cake mix and mix in sprinkles)
1 1/2 C powdered sugar
1/2 C butter, cut into pieces
1/4 C sweetened condensed milk
2 tbsp milk
1/2 C white chocolate chips
Halloween sprinkles
Instructions
In a glass mixing bowl, whisk together the powdered sugar and cake mix.
Add the butter and milks (don't mix) and microwave for 2 minutes.
Remove from the microwave, stir to combine and then mix in the white chocolate chips. If your mixture is a little too thick (similar to cookie dough) add a tad bit more milk to smooth it out. Carefully fold in sprinkles.
Spread the mixture into an 8x8 greased baking dish and pat down to even out. Add sprinkles to the top of the mixture and lightly press down.
Cover and refrigerate for at least one hour. Once hardened, cut into squares.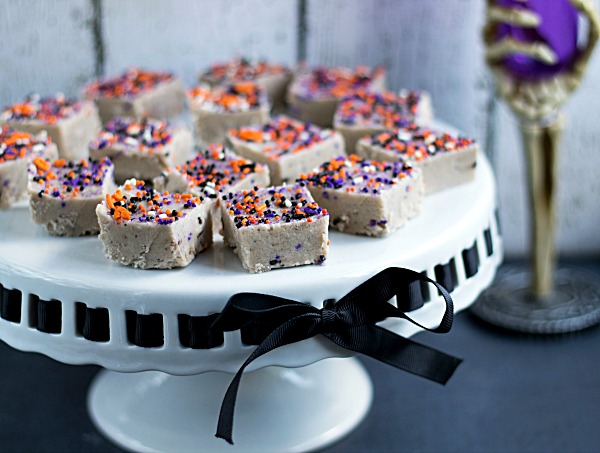 What do you think of this spooktacular recipe?
Are you going to run right out to get the ingredients to make this?
What is your favorite type of fudge?
What was your favorite costume to dress up in for Halloween when you were a kid?
More from This Gal Cooks