Halloween Brownie Truffles
Please your guests at your next Halloween gathering with these Halloween Brownie Truffles. Brownies are dipped in vanilla candy melts and topped with fun, spooky sprinkles!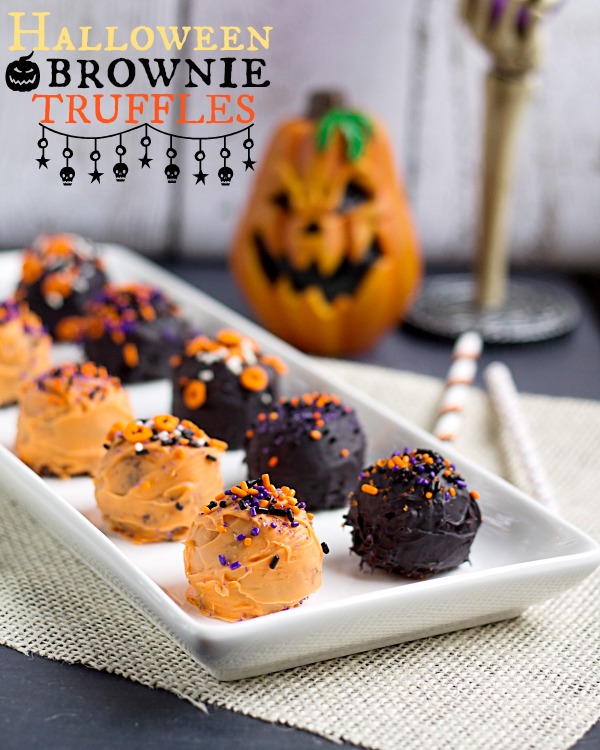 I know, I know. You're probably thinking to yourself "isn't it a little early for Halloween?" Of course not! Especially considering it's my favorite holiday! Plus, people love to plan their Halloween parties ahead of time. So here's a fabulous little treat that your guests will love. Because who doesn't love brownies?!
Before we get to the recipe I'm going to tell you about my week. It's been crazy busy. I feel like I've been neglecting the blog. And I have been to an extent. I only linked up to one party this week. I haven't gotten around to responding to many comments and this recipe will only be the second one that I post this week. You can thank school for that. School and the blog conference/mini vacation to Orlando that Ken and I will be having this weekend. I have a ton of work for school and I want to finish it before Friday since we are leaving Friday afternoon. How has your week been? I hope it's calmer than my week!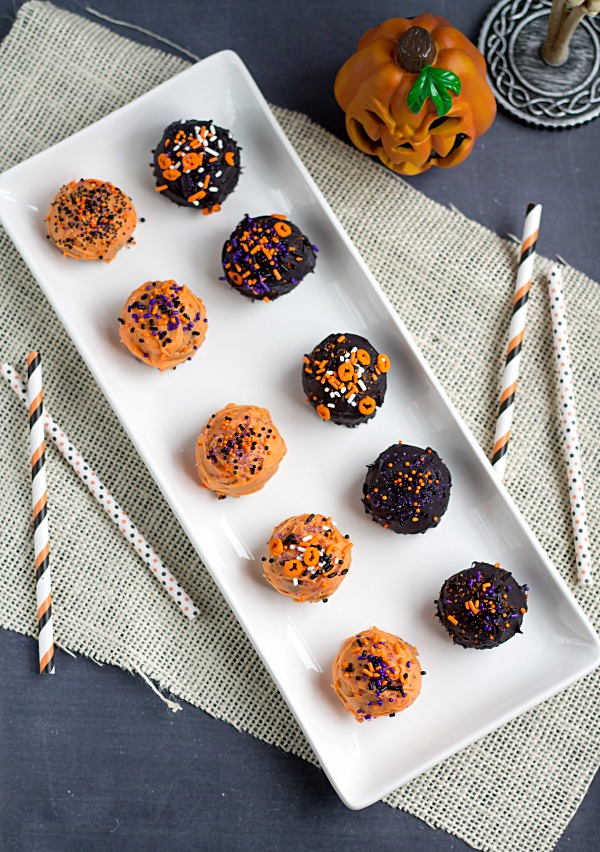 Truffles. The first time I made them was when I made these. I'll admit, they were quite a pain in the a$$ to make. I attribute some of that to being a novice in the world of truffle making. I attribute the other part to the candy melts. After melting them, they were still sorta thick which made dipping the brownie balls quite difficult. Can you say brownie crumbs in the candy melts? Yea, that's what happened. So I ended up using a knife and "frosting" these truffles. It was a little time consuming so I only made 10 of these. Oh if only I had more time to spend on them. They are SO good! And they're super cute and fun, aren't they? You can pick up the candy melts and the sprinkles at Michael's craft store. I just love that place. There are so many fun little baking ideas and accessories there.
Do you have any tips and/or tricks for truffle making? I'd like to give it a shot again sometime. Any help that will make the process smoother is greatly appreciated!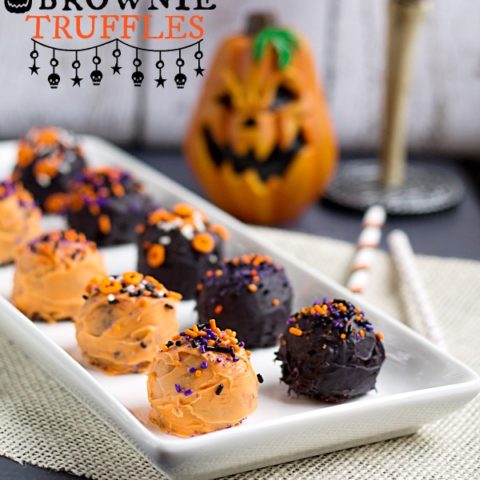 Halloween Brownie Truffles
Ingredients
2 12oz bags of candy melts in your choice of colors. I went with orange and black.
Halloween variety sprinkles
1 box of brownie mix (use the 13x9 family size package)
Ingredients listed on the brownie box
Instructions
Prepare the brownies according to package directions. After baking, cool completely. I baked mine the day before I made the truffles. Once the brownies are cooled, break them up until they are crumbly.
Line a baking sheet with parchment paper. Shape the brownie crumbles into balls. I used a cookie dough scoop to scoop and press the mixture. Then, using my hands, I patted them into a rounder shape.
Melt the candy melts according to package direction. If your candy melts get thin enough, then you should be able to dip the brownie balls into the melts and then remove them and place them back onto the parchment lined baking sheet. If your candy melts are too thick, you can do what I did - I used a knife to "ice" the brownie balls. My melts were the consistency of store bought icing so using the method I did worked perfect. It was just a tad bit time consuming.
After coating each brownie truffle, top with sprinkles.
Place in the refrigerator for 30 minutes to allow the coating to harden.