Pumpkin Swirl Pancakes with Pumpkin Butter Topping
These Pumpkin Swirl Pancakes with Pumpkin Butter Topping have to be the best pumpkin pancakes I've ever had. Swirled with pumpkin butter, dusted with powdered sugar and then drizzled with more pumpkin butter, they're the perfect way to start your day!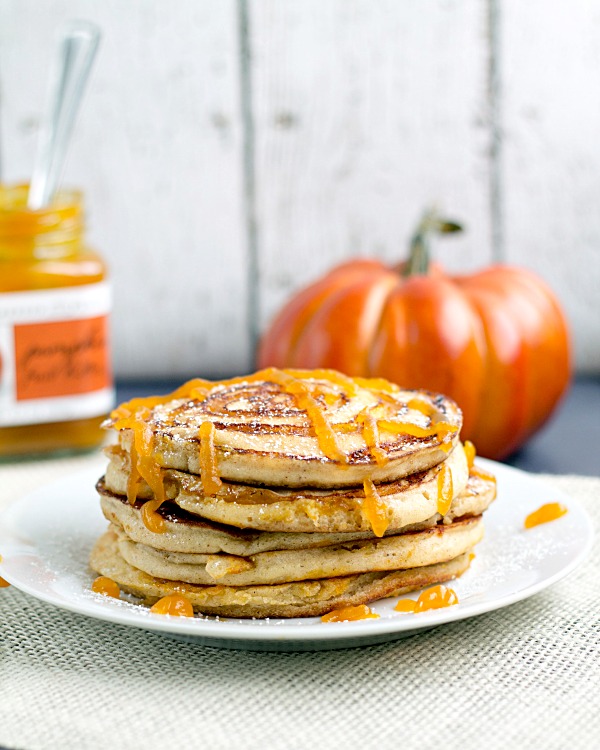 As I sit here typing this post, I anticipate tonight's episode of Breaking Bad. In fact, I probably won't finish this post before I go downstairs to watch the show. This probably sounds a little weird to you because you're reading this and it's probably sometime Monday morning or afternoon and tonight's episode of Breaking Bad is long over with. But right now it's Sunday evening and there are exactly nine minutes until the next episode airs. If you aren't familiar with Breaking Bad, well, it's only one of the best shows on television. The show is in its final season and there are only three episodes left. I can honestly say that I've never been so excited to watch an episode of a television show in my life. And I've been pretty excited about some of The Walking Dead episodes.
But enough of the TV talk and confusing you with the time of day it is. Let's talk about pumpkin again. Pumpkin pancakes. Ken likes pancakes. A lot. I don't mind them. They do taste good. And they are easy to make. But I can take them or leave them. Sometimes I make pancakes for him while making something else for myself. But these Pumpkin Swirl Pancakes are a different story. They are amazing!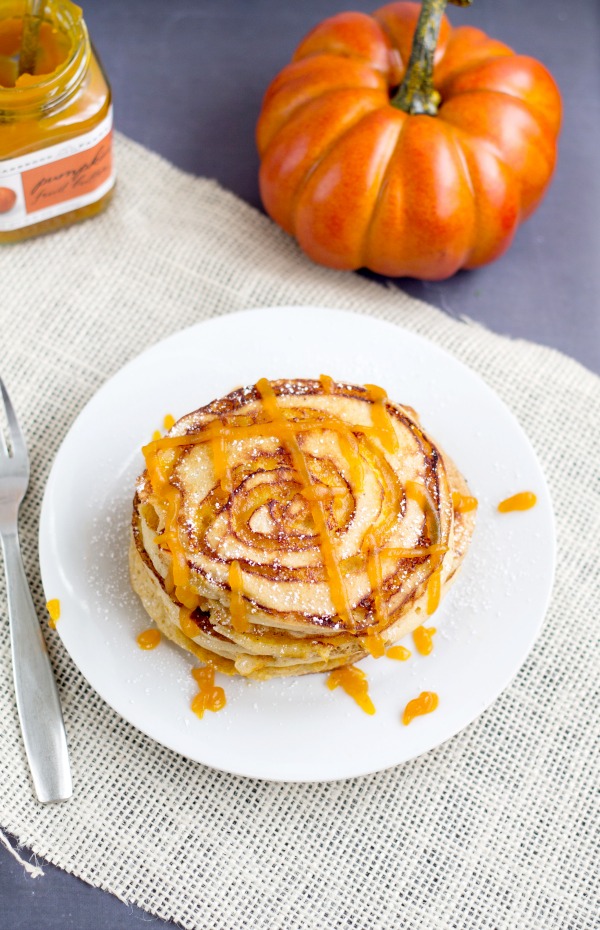 The key to what makes them amazing is the pumpkin butter. Have you ever had pumpkin butter? It reminds me of apple butter but with hints of pumpkin. Well, I wouldn't call them hints. You can definitely taste the pumpkin but it's a much different taste than pumpkin puree or any of the usual pumpkin flavored treats. I used about 3/4 of a jar of the pumpkin butter to make these pancakes. I used more than I thought I was going to use but that's ok. I am placing an order to purchase more of this pumpkin butter because it's so darn good! More recipes to come, teehee! For now, enjoy this recipe.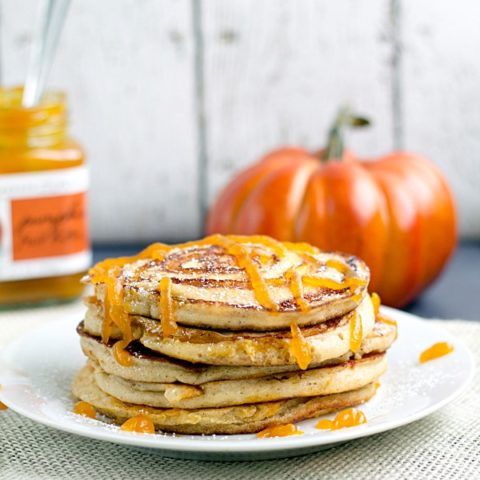 Pumpkin Swirl Pancakes with Pumpkin Butter Topping
Yield: 2-3

Prep Time: 10 minutes

Cook Time: 20 minutes

Total Time: 30 minutes
Ingredients
1/2 C all-purpose flour
1/2 C whole grain pastry flour
1 C milk
1 tsp vanilla extract
1 egg
2 tbsp canola oil
2 tbsp white sugar
1 tbsp brown sugar
1/4 tsp cinnamon
1/4 tsp nutmeg
1/4 tsp salt
2 tsp baking powder
1 9oz jar of pumpkin butter (you probably won't use it all but just to be safe, start with a whole jar)
Butter and powdered sugar for topping
Instructions
Preheat a non-stick skillet to medium heat.
In a large bowl (I used one with a spout) whisk together the flours, sugars, cinnamon, nutmeg, salt and baking powder.
In another bowl, whisk together the milk, egg, oil and vanilla.
Add the milk mixture to the flour mixture and mix well. The mixture should be slightly lumpy.
Pour 1/4 C of batter for each pancake onto the skillet. I do two at a time. Then squeeze the pumpkin butter in a circular motion onto the pancakes. I put the pumpkin butter into a ziplock bag and cut off the corner so I could squeeze it out. Bake for 2-3 minutes per side.
Spread butter (or Country Crock, as I did) on top of each pancake before stacking.
Top each stack with powdered sugar and then squeeze some more pumpkin butter on top.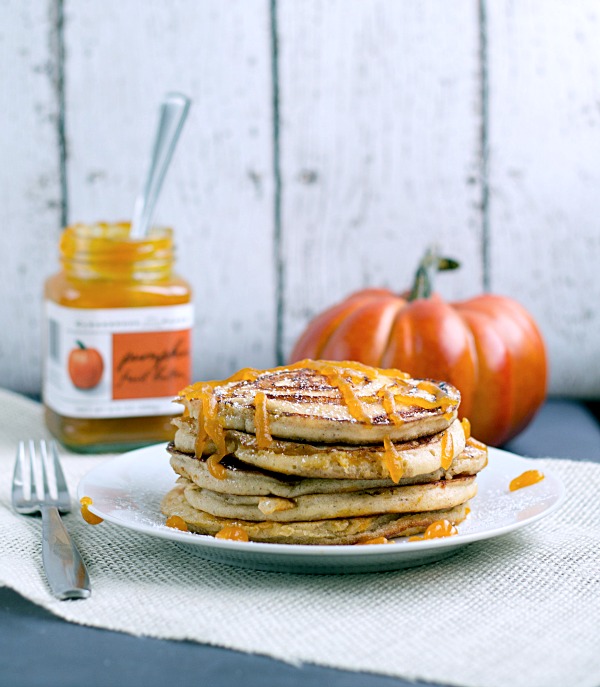 More from This Gal Cooks