Tangy Red Potato Bacon Salad
This delicious
Tangy Red Potato Bacon Salad
is packed with tons of flavor. It will knock your socks off!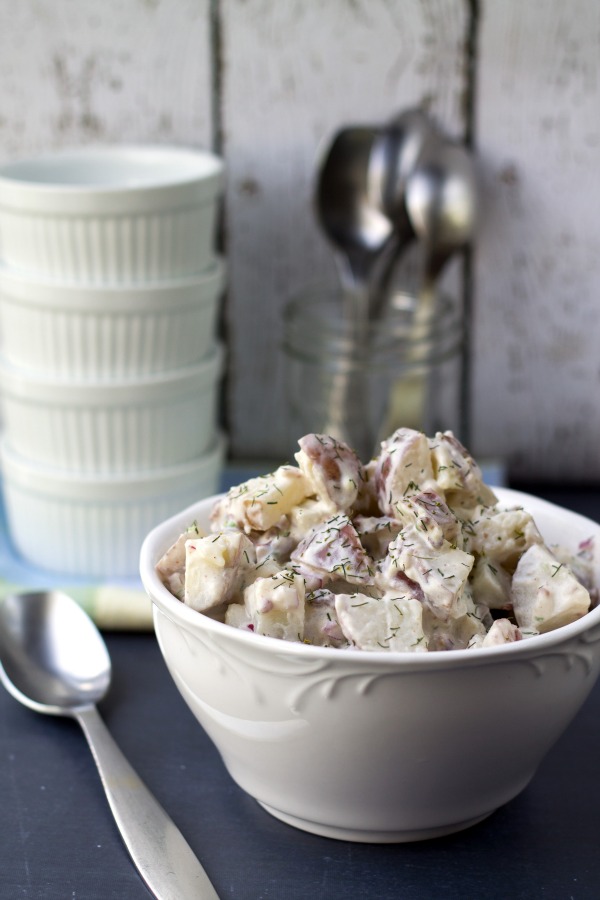 I'm a pretty picky person when it comes to potato salad. It has to be creamy, it can't have too much mustard in it and it has to have great flavor. A plain old potato salad dressed with only mayonnaise and some select seasonings just isn't going to cut it for me. So what's a gal who's on a quest to make a potato salad bursting with flavor to do? She turns to the internet, of course, to scour sites such as allrecipes.com, Pinterest and other cooking sites in order to get ideas for the perfect potato salad. And after reading many recipes, I came to a conclusion as to how I would make my potato salad. Mine would have a kick to it, and a nice smoky flavor. This isn't your average potato salad! This recipe can easily be gluten free if you make sure that your spices are gluten free spices. Please enjoy the recipe.
Tangy Red Potato Bacon Salad
Yield: 8
Prep Time: 15 minutes
Cook Time: 15 minutes
Total Time: 30 minutes
Ingredients
3lb of red potatoes, diced
1/2 cup of bacon pieces
1 cup of sour cream or Greek Yogurt (I used Chobani plain 0%)
1/2 cup of mayonnaise
1 tbsp of red wine vinegar
1 tsp of garlic powder
1/8 tsp of cayenne pepper
2 stalks of green onion, sliced
1/2 cup of red onion, diced
1 tbsp of fresh dill, chopped
1/2 tsp of salt
1/2 tsp of pepper
2 tbsp of chopped dill pickle
1 tsp of dijon mustard
1 tbsp of olive oil
Instructions
Boil the potatoes until tender. Remove from heat and allow to cool. (I cover mine and put them in the freezer for about 10-15 minutes)
Heat the olive oil over a skillet; cook the bacon for about 2 minutes and then remove from heat.
In a mixing bowl, whisk together the mayo, sour cream, red wine vinegar, dijon mustard, salt, garlic powder, cayenne pepper and pepper. Add the dill, dill pickle, onion, green onion and bacon. Mix well.
Put the cooled potatoes in a large mixing bowl. Pour the sauce over the potatoes and mix well.
Nutrition Information:
Yield: 6
Serving Size: 1
Amount Per Serving:
Calories: 541
Total Fat: 31g
Saturated Fat: 9g
Trans Fat: 0g
Unsaturated Fat: 20g
Cholesterol: 50mg
Sodium: 727mg
Carbohydrates: 51g
Net Carbohydrates: 0g
Fiber: 5g
Sugar: 7g
Sugar Alcohols: 0g
Protein: 16g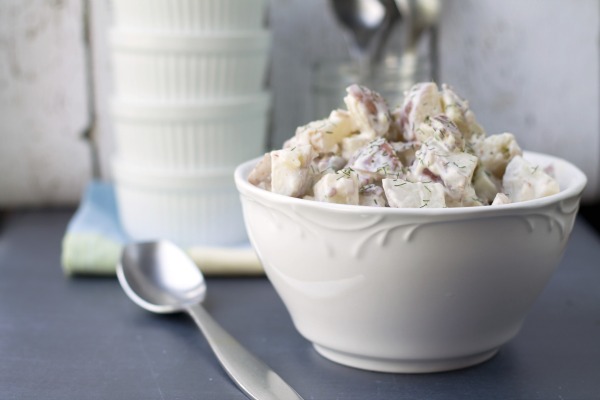 This recipe was remade in July of 2013 and the photos were updated!