Grilled Squash with Basil and Onion
Some folks aren't fans of veggies. Some folks' kiddos aren't fans of veggies. If you or your kiddo(s) dislike veggies you may be scratching your head and asking yourself "how do I make veggies taste great so my family and I will eat them?" Guess what? This gal right here has a solution to your problem: grilled veggies! Yes, I said grilled veggies. Most of us know that grilling adds great flavor to meats. But what you may not know is that it also adds great flavor to veggies. For example, grilled potatoes turn out crisp and flavorful. And any leftovers make for a great addition to a breakfast the next morning. Don't believe me? Check out this great recipe for grilled herbed potatoes.
Potatoes aren't the only vegetables that taste great grilled. Squash, onions, mushrooms, zucchini and eggplant all taste wonderful grilled. Fruits also taste amazing when grilled. Grill a peach and drizzle some honey on it, that's dessert heaven right there.
Now, on to my recipe. I present to you a grilled squash with basil and onion dish. This is great as a side for hamburgers, hot dogs, chicken, seafood. You name it, it tastes good with it.  Please enjoy the recipe.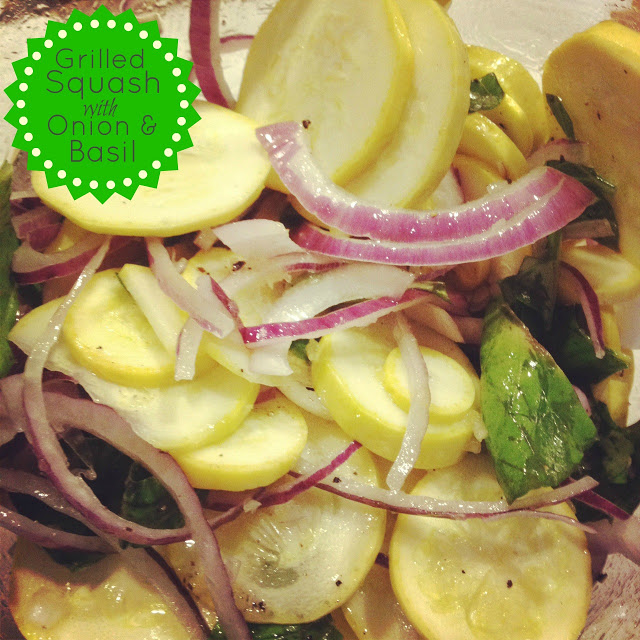 Ingredients
1.75lb of squash, sliced (don't slice it too thick)
1 small onion, sliced
2 cloves of garlic, minced
1 bunch of basil, broken into pieces
2-3 tbsp of olive oil
1 tsp of sea salt
1 tsp of ground pepper
Directions
1.  In a large mixing bowl, combine all of the ingredients. 
2.  Grill in a grill wok on high for 15-20 minutes or until tender. Be sure to stir occasionally with grill tongs.
Grilling fun!