Easy Taco Soup Recipe
Mexican food is one of my favorite types of foods so when I found this recipe, I knew I had to try it. It's been about 2 years since I first made this soup and it's become a household favorite. The boyfriend loves it; I love it. It's a simple meal that's rather cheap to make and it goes a long way. To me, it has a similar taste to chili but I think it tastes much better. There's something about taco seasoning that makes my taste-buds happy. I hope this recipe will make your taste-buds happy as well.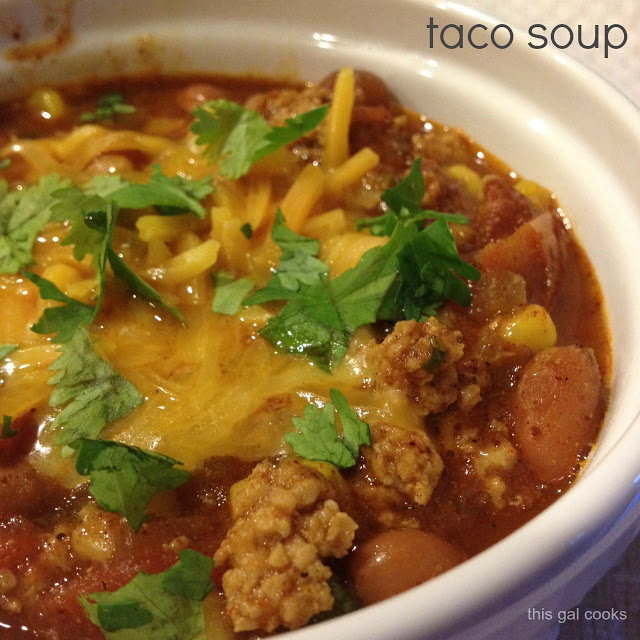 Easy Taco Soup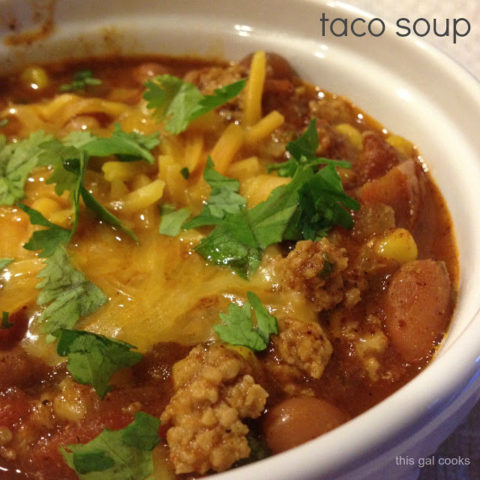 Taco Soup
Yield: 6

Prep Time: 15 minutes

Cook Time: 15 minutes

Total Time: 30 minutes
Ingredients
1.25lb of ground turkey (or ground beef, if you prefer)
3 tbsp of taco seasoning
1 tbsp of olive oil
3 cloves of garlic, minced
1 packet of ranch seasoning mix, such as Hidden Valley
2 14.5 cans of spicy red pepper diced tomatoes
1 can of pinto beans, drained and rinsed
1 cup of frozen corn kernels
1 small onion, chopped
1 jalapeno, seeded and diced
1 4oz can of diced green chilis
1/2 cup of beer (I suggest dark beer - I used Sierra Nevada Torpedo IPA)
3 tbsp of chopped cilantro
Shredded cheese and sour cream for garnishment
Instructions
In a large pot, heat olive oil. Add the ground turkey, onion, jalapeno and garlic and brown the meat.
Add the beans, diced chilis, diced tomatoes and beer and mix well.
Add the taco seasoning and ranch packet. Mix well.
Add the cilantro and frozen corn and mix well.
Simmer for 10-15 minutes
Serve with sour cream, cheese and garnish with extra cilantro, if you love cilantro as I do.
Enjoy