Street Corn Salad (vegetarian + vegan option)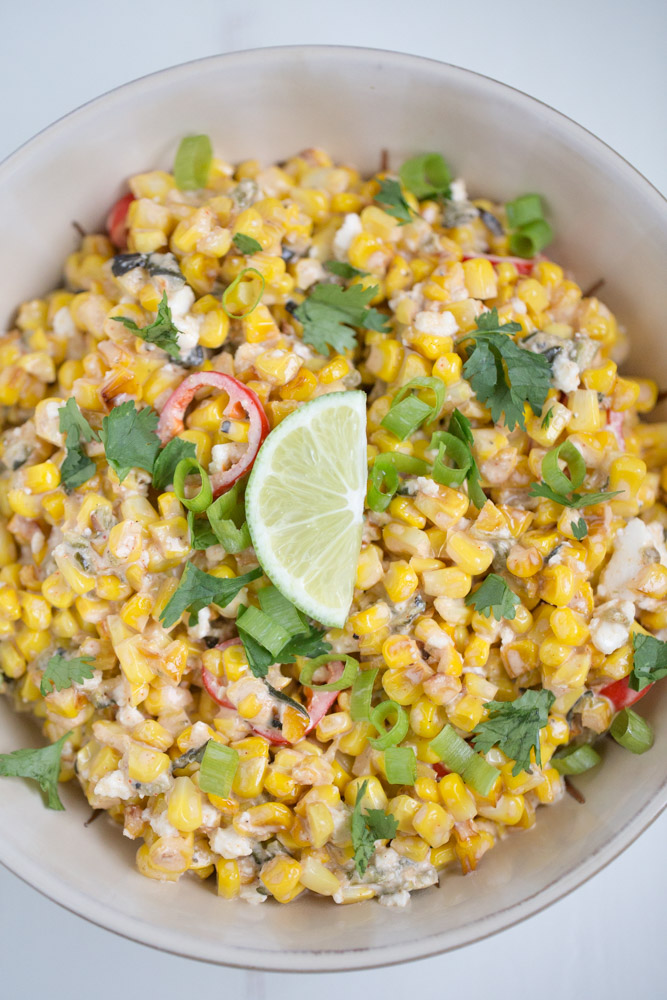 Is it still summer-time? Because I've been seeing a ton of pumpkin stuff all over the place. Savory pumpkin recipes, sweet pumpkin recipes and pumpkin beer. I'm a little confused. I just want to make sure it's okay to share this street corn salad with you today, considering many people have already moved onto pumpkin recipes.
Just kidding. I'm not really confused. I've been buying pumpkin beer since the end of July. Please, send more my way. I'll gladly take it. I'll drink a glass of pumpkin beer with a bowl of this street corn salad. Ain't no shame in that combo.
Street Corn Salad
If you follow me on Instagram, you know that on Saturday, I jumped on the street corn salad band wagon. I made street corn salad, just like 123451354 other people have done. My recipe is similar to other recipes but different as well. My recipe includes the basics – charred corn, mayo, lime juice, queso fresco and a little heat. But the heat in my salad comes from a chopped roasted poblano pepper. I also added a couple of sliced sweet red peppers to my salad. That idea comes from a street corn side dish that is served at one of my favorite local restaurants (District Table and Bar) here in Stuart, FL.
Included in the printable notes below are the options to make this recipe vegan – use extra virgin olive oil instead of butter, replace regular mayo with vegan mayo and leave out the queso fresco. If you're adventurous, you could try adding other ingredients to this recipe to make it your own – garlic, black beans and tomatoes are great add ins.

Street Corn Salad (vegetarian + vegan option)
Author: This Gal Cooks
Recipe type: salad
Serves: 4 cups
Ingredients
1 poblano pepper
4 ears of yellow corn
2 tbsp butter or extra virgin olive oil
2 sweet red peppers, sliced
3 tbsp mayo (can use vegan mayo)
Juice 1 small lime (about 2½ tbsp)
¼ tsp Salt
¼ tsp Ground pepper
¼ tsp ground chipotle powder
¼ C Queso fresco
Cilantro and green onion for garnish
Instructions
Turn on your broiler to high. Line a small baking sheet or pan with aluminum foil. Spray the poblano pepper with cooking spray. Broil 4-5 minutes or until charred. Flip and broil another 4-5 minutes or until charred. Remove from the oven and place in a bowl. Cover with plastic wrap and let sit for 10-15 minutes. This will cause the skin to separate for easy removal. Remove from the bowl and peel off the skin. Chop the pepper and place in a mixing bowl.
Cut the corn from the cob.
Heat the butter or olive oil over medium high heat. Add corn and cook 8-10 minutes or until charred. Toss a few times to mix to evenly distribute charring.
Place the corn in the bowl with the chopped poblano pepper. Refrigerate to cool. Once cooled, stir in sliced red peppers, mayo, lime juice, salt, pepper, chipotle powder, and Queso fresco. Garnish with cilantro and green onion and a wedge of lime, if desired.
Notes
To make this recipe vegan: use extra virgin olive oil instead of butter, replace regular mayo with vegan mayo and leave out the queso fresco.
nutrition information is for vegetarian option (butter, regular mayo and queso fresco included in recipe)
Adapted from
Closet Cooking
Nutrition Information
Serving size: ½ C Calories: 147 Fat: 10g Saturated fat: 4g Unsaturated fat: 5g Trans fat: 0g Carbohydrates: 13g Sugar: 5g Sodium: 162mg Fiber: 2g Protein: 4g Cholesterol: 15mg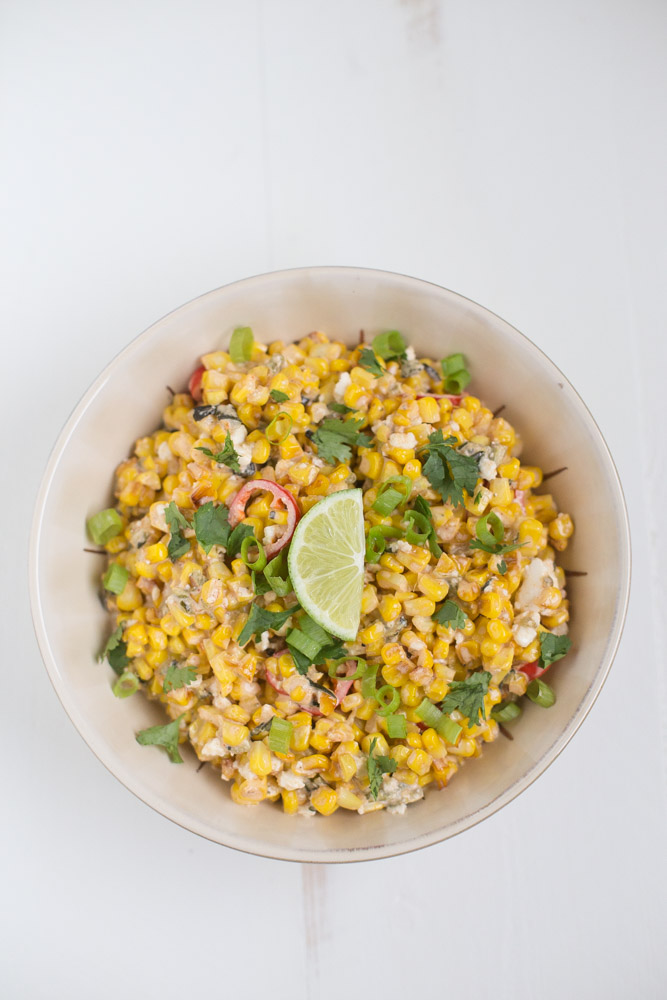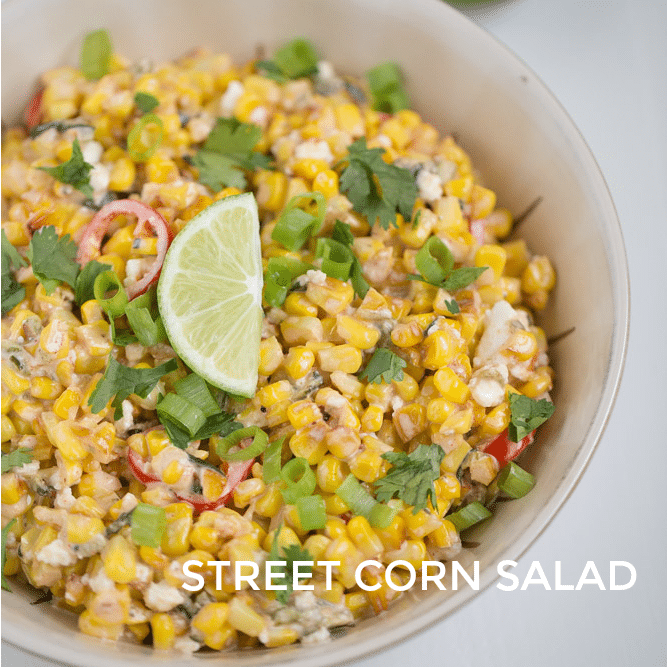 Let's be friends on INSTAGRAM, FACEBOOK, TWITTER and PINTEREST!