Savory Breakfast Oatmeal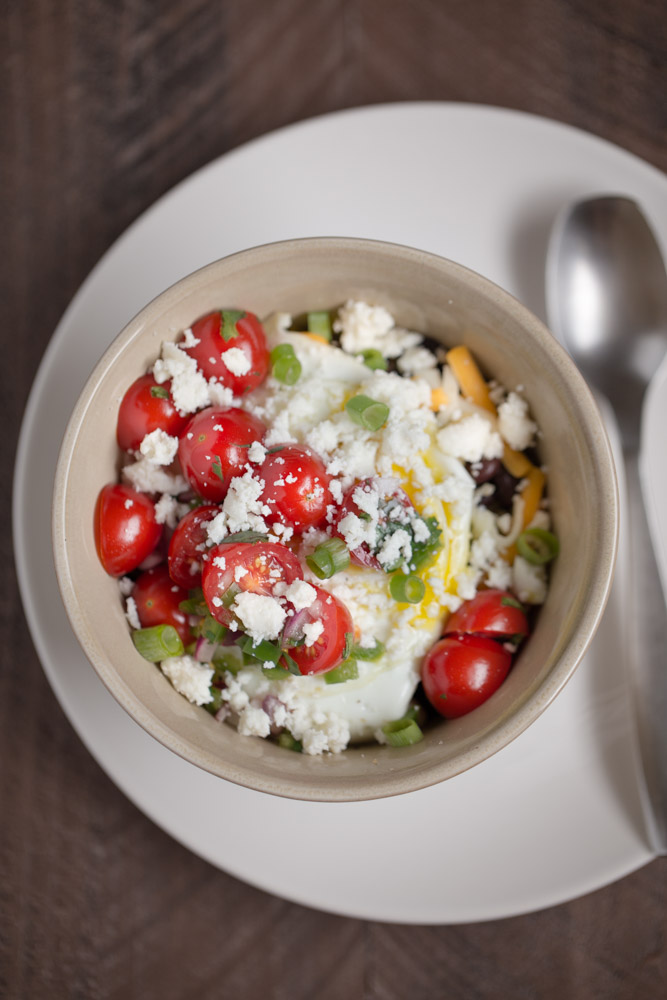 Savory breakfast oatmeal. Have you tried it yet? Everyone I've talked to about it says savory oatmeal sounds weird and that when they think of oatmeal, they think of fruits and all things sweet. If you think like that, that's okay. But today I'm going to change your mind and make you fall in love with savory breakfast oatmeal.
I didn't invent savory oatmeal. I actually came across it while browsing Pinterest. The recipe I saw came from a website by a lady named Martha whose last name is Stewert. It was a simple savory breakfast oatmeal recipe – oatmeal, egg, cheddar and green onion. Mmm, sounds good but I want to do more with it, maybe something Tex-Mexy. A quick scan of my pantry let me know I had black beans, cherry tomatoes, cilantro, red onion, peppers, lime, eggs and cheese. Ah yeeeaaaahhhh. I'm making savory oatmeal with all of those things.
Speaking of pantries, can I be honest with you? I feel like a gigantic food waster and excessive food spender. I feel like I need to buy excessive amounts of food for things I "might" make. It's okay if it's non perishable items but often, I buy a lot of fresh veggies and yogurt and other things that tend to spoil quickly which means they end up in the trash. And those non perishable items, they start to add up and take so much room in my teeny tiny pantry. SO, I've set some goals for myself – use up items that I already have in my pantry instead of buying more. GET CREATIVE! Freeze fruits and veggies that are starting to go bad and use them in smoothies, soups and broths. Stop the food waste. That's going to be my new motto.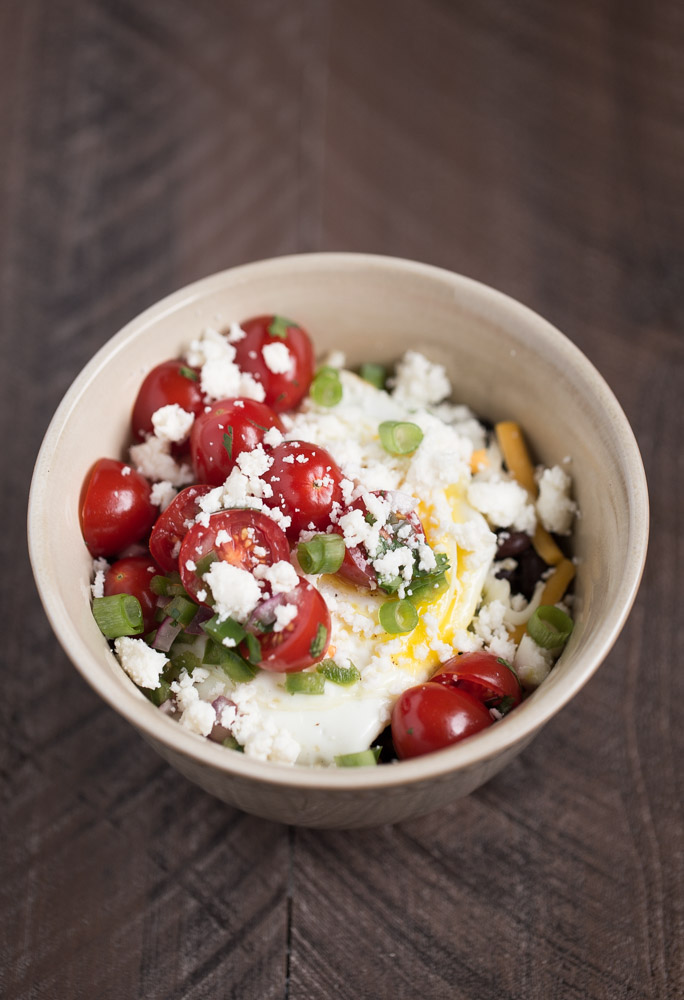 Savory Breakfast Oatmeal
This oatmeal has happened every day this week. On Sunday I ate it at home. On Monday, Tuesday and Wednesday, I ate it at work. It takes right around 10 minutes to make so it's a quick enough recipe for me to make before work and then pack and take along. If I weren't such a procrastinator, I could prep the homemade salsa in the evening and reduce the morning work to 5 minutes. Maybe I'll do that tomorrow.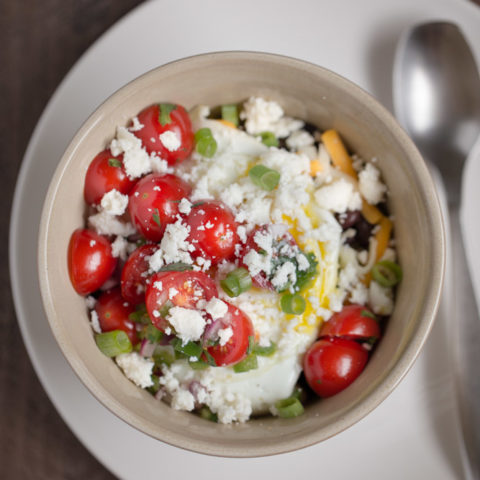 Savory Breakfast Oatmeal
Yield: 1 serving

Prep Time: 5 minutes

Cook Time: 5 minutes

Total Time: 10 minutes
Ingredients
1/2 C old fashioned oats
Water
Salt
1/2 tbsp smart balance or butter
1 large egg
Green onion
Cilantro
1/4 C halved cherry tomatoes
1 tsp finely chopped red onion
1 tsp finely chopped jalapeño
1 1/2 tsp fresh lime juice
1 1/2 tsp Fresh cilantro, chopped
1/3 C Black bean
1 tbsp shredded cheddar
1/2 tbsp crumbled Queso fresco
Instructions
Bring 1 C of water and a pinch of salt to a boil. Add the oats reduce heat to medium. Cook for 5 minutes. Remove from heat and stir in smart balance.
While the oats are cooking, prepare the salsa. Mix together the tomato, onion, jalapeño, lime juice, 1 1/2 tsp fresh cilantro and a pinch of salt.
Cook the egg over easy (or your desired style)
Place oatmeal in a bowl. Top with the black bean, shredded cheddar and egg. Sprinkle the egg with fresh ground pepper. Then top with the salsa and Queso fresco. Garnish with cilantro and green onion, if desired.
Notes
You may substitute the jalapeno pepper for chopped sweet peppers.

Nutrition information is presented using Smart Balance rather than butter.
Nutrition Information:

Amount Per Serving: Calories: 387 Total Fat: 16g Saturated Fat: 5g Trans Fat: 0g Unsaturated Fat: 9g Cholesterol: 146mg Sodium: 731mg Carbohydrates: 46g Fiber: 11g Sugar: 4g Protein: 20g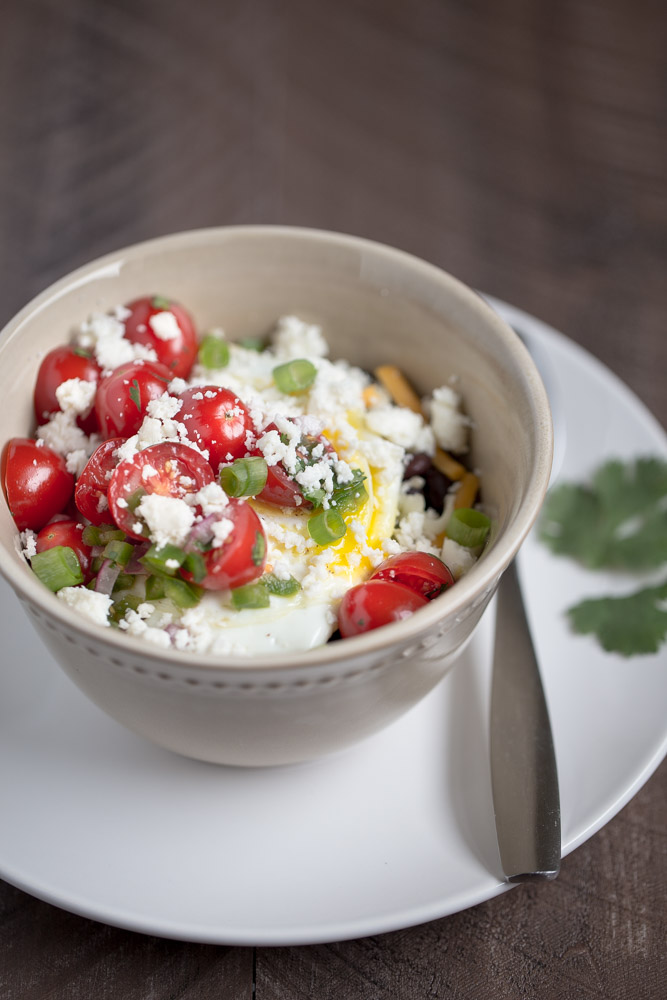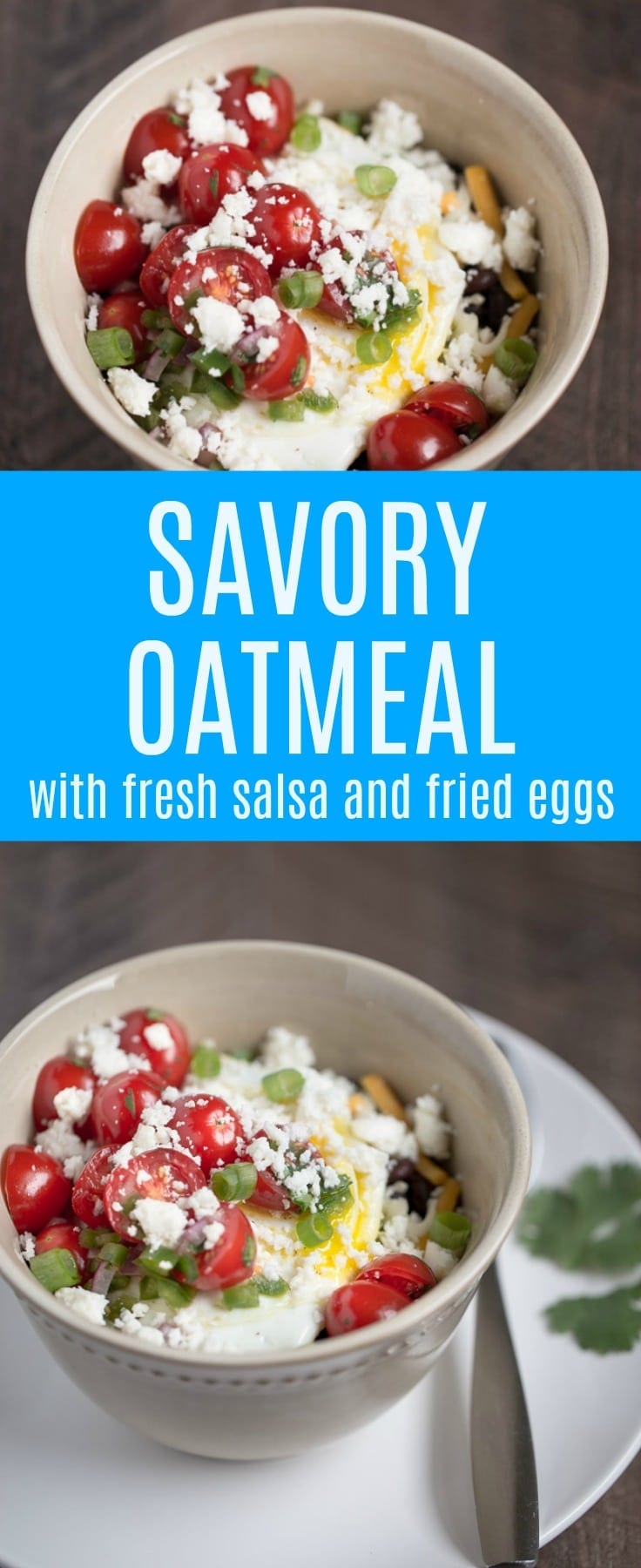 Let's be friends on INSTAGRAM, FACEBOOK, TWITTER and PINTEREST!