Roasted Garlic Hummus Toast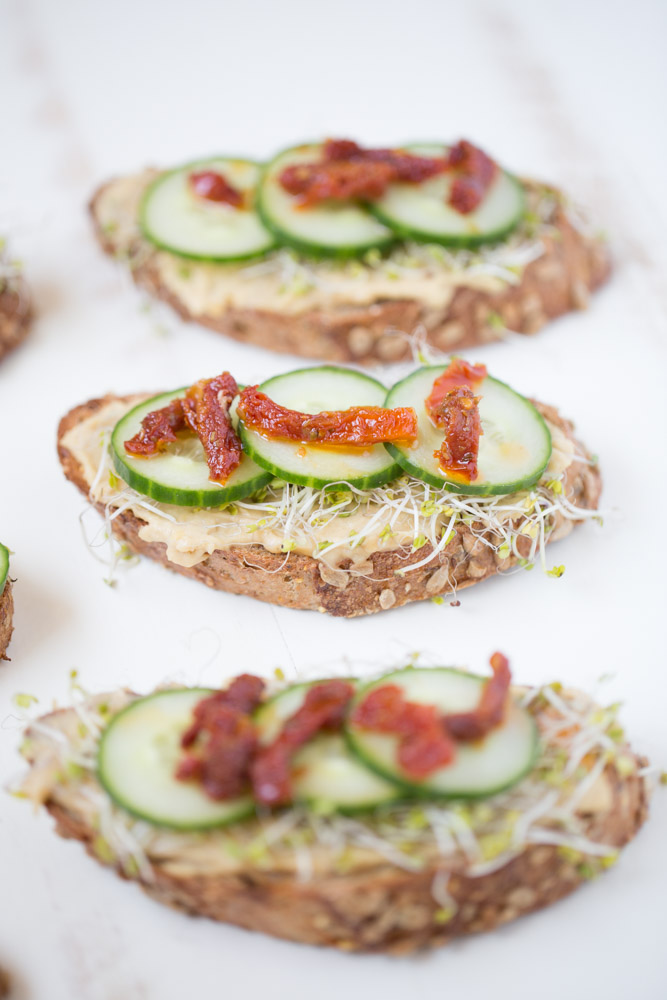 Over the weekend I made something pretty awesome and I have to share it with you or else I could become known as the worst person in the world. In reality, that probably isn't likely but in my mind it's a possibility. So today I present to you Roasted Garlic Hummus Toast with Broccoli Sprouts, Cucumber and Sundried Tomatoes.
It's probably one of the most simplest recipes in the world but it tastes like one of the most delicious recipes in the world. Hearty whole grain bread is spread with robust roasted garlic hummus. Delicate broccoli sprouts take their place atop the hummus. Sliced English cucumber nestle themselves upon the sprouts. Savory sundried tomatoes garnish the tops of these little toasts.
So in Florida news, there's a storm brewing that could possibly become a hurricane that could possibly hit Florida on Monday. ERIKA. Am I scared or anxious? Not at all. I'm one of the weirdos who loves extreme weather. Since I was a kid, I have been fascinated with extreme weather. I've dreamed of becoming a meteorologist. I've envisioned myself teaming up with a group of storm chasers and chasing the most gigantic tornado ever. I become giddy and excited at the chance of a hurricane gracing us with its presence. Of course, I do not like the chaos that a hurricane brings to many people, the destruction and damage. But Erika, I can get excited about Erika. It's only supposed to be a strong tropical storm or weak hurricane when it reaches Florida (should it reach Florida). There's room for excitement.
Roasted Garlic Hummus Toast
I'll save some room for excitement for this Roasted Garlic Hummus Toast and keep the ingredients stocked in my fridge, should we get a day of from work due to the hurricane. Hurricane day, FTW.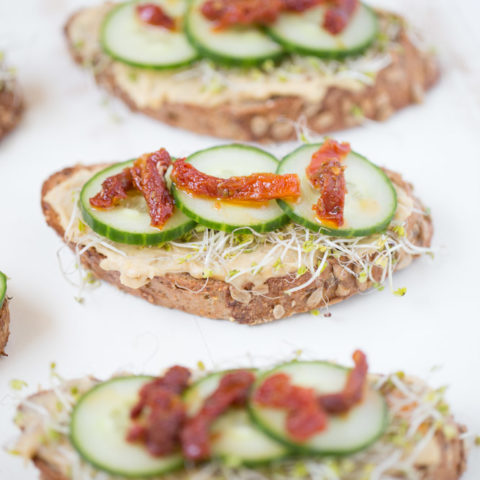 Roasted Garlic Hummus Toast
Yield: 6 toasts

Prep Time: 10 minutes

Total Time: 10 minutes
Ingredients
6 slices whole grain bread. I sliced 6 slices from a multigrain loaf. I sliced at a diagonal, about 1-2 inch thick.
extra virgin olive oil
Roasted garlic hummus (I used Sabra)
Sprouts, such as broccoli or alfalfa
15 slices Sliced English cucumber
Sundried tomatoes
Instructions
Preheat your oven to 400.
Brush each slice of bread with a little olive oil. Place each slice directly on the oven grate and bake for 3-5 Minutes or until toasty. Remove from oven and place on a serving tray or plate.
Spread each toast with some of the roasted garlic hummus. Top with some sprouts. Top with sliced cucumber and then sundried tomatoes.
Notes
Amount of each ingredient used will vary depending on the size of your bread slices. I have not included nutrition information for this reason. :)