Strawberry Quinoa Salad
This fresh Strawberry Quinoa Salad is packed with flavor and is abundant in nutrients!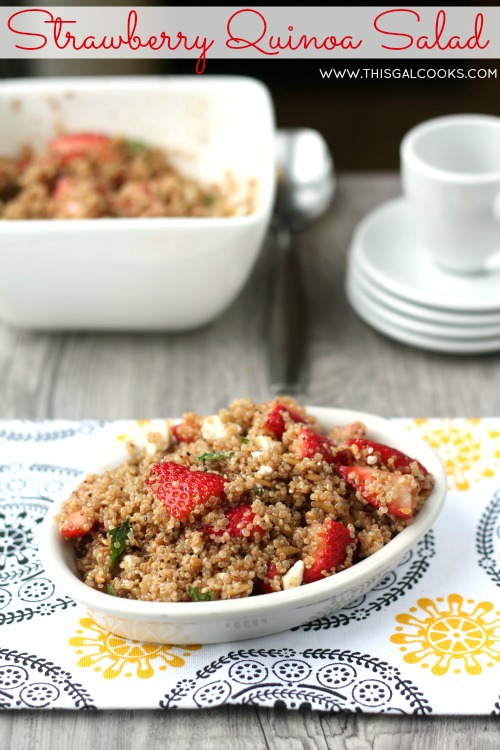 Happy Wednesday! Yes, it is a happy Wednesday. Today is my last day of work until Tuesday! By this time tomorrow, we should be headed down to the Keys. I cannot wait to enjoy a few relaxing days in one of the most relaxing places I've ever been. Seriously, there's something about the Keys that makes you want to stay there and never go home. The particular village we are going to is Islamorada, which is located within Tea Table Key, Lower Matecumbe Key, Upper Matecumbe Key, Windley Key and Plantation Key. That's a lot of Keys, eh?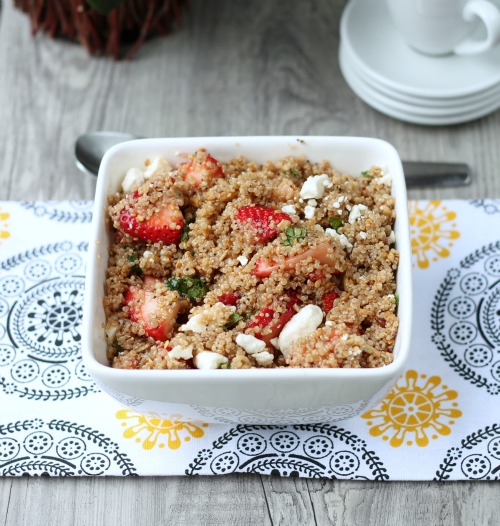 Islamorada is only 3 short hours from our house and is in the same state that we live in but it really does seem like a whole different world down there. Everyone is relaxed, happy and having a good time. The last time we went, we were trying to figure out ways that we could live there while still making a living! If you follow me on Instagram (follow here), you are sure to see some great pics during our stay down there!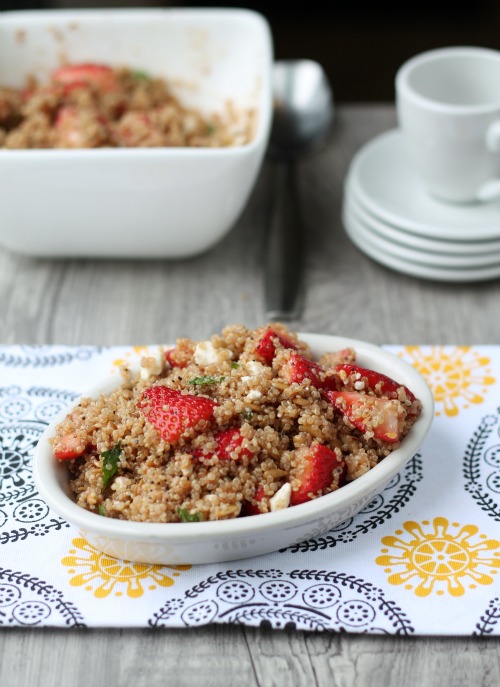 Now back to the delicious salad that I am sharing with you today. I'm a pretty huge fan of quinoa. It's packed with nutrients including fiber, protein and calcium. And it tastes great! I added some flax-seed and feta to this Strawberry Quinoa Salad but next time I make it, I will leave out the feta. Don't get me wrong, it tasted wonderful with the feta, but I am trying to cut dairy out of my diet so feta isn't an option. However, if I venture into the world of goat cheese (the feta I use comes from cows) then I will try that out to see if I like it and whether or not it bothers me. I hope you enjoy this healthy recipe!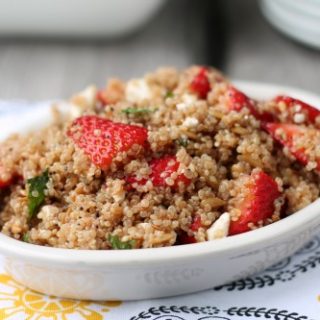 Strawberry Quinoa Salad
Yield: 4 servings

Prep Time: 15 minutes

Total Time: 15 minutes
Ingredients
2 C cooked quinoa
1 1/2 C sliced fresh strawberries
3 tsp chopped fresh mint
2 tbsp feta cheese
2 tbsp sunflower seed
1 tbsp flax seed
1 tsp poppyseed
4 tbsp lime juice
1 tbsp balsamic vinegar
1 tbsp olive oil
1 tbsp honey
Instructions
Combine the quinoa, sunflower seed, flax, strawberries and poppyseed
In a small mixing bowl, whisk together the balsamic, olive oil, honey and lime juice. Pour over the quinoa mixture and mix well.
Mix in the mint and feta.
Nutrition Information:
Yield: 4 Serving Size: 1
Amount Per Serving: Calories: 231 Total Fat: 9g Saturated Fat: 2g Trans Fat: 0g Unsaturated Fat: 7g Cholesterol: 4mg Sodium: 293mg Carbohydrates: 33g Net Carbohydrates: 0g Fiber: 5g Sugar: 10g Sugar Alcohols: 0g Protein: 6g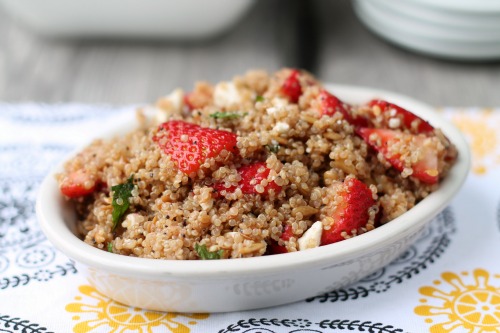 Often linking up to these fab parties.