Strawberry Banana Phyllo Cups
Strawberry Banana Phyllo Cups: Bite sized phyllo cups are dipped in chocolate and filled with fresh strawberries and bananas. Topped with Cool Whip and chocolate drizzle for a perfect Valentine's treat or sweet dessert appetizer!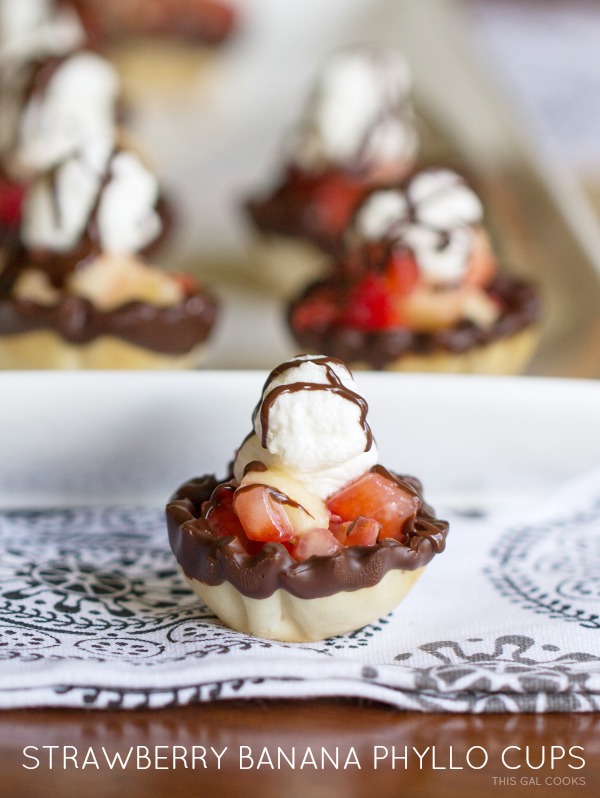 I have a confession to make. I'm not a super huge fan of Valentines Day. In fact, I rarely celebrate it. And what I do for it can barely be called celebrating. But I do enjoy the Valentine's sweet treats. Oh how I love the cookies, cupcakes and boxes of chocolates. Last year, Ken brought me home four cupcakes from the best cupcake shop ever, which also happens to be my favorite cupcake shop. I was one happy gal. I told him to take Valentines Day off again this year so he could drive 20 miles to the cupcake shop to get me some this year. A girl can wish, can't she?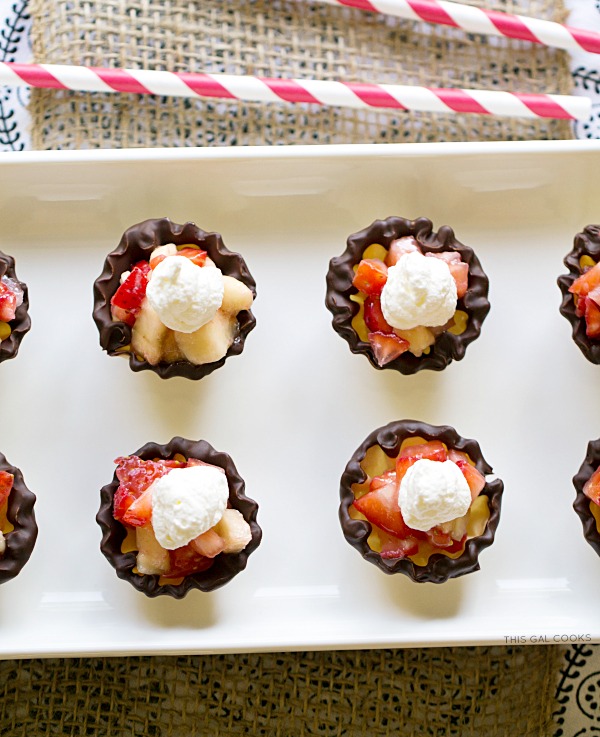 Strawberry Banana Phyllo Cups
Speaking of Valentines sweet treats, I made some of my own over the weekend. I was pretty ecstatic to be selected to make a sweet treat using Ghirardelli 60% Cacao Bittersweet Chocolate Baking Chips. I'm not a huge fan of milk chocolate but I love the bittersweet, semi-sweet and dark chocolates! This was a win-win situation for me!
So I got to thinking, what was I going to make? I didn't want to make cookies, cupcakes or brownies as I figured that those treats are all too common. I wanted to make something a little different, something that utilized fresh fruit.
Ding Ding Ding. It finally hit me! I had some phyllo cups in the freezer and some Ghirardelli 60% Cacao Bittersweet Chocolate Baking Chips in my pantry. I'll make little phyllo cup treats!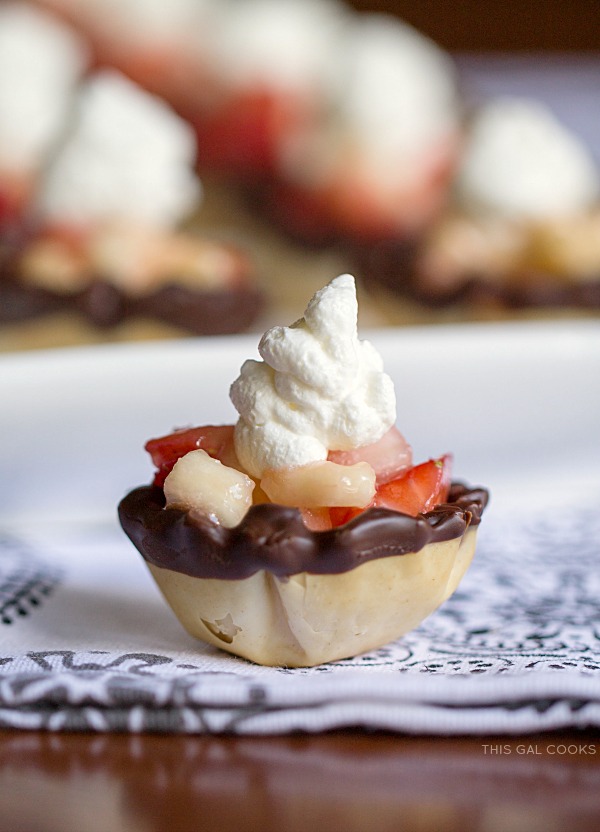 All I had to do was pick up some fresh fruit. I opted for strawberries and bananas. Strawberries because, well, they're the fruit mascot of Valentine's Day. And bananas because they pair well with strawberries and chocolate.
To make these little treats I just baked the phyllo cups, dipped them in melted Ghirardelli 60% Cacao Chocolate Baking Chips, filled them with chopped strawberries and bananas and topped them off with a dollop of whipped cream. Pretty darn nifty, am I right?
Want to easily save this recipe to your own personal recipe box? Click the SAVE RECIPE button below (and on all of my recipes) to create your own meal plans! The ingredients from your favorite recipes will be added to your own grocery list!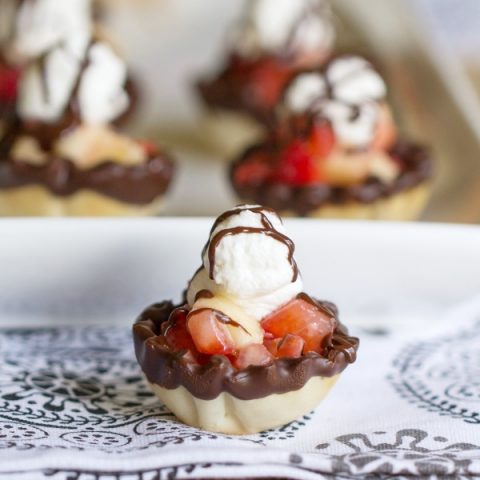 Strawberry Banana Phyllo Cups
Yield: 15

Prep Time: 30 minutes

Total Time: 30 minutes
Ingredients
15 phyllo cups
1/2 banana
3-4 medium strawberries
3/4 C Ghirardelli 60% Cacao Bittersweet Chocolate Baking Chips
1 tsp lemon juice
Cool Whip or whipped cream
Instructions
Bake the phyllo cups according to package directions. Set aside and allow to slightly cool.
Chop the strawberries and banana, place in a bowl and mix with the lemon juice.
Melt the baking chips using the double boiler method.
Dip the tops of each phyllo cup into the melted chocolate. I put the chocolate in a large spoon and dipped the phyllo cups into the spoon. It made dipping easier.
Allow the chocolate to completely cool. I just placed the chocolate dipped phyllo cups into the fridge for a few minutes.
Fill each cup with about 1 1/2 tsp of the fruit mixture. Top with cool whip and then drizzle with more chocolate.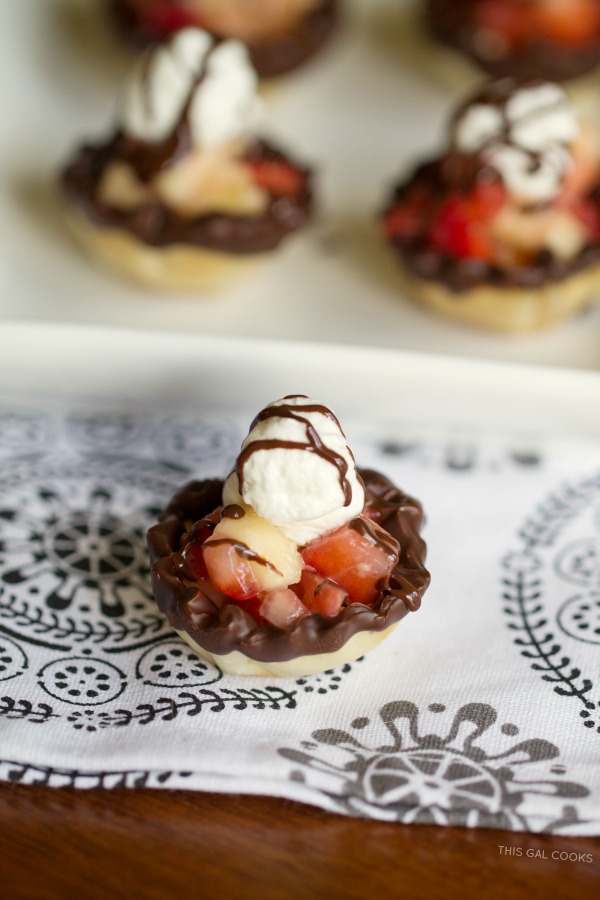 Want to get your hands on some of the delicious Ghirardelli baking chips? You can find them at most grocers and club stores nationwide. All Ghirardelli products are made with quality ingredients, allowing you to enjoy the smooth taste of delicious chocolates.
I was selected for this opportunity as a member of Clever Girls Collective and the content and opinions expressed here are all my own.