Crock Pot Thai Chicken Soup
Kick up your next chicken soup a notch and try this Crock Pot Thai Chicken Soup. Easily made in your crock pot, you won't have to do much work to get a good meal after a long day at work!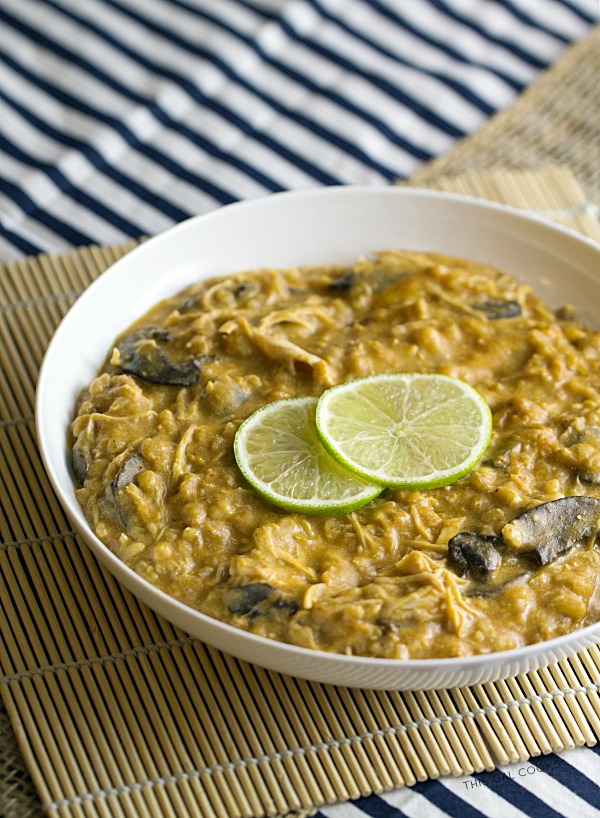 Oh how I love you, Monday. Ha, not really. But they come around each week so you have to learn to deal with them and accept them. Am I right? Well, I can't say that I totally hate Mondays. I get quite a few of them off during the year. The company I work for is closed on all holidays, both major and minor. So I can't complain, right? Plus, today just marks one day closer that we start our vacation in North Carolina. Oh how I hope it snows there! I'm a true Florida gal who has never seen snow. I know, it's pretty shocking to be in your 30s and to have never seen snow, right?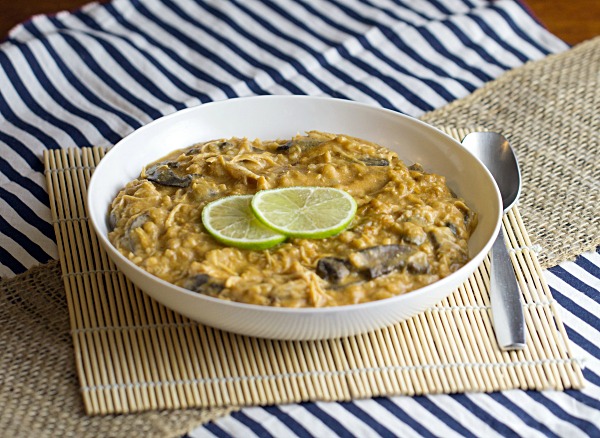 Crock Pot Thai Chicken Soup
So about this soup. I kind of made it on a whim one day. I was going to make my Crock Pot Creamy Chicken and Wild Rice Soup but then I was like "let's do something different!" So I did. Coconut milk, mushrooms, peanut butter, leeks, limes, some other select seasonings and of course, chicken, are all that's needed to make this hearty soup. No joke, this is just something I threw together using ingredients I had on hand. I didn't have to run to the store to get any ingredients to make this soup. I love recipes like this!
Ken really enjoyed this soup. Me, I had a love/hate relationship with it. At first taste, I loved it. Then a few minutes later I wasn't so sure. But the next day, it was great. Maybe my taste buds needed the flavors to have time to rest together before they could handle it. In any case, this is one hearty, enjoyable soup that won't keep you tied to the kitchen. Enjoy!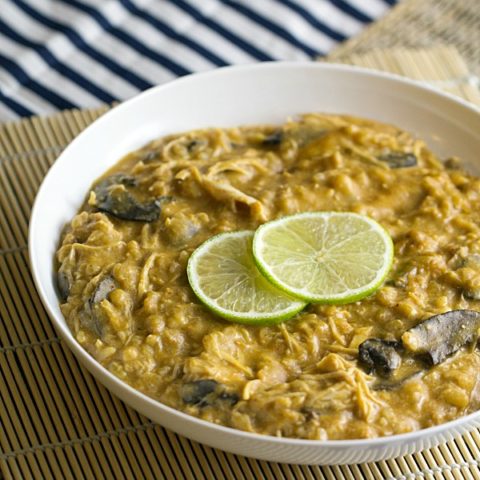 Crock Pot Thai Chicken Soup
Yield: 8

Prep Time: 10 minutes

Cook Time: 8 hours

Total Time: 8 hours 10 minutes
Ingredients
2 boneless, skinless chicken breasts
8 oz package of sliced baby bella mushrooms
2 tbsp red curry paste
2 tbsp fish sauce
2 tbsp maple syrup
2 tbsp peanut butter
1 14.5 oz can of chicken broth
2 14oz cans of coconut milk
1 leek, sliced thin, white parts only
3 cloves of garlic, minced
3/4 C brown rice
2 tbsp lime juice
Instructions
Line your crock pot with a crock pot liner or spray with cooking spray.
Place the chicken, mushroom, rice, leeks and garlic in the crock pot.
Whisk together the coconut milk, chicken broth, fish sauce, peanut butter, red curry paste, maple syrup and lime juice. Pour over the chicken mixture in the crock pot.
Cover and cook on low for 6-8 hours.
After cooking, break up the chicken with a fork. Mix well and allow to cool a little before serving.
Notes
If your slow cooker runs hot, you'll want to cook for 6 hours and then check everything. If you cook too long, the rice will turn mushy.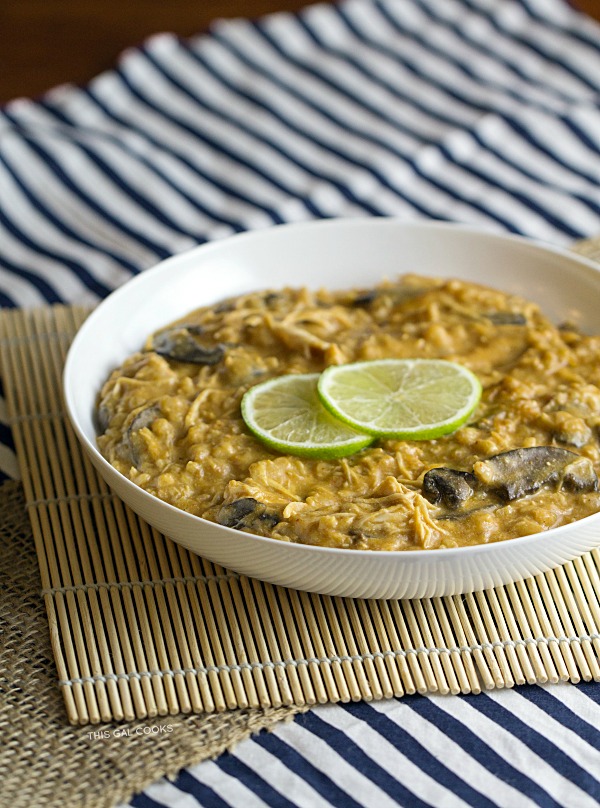 More crock pot recipes from This Gal Cooks