Thirty Minute Quinoa Taco Bowls
Enjoy healthier, lower fat tacos without the rice or taco shells with these Thirty Minute Quinoa Taco Bowls. These are just like burrito bowls only you sub the rice with quinoa!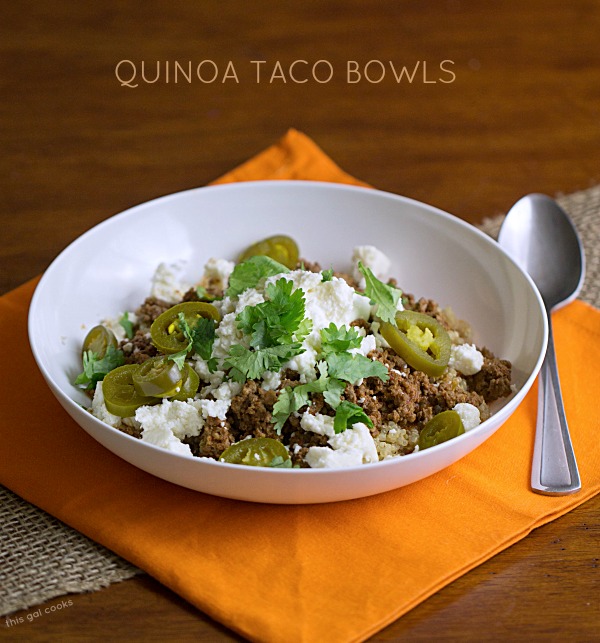 Thirty Minute Quinoa Taco Bowls
Taco bowls. Yeah! I get pretty excited about taco bowls. I've only made them oh a thousand or so different ways. Ok, maybe I'm exaggerating just a little. BUT, I am sharing another taco bowl recipe with you today. So that makes 1001, right?
This taco bowl is special. I made it with quinoa. Or as Ken called it "the stupid rice." Ha. Stupid rice. I think that really means "the stuff that isn't really rice." Funny thing, though. Cause I know he likes quinoa. I've made it before to use in other recipes and he liked those recipes. I think he just thought it was a weird item to pair with a taco bowl. But I didn't think it was weird at all. I love quinoa.
And did I mention that it's healthy? Sure is. It's pretty hefty on the nutrients.
I made these bowls on a whim. Once again, I had ingredients in my pantry and fridge that were screaming to be used. Screaming so loud that I had to use them up in fear that I was going to go completely insane due to the noise.
Ok, that's not really how it went down. I was lazy. It was a long day at work. I wanted a tasty meal on the table super quick. And when I say table, I mean our coffee table in the living room or our desks upstairs. Cause you know we never use our perfectly fine dinner table. Unless its to take photos of my food creations. See, the dinner table gets some love too. Can't be too stingy with the love.
So thirty minutes you say? Yep, thirty minutes I say. That's about all it takes to prepare this meal. Actually, it's probably less time then that but if you get distracted easily like I do, there's some buffer time in there for you.
To cook the quinoa, simply place it in a rice cooker, following the directions as you would for rice. While the quinoa is cooking, cook your ground turkey, add taco seasoning and put together your toppings. Simply put, take the queso fresco, sour cream, cilantro and jalapenos out of the fridge and place them on your counter. When everything is done cooking, place in a bowl, top with toppings and enjoy!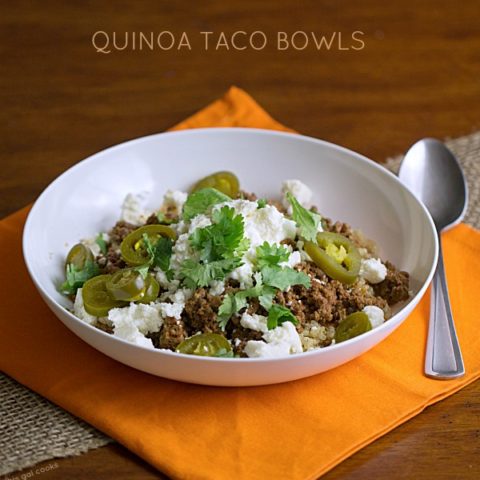 Thirty Minute Quinoa Taco Bowls
Yield: 4 servings

Prep Time: 15 minutes

Cook Time: 15 minutes

Total Time: 30 minutes
Ingredients
1 lb ground turkey
1 packet of all natural taco seasoning (or you can use the equivalent of homemade, which is about 2 tbsp)
2 tbsp water
3/4 C uncooked quinoa
1 1/2 - 1 3/4 C water (the water measurement will be based on your rice cooker. If you cook via stove-top, follow the package instructions on the quiona for cooking)
Various toppings including jalapenos, sour cream, cilantro, queso fresco or your favorite shredded cheese
Instructions
Cook the quinoa in your rice cooker. Follow the instructions you would use for cooking rice.
In a skillet, cook the ground turkey until browned and thoroughly cooked.
Mix the taco seasoning and 2 tbsp water into the ground turkey.
Place the cooked quinoa in a serving bowl, top with ground turkey and your favorite toppings.
Notes
Calorie count is approximate with the toppings I used. Choice of toppings will alter nutrition content.
Nutrition Information:

Amount Per Serving: Calories: 350 Total Fat: 12g Carbohydrates: 27g Sugar: 1g Protein: 25g



More Tasty Recipes from This Gal Cooks