Slow Cooker Moroccan Lentil Soup
This thick and hearty Slow Cooker Moroccan Lentil Soup is a flavorful healthy option that is great served over rice. Omit the chicken to make it a vegetarian dish. Under 300 calories per serving!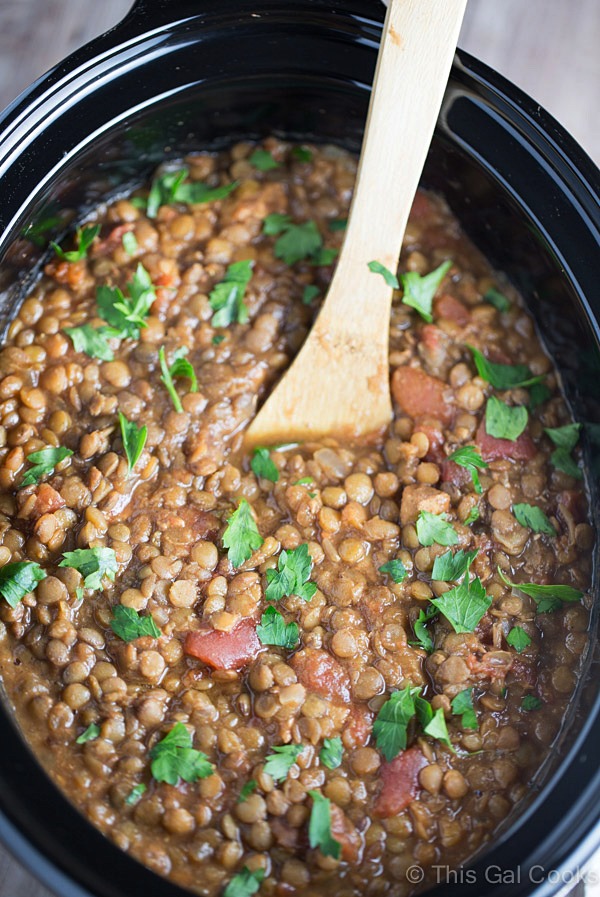 It's been a while since I shared a slow cooker recipe. The last one I shared was this Slow Cooker Potato Ham and Leek Soup. And that was in July. It's time for another slow cooker recipe.
A few weeks ago I was craving a hearty meal. Wait, I often crave hearty meals. So a few weeks ago, a few days ago, today. I'm always craving hearty meals. Last year, I made this Moroccan Chickpea and Lentil Stew. I loved it. Ken, not so much. Well, it's not that he didn't like it. He just didn't like the chickpeas. He's funny. One time I asked him if he liked chickpeas. He said he didn't know. So I showed him a can of chickpeas so he could see what they look like. Then he shook his head to tell me no, he does not like those things.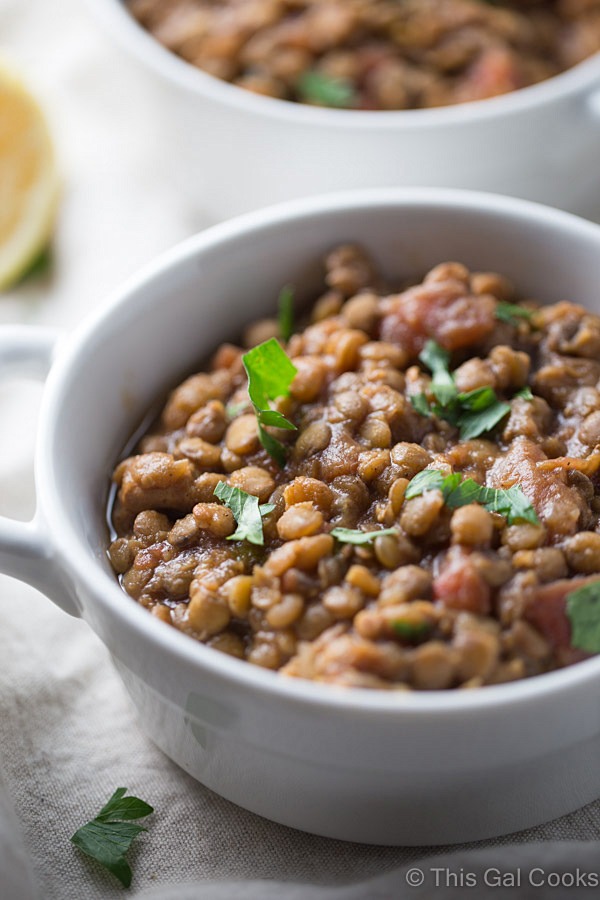 Now me, I love chickpeas. I like putting them in salads, soups and making chickpea salad with them. But since the S.O. does not like them, I don't cook with them often. Which is fine. I wanted to make the Moroccan Chickpea and Lentil Stew again, sans the chickpeas. And I wanted to make it in my slow cooker. Because slow cookers equal love. And because I had a bag of dried lentils that I knew would take forever to cook. And because I knew my slow cooker would cook them perfectly, along with the chicken, tomatoes and spices I added to the slow cooker with them.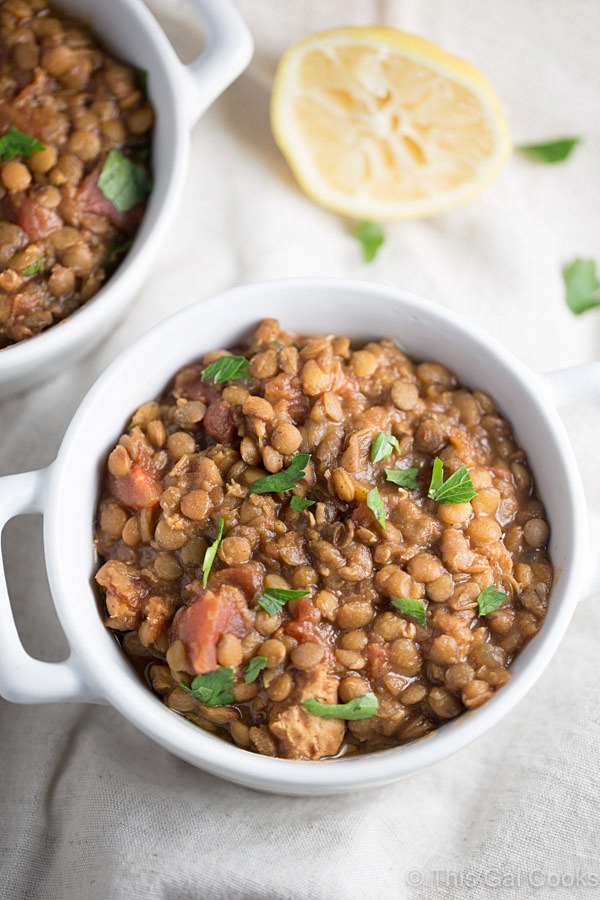 And…I was right. This soup was amazing. I shared some with a friend at work. She loved it. Her family loved it. Win! There was definitely enough soup to feed Ken and I, to share and to store in the freezer for later use. Because let's face it, this recipe makes a ginourmous amount of soup!
Slow Cooker Moroccan Lentil Soup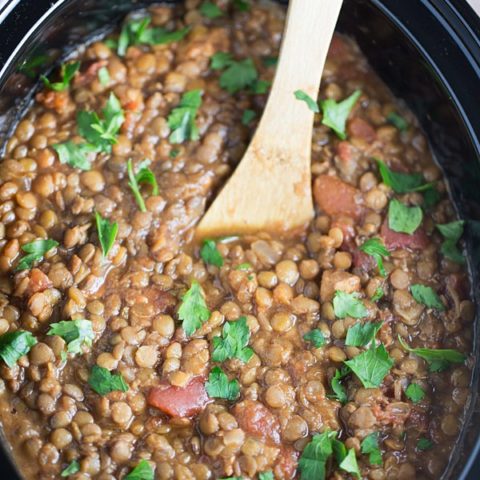 Slow Cooker Moroccan Lentil Soup
Yield: 8 cups

Prep Time: 10 minutes

Cook Time: 10 hours

Total Time: 10 hours 10 minutes
Ingredients
1 chicken breast, cut into small chunks
1 16oz bag of lentils, rinsed (I used green lentils but you can use whichever type you prefer)
1 28oz can of diced tomatoes
4 C vegetable broth
4 cloves of garlic, minced
1 onion, chopped
1 tsp ground cinnamon
1 tsp curry powder
1 tsp ground ginger
2 tsp sriracha sauce
Juice from one lemon
Fresh parsley for garnish
Instructions
Add all of the ingredients, minus the lemon juice and parsley, to your slow cooker. Mix well, Cover and cook on low for 8-10 hours. See notes for tips on slow cooking lentils.
Once the soup is done cooking, mix in the fresh lemon juice. Ladle into bowls or serve over rice. Garnish with fresh parsley.
Notes
If your slow cooker runs hot, you will not need to cook for the full 8-10 hours. If your slow cooker does not run hot, you will probably need to cook for the full 8-10 hours. Try not to overcook as the lentils could get mushy if overcooked, especially green lentils. Brown lentils tend to hold up better. I used green and they turned out just fine.

To make this a vegan dish, omit the chicken.
Nutrition Information:

Amount Per Serving: Calories: 260 Total Fat: 1g Sodium: 577mg Carbohydrates: 45g Sugar: 7g Protein: 20g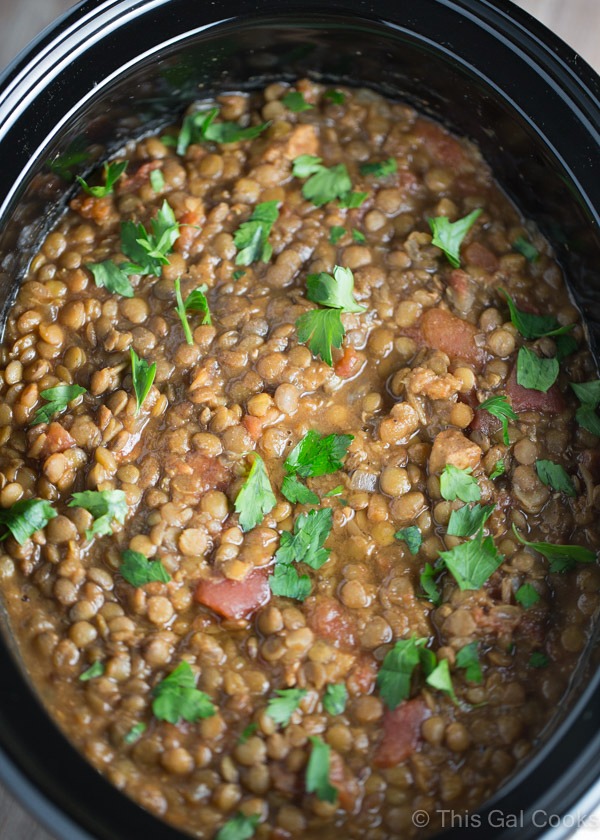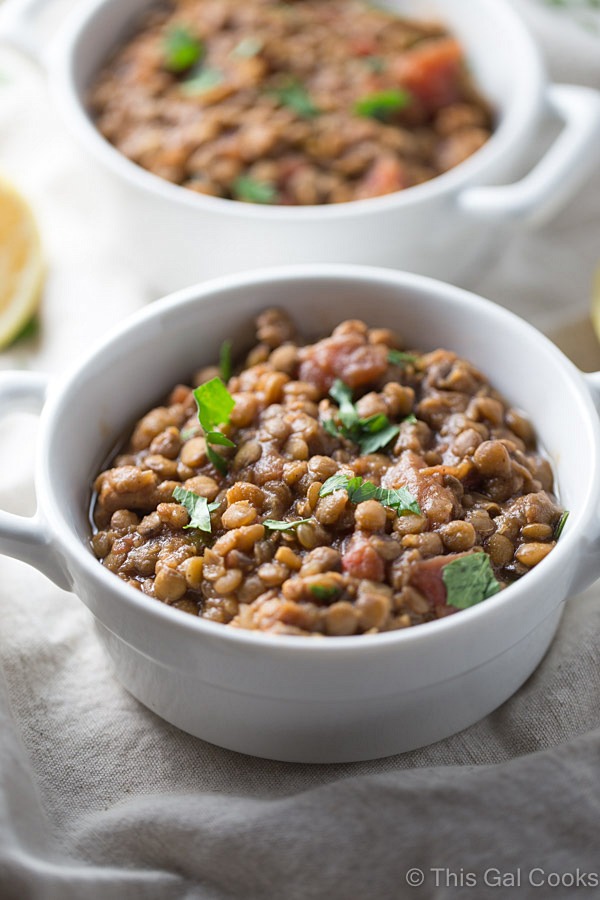 HUNGRY FOR MORE?
Visit my SLOW COOKER archives to get more easy to make slow cooker recipes.