Side Table Makeover
For some time now I have been looking for matching side tables for our master bedroom. I had looked at furniture stores, discount stores, some yard sales and Craigslist but didn't really find anything that I wanted to spend money on. Then one day I went into a thrift store and found these two little side tables that were in desperate need of a makeover. I paid $15 for both of them.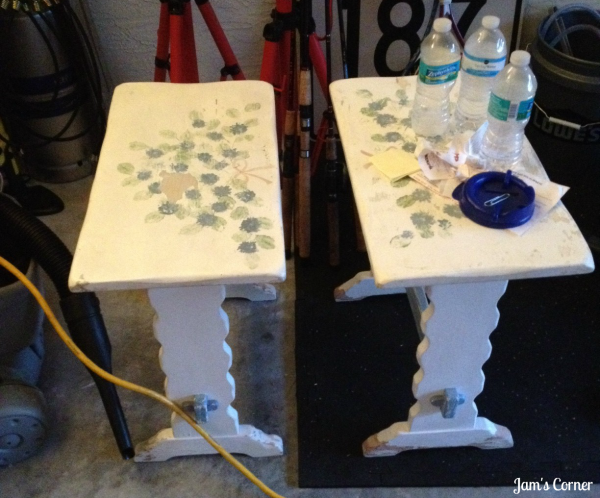 I initially thought that using paint thinner would do the trick to removing the old paint but I soon found out that that would NOT work. So I went to the store and bought and an electric sander. I have future furniture redo projects on my mind so I feel the money was well spent. Anyways, I took to sanding one table and boy was it messy! I advise you do this outside or with a fan blowing so it will blow the dust AWAY from your garage. About 30 minutes or so after sanding, perhaps maybe even an hour, I had removed the multiple layers of paint this thing had on it (I still have to do the other table.) I then primed the table with Rustoleum painters touch primer.
After priming the table, I painted it with spray paint. I was going to use chalk paint but I decided on spray paint mainly because I liked the color for my bedroom (as did my boyfriend – he chose it over Duck Egg, which I would have liked just as well.) I used Krylon Bahama Breeze. After the paint dried, I did a little distressing and then I went over the table with a satin clear coat finish. Here is the finished table. I still have to sand and paint the other table. I will be doing that this weekend.