Shrimp Caprese Salad
Basil. Tomatoes. Mozzarella. A trio of foods that taste amazing together. What could I do with these three ingredients that was simple, classic and robust with flavor? Caprese Salad. I turned to Pinterest for inspiration and came up with an alteration of this common salad. I used The Pioneer Woman's directions for making a balsamic reduction, but I didn't reduce mine to a glaze. My final product of the balsamic reduction was similar to the consistency of a vinaigrette, which is the consistency I was going for. Please enjoy the recipe.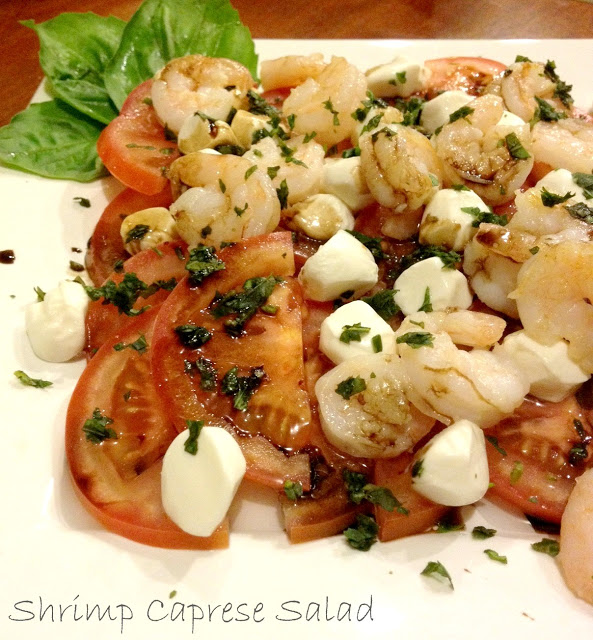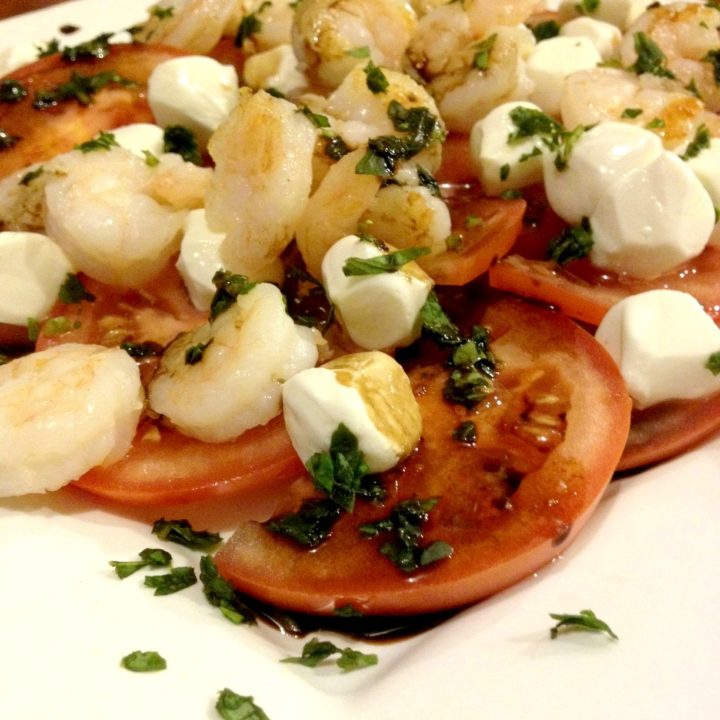 Shrimp Caprese Salad
Ingredients
Balsamic Reduction (you can make your own or use store bought)
1tbsp of basil, chopped
4oz of fresh mozzarella pearls
1/2lb of shrimp, peeled and deveined
3 tomatoes, sliced and halved
2 tbsp of butter
1 clove of garlic
1 tsp of honey
1 bay leaf
Olive oil for drizzling
Instructions
1. Reduce the balsamic vinegar. Add 1 tsp of honey and one bay leaf. Cover and put in the refrigerator to cool.
2. Over medium heat, melt the butter in a pan. Add the garlic and shrimp. Lay the shrimp flat and let it cook for 3-4 minutes. Flip over and cook for another 3-4 minutes or until slightly golden and cooked thorough.
3. Remove the shrimp from heat. Drain. Allow to cool.
4. Drizzle a plate with some of the balsamic reduction. Add the tomatoes to the plate and then drizzle with olive oil. Add the shrimp and mozzarella. Sprinkle with basil and then drizzle more of the balsamic reduction on top. Store any remaining balsamic reduction in a container in the refrigerator.
Nutrition Information:
Yield: 2
Serving Size: 1
Amount Per Serving:
Calories: 504
Total Fat: 31g
Saturated Fat: 15g
Trans Fat: 1g
Unsaturated Fat: 14g
Cholesterol: 306mg
Sodium: 1470mg
Carbohydrates: 19g
Net Carbohydrates: 0g
Fiber: 3g
Sugar: 13g
Sugar Alcohols: 0g
Protein: 38g