Grilled Steak with Barley Salad
Last week I purchased a copy of Food Network magazine. In it, I found many recipes that I want to try so last night I decided to try one of them. I chose Grilled Steak with Barley Salad because it looked so delicious; the barley salad looked wonderful. I prepared the barley salad and the steaks and Ken grilled the steaks. Please enjoy the recipe.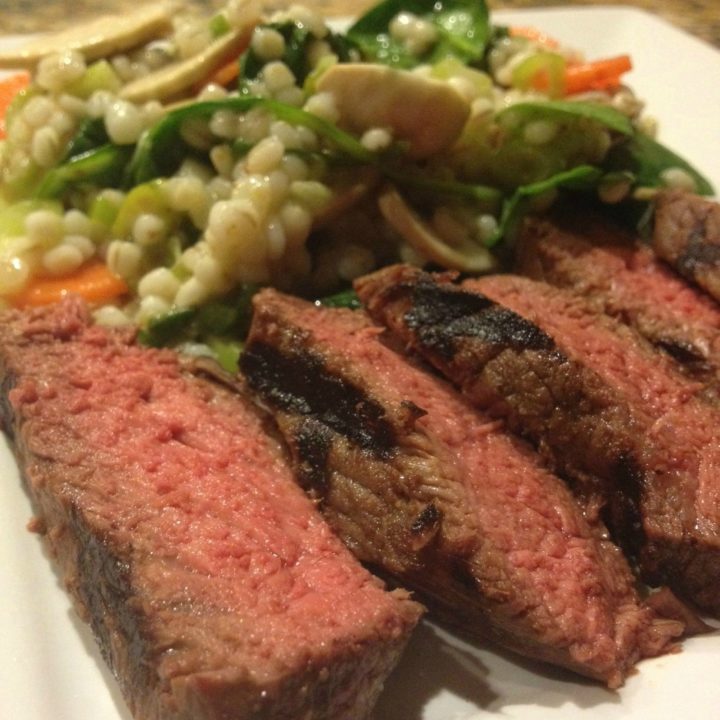 Grilled Steak with Barley Salad
Ingredients
1 1/4lb of boneless sirloin steak
1tbsp of Worcestershire sauce
3 tablespoons of olive oil
1 cup of quick cooking barley
2 small carrots, sliced
2 stalks of celery, halved lengthwise and sliced
2 cups of baby spinach
3oz of button mushrooms, stems removed, caps thinly sliced
4 scallions, thinly sliced
1tsp of lemon zest
Juice from one lemon
1tsp of whole grain or dijon mustard
Instructions
1. Cook the barley according to package directions (it will take about 45 minutes so be sure to do this first.)
2. Whisk together the Worcestershire sauce and 1 tbsp of olive oil. Coat the steaks in the mixture and grill on high for about 7 minutes per side. Once cooked, let set for 5-10 minutes and then slice against the grain.
3. Once the barley is cooked, stir in the carrots, celery, spinach, mushrooms and scallions. Cover and set aside.
4. In a medium sized bowl, whisk the lemon zest, lemon juice, mustard and remaining 2tbsp of olive oil. Add the barley mixture and mix well. Season with salt and pepper, to taste.
5. Divide the steaks between plates and serve with the barley salad.
Notes
Recipe adapted from Food Network Magazine - July/August 2012, Volume 5, Number 6, pg 122.
Nutrition Information:
Yield: 2
Serving Size: 1
Amount Per Serving:
Calories: 549
Total Fat: 29g
Saturated Fat: 6g
Trans Fat: 0g
Unsaturated Fat: 21g
Cholesterol: 52mg
Sodium: 349mg
Carbohydrates: 54g
Net Carbohydrates: 0g
Fiber: 9g
Sugar: 21g
Sugar Alcohols: 0g
Protein: 21g
This recipe was good but I felt that the barley salad needed something else to give it a better flavor. I think it would have been better with honey mustard rather than dijon or whole grain mustard. I ended up adding about 1tsp of honey to the salad and mixing well and it helped with the flavor. If I make this salad again, I will compose a different seasoning mixture for it.