Easy Shrimp and Feta Quinoa

Easy Shrimp and Feta Quinoa
This fresh and tasty Easy Shrimp and Feta Quinoa is perfect for a light lunch or as a side dish paired with your favorite meal. This recipe is packed with protein and flavor.
I seem to be on a seafood kick this week. Tonight marks my 3rd night of making a seafood recipe. Hey, what can I say. I'm a seafood lover. And living in a state that is practically surrounded by oceans provides quite the abundance of fresh seafood.
Once again, this recipe was inspired by a recipe I found in the July/August 2012 issue of Food Network magazine. The original recipe, found on page 192, calls for orzo. I subbed orzo with quinoa and made some minor changes to the recipe.
This recipe is gluten free.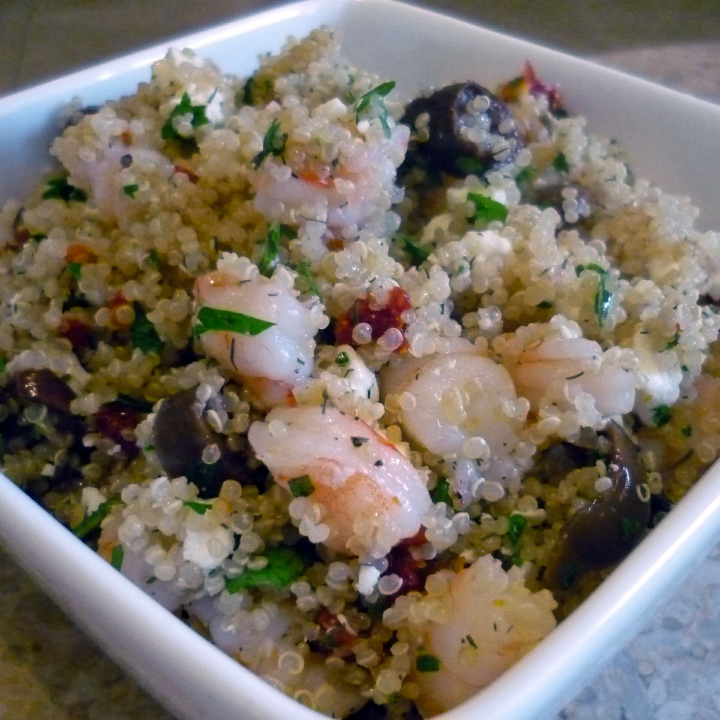 Shrimp and Feta Quinoa
Yield: 4 servings
Prep Time: 10 minutes
Cook Time: 5 minutes
Total Time: 15 minutes
Ingredients
1 cup of uncooked quinoa
1/2lb of shrimp, peeled, deveined and chopped
1/4 cup plus 1 tbsp of olive oil
1 clove of garlic, minced
1/4 cup of lemon juice
1 tbsp of fresh mint, chopped
1 tbsp of fresh cilantro, chopped
1/3 cup of kalamata olives
3oz of feta
1 tsp of dried dill
2 tbsp of chopped sun-dried tomatoes
1 tsp of cider vinegar
Instructions
Cook the quinoa according to package directions. I chose to cook mine in a rice cooker. If using a rice cooker, follow the directions for cooking rice.
Toss the shrimp in a bowl with 1 tbsp of olive oil, the minced garlic and salt and pepper. Lay flat on a pan and broil for about 2-3 minutes per side. Remove from the oven and set aside.
In a large bowl, add all of the ingredients together and mix well.
Nutrition Information:
Yield: 4
Serving Size: 1
Amount Per Serving:
Calories: 344
Total Fat: 14g
Saturated Fat: 5g
Trans Fat: 0g
Unsaturated Fat: 9g
Cholesterol: 139mg
Sodium: 811mg
Carbohydrates: 32g
Net Carbohydrates: 0g
Fiber: 4g
Sugar: 2g
Sugar Alcohols: 0g
Protein: 23g