Seafood Lasagna with Creamy White Sauce
Seafood lasagna filled with creamy white sauce, scallops, shrimp and imitation crab is the perfect alternative to traditional lasagna recipes, especially if you're a seafood fan like myself.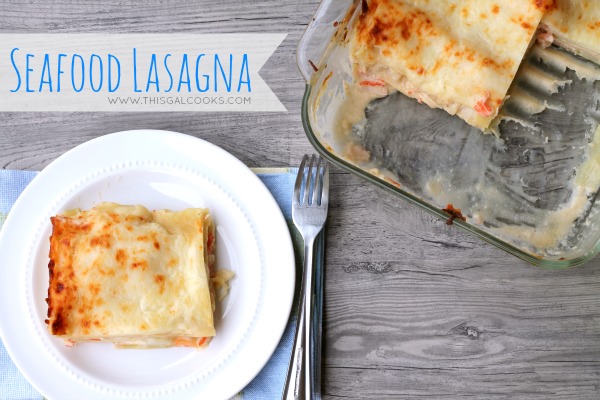 I've always enjoyed traditional lasagna. Lasagna noodles layered with a meaty red sauce, ricotta, Parmesan and mozzarella cheese makes for one comforting meal. But now that I've tried seafood lasagna, it's a stiff competition as to which type of lasagna I like better.
Growing up in Florida, I've always had easy access to seafood. Fresh, delicious seafood. Two of my favorite types of seafood are crab and scallops. But I also love many variety of fish, shrimp, clam strips and raw oysters. Yes, even raw oysters. I used to think raw oysters were disgusting. I thought this even though I had never tried them. I just though they looked nasty and figured that nothing that looked that nasty could taste so good. But I was wrong. Oh so wrong. Raw oysters are fantastic. Just place one on a cracker, top it with horseradish and hot sauce and gulp it down. I say gulp because you do actually swallow most of it whole. You don't chew them up when they are raw. Well, maybe some people do but I sure don't.
Back to the seafood lasagna recipe. I hope you enjoy it! What are some of your favorite seafood recipes?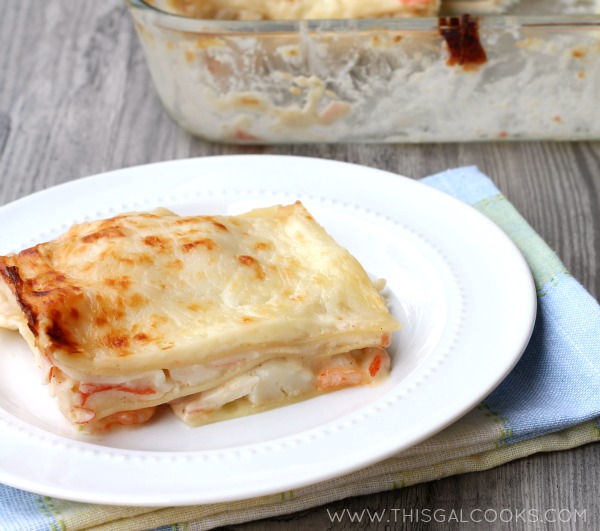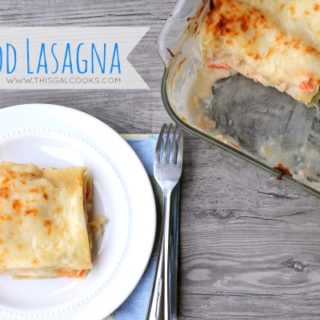 Seafood Lasagna
Yield: 6 servings

Prep Time: 25 minutes

Cook Time: 30 minutes

Total Time: 55 minutes
Ingredients
1 green onion, white part only, chopped
2 cloves of garlic, minced
1 tbsp canola oil
1 tbsp + 1/4 C butter
1/2 C chicken broth
2 oz clam juice
1/2 lb bay scallops
1/2 lb medium shrimp, peeled and deveined
4 oz leg style imitation crab meat, shredded
1/4 tsp white pepper, divided
1/4 C all purpose flour
1/2 C heavy cream
3/4 C milk
2 tbsp sherry wine
1/4 tsp old bay seasoning, plus more for sprinkling on shrimp
1/5 tsp salt
1/4 C grated parmesan cheese
1 1/2 C shredded mozzarella cheese
6 no boil lasagna noodles
Instructions
Sprinkle the shrimp with some old bay seasoning.
In a large skillet, saute green onion and garlic in 1tbsp butter until tender. Stir in the chicken broth, clam juice and sherry. Bring to a boil. Add scallops, shrimp, imitation crab meat, old bay seasoning and 1/2 of the white pepper. Reduce heat to low and simmer until shrimp and scallops are opaque, about 5-7 minutes.
Remove the meat from the liquid and set aside. Remove the liquid and set aside in another bowl.
Melt 1/4 C butter in a large sauce pan. Stir in the flour until the mixture is smooth. Gradually stir in the milk and reserved liquid from the meat. Add the remaining white pepper and the salt. Simmer until thickened.
Remove the sauce form the heat and stir in the cream and Parmesan cheese.
Stir half of the sauce in with the seafood mixture and reserve the rest.
Spread half of the reserved sauce into the bottom of a greased 8x8 baking dish. Top with 2 lasagna noodles. Spread half of the meat mixture on top of the lasagna noodles and with half of the remaining sauce. Repeat this process with the remaining lasagna noodles, seafood mixture and sauce. Top with mozzarella cheese.
Cover with aluminum foil and bake at 350 for 15 minutes. Remove the foil and bake for 15 more minutes or until the cheese is bubbly and slightly browned. Cool for 10-15 minutes before serving.

This recipe was adapted from Taste of Home. 
More pasta recipes from This Gal Cooks: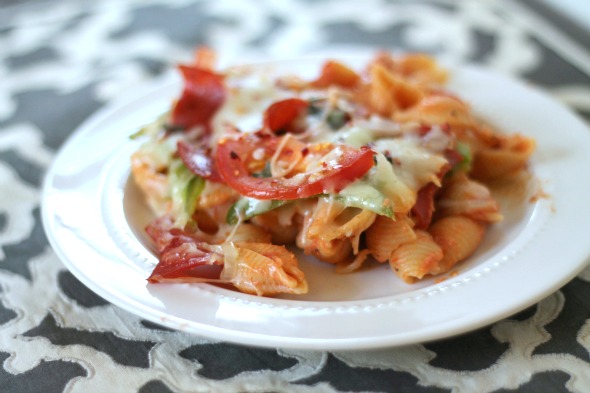 Savory Rosemary Macaroni & Cheese
Chicken Tetrazzini