No Bake Peanut Butter Pretzel Magic Bars
You're going to love these Peanut Butter Pretzel Magic Bars that I am going to share with you today. Not only are they no bake, but they taste like the BEST candy bar ever, Take 5. Seriously, if you haven't tried a Take 5 you need to try one like right now!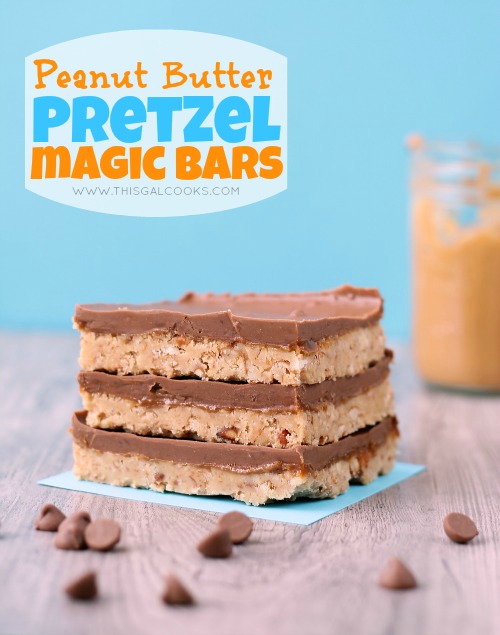 So today is June 3rd. So far, it has rained every day since June 1st and it has been HOT. Now I am not really complaining about the rain. I love the rain. And my plants do too. When I get home from work after it has rained, my plants are always happy. When I get home from work and it hasn't rained in a few days, my plants aren't so happy. This results in my having to water them. I like when the rain does my job for me.
Anyways, back to it being hot. Did I mention it was HOT? The high's the past few days have been flirting with 90. With the humidity, it feels well over 90. Goodbye nicely styled hair and clean looking skin, hello frizz, oily skin and sweat! One thing the Summertime does bring that's pretty fantastic is no bake treats. I know, I know. No bake treats can be made during any time of the year but Summer was made for no bake treats! I hope you enjoy this delicious no bake peanut butter bar recipe!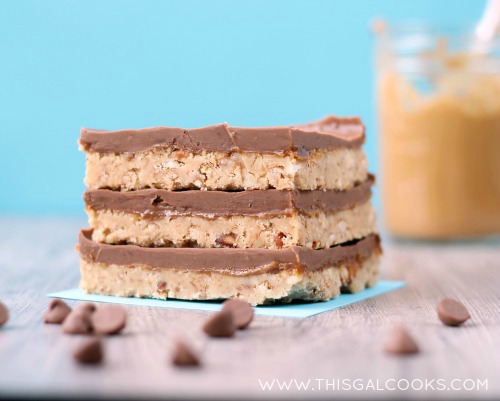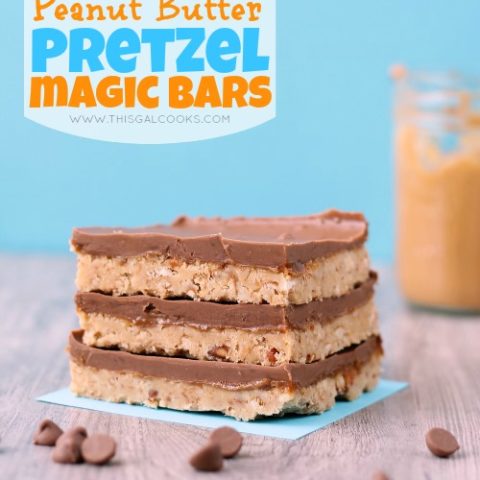 Recipe: No Bake Peanut Butter Pretzel Magic Bars
Yield: 15

Prep Time: 15 minutes

Total Time: 15 minutes
Ingredients
1 C butter, melted
2 C pretzels, crushed
2 C confectioners sugar
1 1/2 C peanut butter
1 1/2 C milk chocolate chips
1 C dulce de leche, softened (just heat it up for about a minute)
Instructions
In a large bow, mix together the butter, pretzels, confectioners sugar and 1 cup of the peanut butter. Press into a greased 13x9 inch pan.
Spread the dulce de leche on top of the pretzel/peanut butter filling. Cover and refrigerate for 5 to 10 minutes or until the dulce de leche slightly firms.
Meanwhile, melt the chocolate chips in a bowl in the microwave. Melt in 20 second increments, mixing after each increment to ensure that the bottom of the chocolate chips does not burn. Once all of the chocolate chips are melted, stir in the remaining 1/2 cup of peanut butter. Spread the mixture on top of the dulce de leche layer.
Cover and refrigerate for at least 2 hours before serving.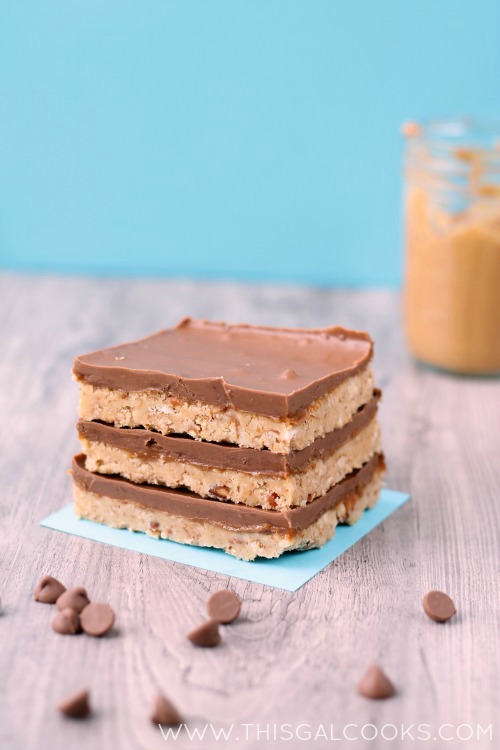 You may enjoy these tasty dessert bar recipes: