Sausage Egg and Cheese Quiche Tart
This Sausage Egg and Cheese Quiche Tart is a great make ahead meal that can be eaten for lunch or dinner. Simple ingredients that you probably already have on hand are all that are needed to whip this delicious meal together!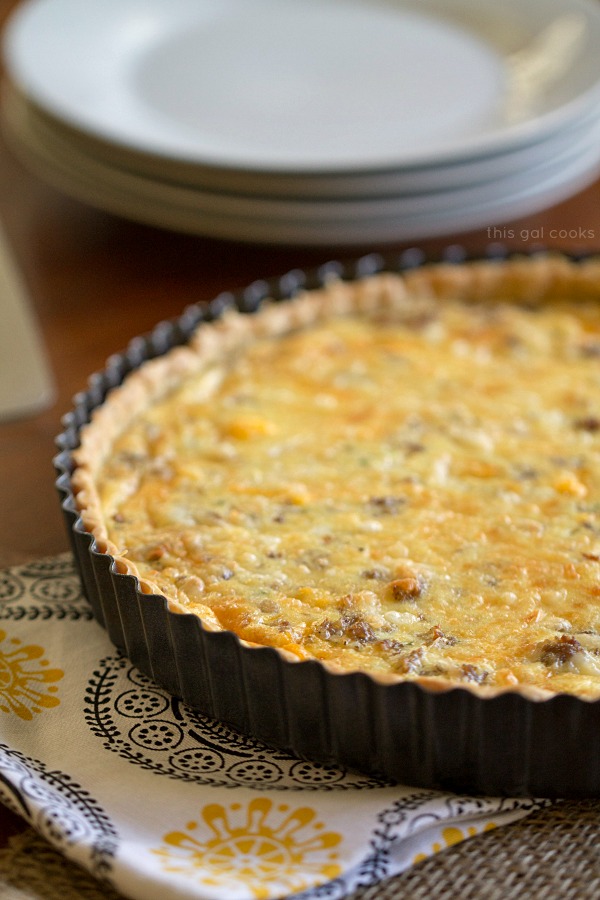 I'll admit it. Sometimes I can be rather lazy. I don't always feel like making breakfast in the morning. And on the days I have to work, sometimes I don't have time to make breakfast. When that happens, I usually end up stopping somewhere and buying something for breakfast. There's a Panera Bread next to my job. The missing persons search can be called off. She's at Panera Bread. Ha, I even go there for lunch sometimes.  I'm surprised they don't know me by name yet. Or maybe they do. At least they do when they swipe my little Panera card.
I found the remedy to not having time to make breakfast in the morning. Make it ahead of time! Simple recipes like this Sausage Egg and Cheese Quiche Tart, this Breakfast Egg Bake Casserole and this Tomato, Bacon and Spinach Quiche have come to the rescue many times.
Sausage Egg and Cheese Quiche Tart
Hey so what did you do this past weekend? I enjoyed not having to do any school work. The semester is over and I am free at last…free from school work until January! I didn't really do anything productive this weekend, minus putting a few bookcase shelves together that I bought at Target. I put two in our bedroom as bedside tables and one in my living room to fill in some empty space. They look pretty nice. Our little house is coming together. Well, it isn't that small but it isn't huge either. OH. I also picked up some paint samples because I think we are going to paint the walls soon. I am sick of off white. I'm thinking a light tan will work perfect in our house!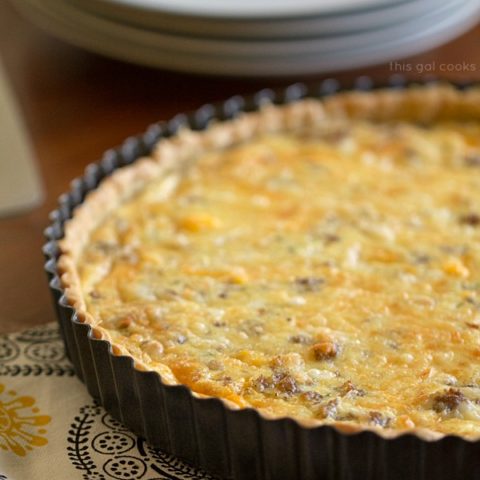 Sausage Egg and Cheese Quiche Tart
Yield: 8

Prep Time: 15 minutes

Cook Time: 20 minutes

Total Time: 35 minutes
Ingredients
1 9 inch pie crust
1/2lb bulk Italian sausage
5 large eggs, beaten
1/3 C sweet onion, diced
1/2 C heavy cream
1 C shredded cheddar cheese
2 tbsp shredded parmesan cheese
1 jalapeño, seeded and chopped
Dash of seasoned salt and ground pepper
Instructions
Press the pie crust into a 9 inch tart pan. Place in your freezer until ready to use.
In a large skillet over medium high heat, cook the sausage until it is no longer pink. Remove from the skillet and set aside. Drain any excess grease from the sausage but leave whats in the pan in the pan.
Add the onion and jalapeño to the skillet and cook until tender.
In a mixing bowl, whisk together the beaten eggs,onion, sausage, cheese, heavy cream, seasoned salt and pepper. Pour into the tart pan, over the pie crust. Sprinkle with the parmesan cheese.
Bake at 400 for 20-25 minutes or until set. A toothpick inserted should come out pretty clean.
Cool for 15-20 minutes before serving.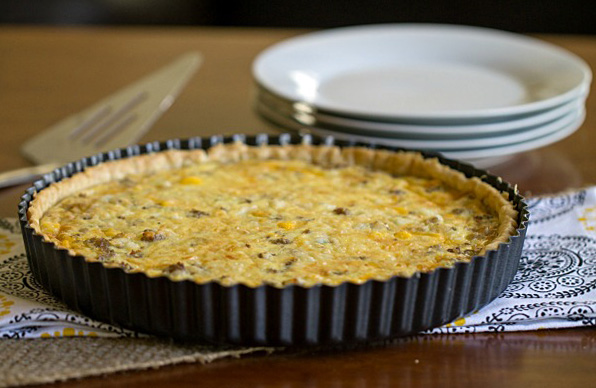 What is your favorite type of quiche? Not a fan of quiche? What is your all time favorite breakfast meal?