Chocolate Chip Peanut Butter Banana Muffins
Start your morning off with the sweet combination of chocolate, peanut butter and banana with these Chocolate Chip Peanut Butter Banana Muffins.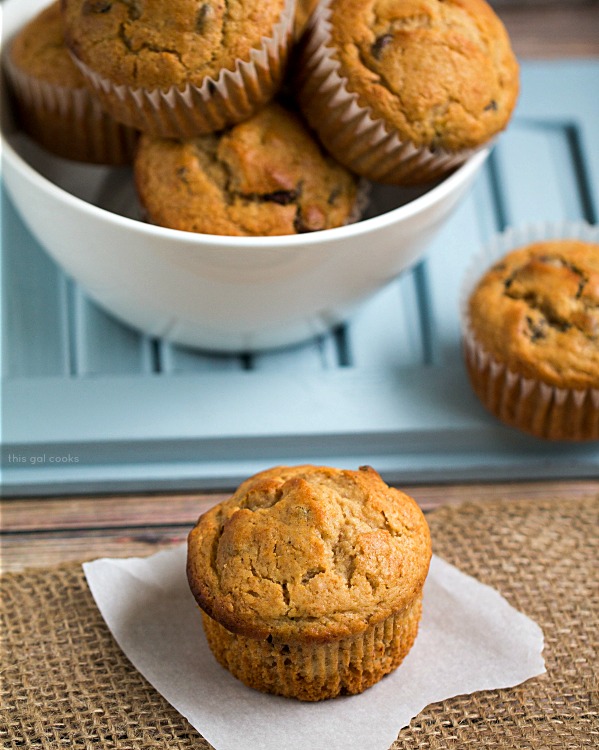 It's a little ironic that I'm writing a post about sweets today. You see, this week I decided to stop eating tons of carbs and foods that have refined sugars added to them. I know, I know. Crazy thing to do right before a holiday. But that's the exact reason why I'm doing it. I have a little problem with carbs. Specifically breads, pastas and cookies. Lately I've been feeling kinda bleh. I've felt bloated, stopped up and sluggish at times. My food choices could win the gold in the let's make you fat and miserable contest.
But guess what? I feel pretty darn good right now! And my scale says I lost two pounds. Which basically means I was bloated and probably retaining water. Who loses two real pounds in a day while still eating? If you know that person, please, let me know.

Aside from the diet makeover, I've been running five nights per week. Last week I did two miles per day. This week I stepped it up a notch to about 2.2 miles per day. My goal is to one day run a 5 k. But my ultimate goal is to keep up with running five nights per week. I go through phases where I walk or do a combination of walking and running but I never stick with it. It is now my duty to rid the world of my non running self! I shall become a five day per week runner! I shall call myself Super Rad Running Girl! Or perhaps super dorky Julie? Heh Heh.
But don't worry, folks. I am not totally divorcing sweets. I've gotta kick this awful bout of carb cravings I'm experiencing and then I'll be back to making a few sweet treats here and there. Funny thing about sweets and my blog – my most popular recipes aren't even sweets. My savory dishes fair much better than my sweet treats!
Which type of my recipes are your favorite type? Savory or Sweets?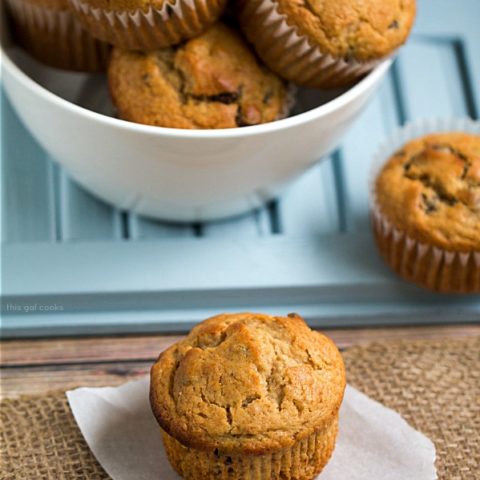 Chocolate Chip Peanut Butter Banana Muffins
Yield: 12

Prep Time: 10 minutes

Cook Time: 15 minutes

Total Time: 25 minutes
Ingredients
1 3/4 C + 3tbsp cake flour
1/4 C vegetable oil
2 tsp baking powder
1 egg, beaten
1/2 C white granulated sugar
1/2 C mashed banana (make sure it's a pretty darn ripe banana)
1/4 C creamy peanut butter
1/2 C semi sweet chocolate chips
1/4 tsp salt
1/2 C almond milk
1/2 tsp nutmeg
1 tsp flax seeds. If you don't want to have a little crunch from the seeds, grind them up in your food processor.
Instructions
Line a standard muffin pan with cupcake liners.
In a large mixing bowl, whisk together the flour, sugar, baking powder, salt, nutmeg and flax seed.
In another mixing bowl, combine the egg, almond milk, peanut butter and oil. Mix will and then add to the flour mixture. Mix until lumpy. Fold in the chocolate chips.
Fill the muffin cups about 2/3 full.
Bake at 400 for 15-20 minutes. Do the toothpick test to ensure the muffins are fully cooked.
Allow to cool for 15-20 minutes before serving.
Notes
Adapted from Better Homes and Gardens New Cookbook, 1996.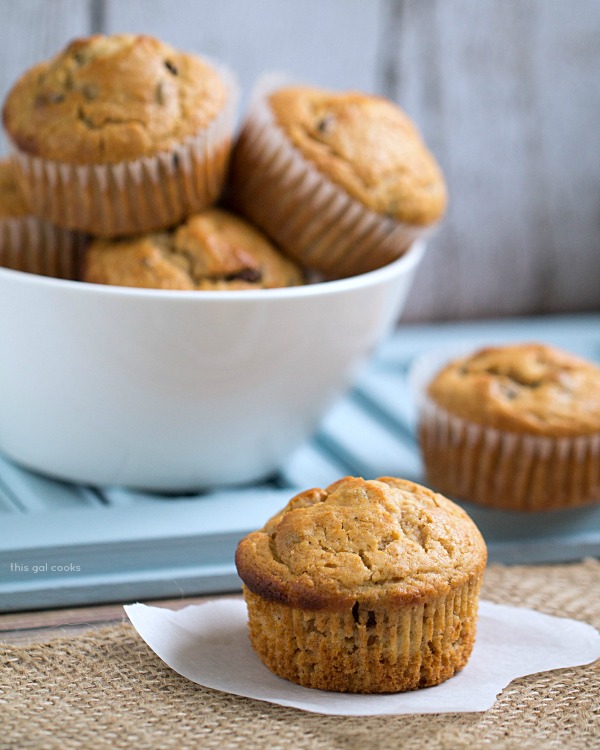 More from This Gal Cooks