Beer Batter Bread Recipe
This no knead Beer Batter Bread is a full on comfort food. The beer makes this bread savory delicious while the melted butter drizzled over top keeps it delightfully moist and soft.
Beer Batter Bread
I'm not going to lie. This Beer Batter Bread was addictive. I probably ate 3-4 pieces right after I made it. And then I ate a few more the next day. And then the next. You get the picture right? I'm a breadaholic. Hence the reason I have decided to go on a bread fast for a bit. Well, I'd call it a carb fast. If you missed my Chocolate Chip Peanut Butter Banana Muffin post, check it out. Not only will you get delicious muffins, you'll get to read about my attempt on becoming a Super Rad Running Girl/Carb Blaster  super hero.
A couple months ago, Ken went out of town for work. He was gone for four days. When you go out of town for work, you end up eating restaurant food for breakfast, lunch and dinner. You live and breathe restaurant food. Now I've had some good restaurant food but the really good stuff is usually a little pricy. And we all know that the boss gal or boss man gives us a limit on what we can spend for our meals. So fancy food while out of town for work doesn't always happen. Although, it did happen one night while I was out of town for work. Mmmm. Fancy salmon over pearled couscous. Yum. Anyways, I decided to be super girlfriend and make a good ole home cooked meal the day Ken came back from his business trip.
I made Super Simple Crockpot Roast Beef, Mashed Potatoes and this bread. A fabulous dinner, I must say.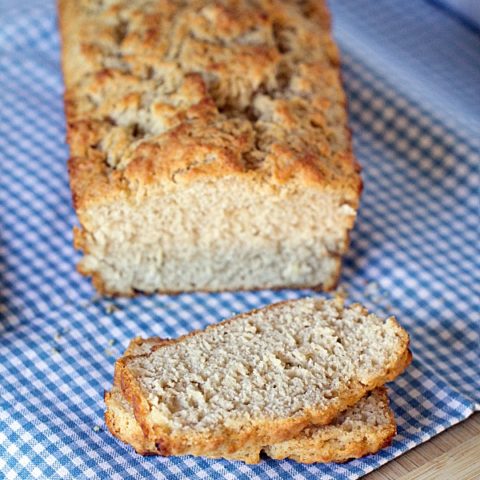 Beer Batter Bread Recipe
Yield: 8-10 slices, depending on the size of slice
Prep Time: 10 minutes
Cook Time: 40 minutes
Total Time: 50 minutes
Ingredients
3 C all purpose flour
3 tbsp packed brown sugar
1 tbsp baking powder
1 tsp salt
1 12 oz bottle of beer. I used UFO Pumpkin Beer.
4 tbsp melted butter.
Instructions
Grease a 9x5 loaf pan.
In a mixing bowl, stir together the flour, brown sugar, baking powder and salt. Add the beer and stir until the batter is combined and slightly lumpy.
Pour the batter into the loaf pan and drizzle the top with the melted butter. Bake at 375 for 35-40 minutes.
Allow to cool for 15-20 minutes before serving.
Notes
Adapted from the Williams Sonoma Baking Book, April 2010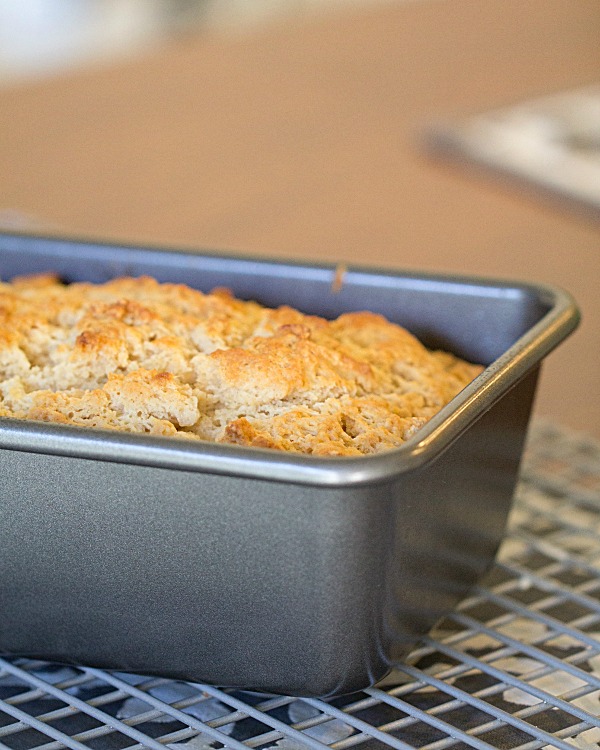 More from This Gal Cooks