White Chocolate Pancakes
Good morning and Merry Christmas!  What will you be having for breakfast this morning?
We love pancakes at our house. In fact, I probably make them at least twice per month (we both work during the week so the only time I have time to make them is on the weekends.) If you've been following my blog for a while, then you know that I enjoy experimenting with pancake flavors. If you missed out on some of my other pancake flavors, here are a few of them for you to check out:
The base recipe is basically the same for each recipe so once you have the base recipe down, you can easily make changes to the flavor the pancakes. Please note: when adding ingredients such as pumpkin puree to the pancake batter, you will need to adjust the amount of flour in the recipe. I added 1/4 cup more flour to the Pumpkin Pie Pancakes than what was used in the Chocolate Chip Pancakes. And of course with the Gluten Free Pancakes, you would sub all purpose flour with Gluten Free flour. For the recipe I am sharing with you today, I subbed the vegetable oil with butter, exact measurements. I hope you enjoy this recipe.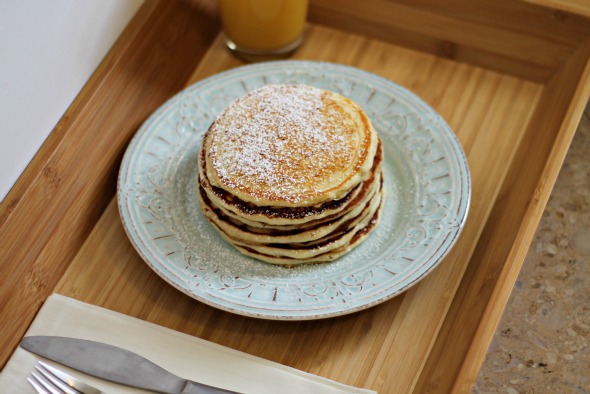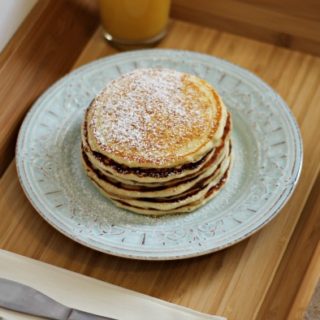 White Chocolate Pancakes
Yield: 2

Prep Time: 10 minutes

Cook Time: 10 minutes

Total Time: 20 minutes
Ingredients
1 C all purpose flour
1 tbsp sugar
2 tsp baking powder
1/4 tsp salt
1 egg, beaten
1 C milk
2 tbsp butter, melted
1/4 tsp vanilla
1/4 C white chocolate chips, chopped
Instructions
In a mixing bowl, combine flour, sugar, salt and baking powder
In another mixing bowl, combine the milk, egg, vanilla and butter.
Ad the milk mixture to the flour mixture and whisk together
Fold in the white chocolate chips
Pour the batter in 1/4 cup batches onto a greased non-stick skillet and cook each pancake for 1-2 minutes per side. You'll know when to flip them because the dough will start to bubble.
Top with powdered sugar and syrup, if desired.
Linking up to: Whimsy Wednesdays