Recipe: Raspberry & Apricot Thumbprint Cookies
Good morning and Merry Christmas Eve to all of you. I hope you all have a wonderful Christmas tomorrow and have safe travels if you are traveling.
Today I have the perfect Christmas cookie recipe for you. While this recipe is pretty simple, it does require chilling of the dough for one hour so be sure to give yourself enough time to allow the dough to chill. This can easily be achieved by preparing the dough and then chilling while you make another tasty recipe. While I was allowing my dough to chill, I made a huge pot of chili for dinner. I'll be sharing that recipe later this week.
What I will be sharing with you today is jam thumbprint cookie recipe that I found in my Better Homes and Gardens New Cookbook. I made some changes to the cookbook's recipe as I did not have walnuts or shredded coconut to coat the dough in. I also decided to bake the cookies with the jam in them rather than following the cookbook's directions and waiting to add the jam until after baking. I've seen many thumbprint cookie recipes that add the jam before baking so I wasn't too concerned with changing this step. The end result of these cookies was absolutely amazing. The jams that I chose, apricot and raspberry, taste amazing with the pecans and the delicate taste of the cookies. I hope you enjoy this recipe.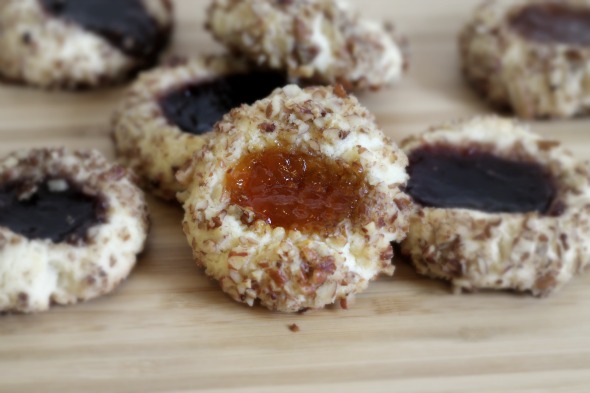 Ingredients
2/3 C butter
1/2 C sugar
2 egg yolks
1 tsp vanilla extract
1 1/2 C all purpose flour
2 egg whites, slightly beaten
1 C finely chopped pecans
1/4 – 1/2 C total of raspberry and apricot jams (seedless)
Directions
Beat the butter for about 30 seconds and then beat in the sugar.
Beat in the egg yolk and vanilla extract
Gradually beat in the flour.
Cover and chill the cookie dough for 1 hour (now's your time to start working on another delicious dish!)
After the dough is done chilling, roll the dough into 1 inch balls.
Coat the dough in the egg white and then coat with the finely chopped pecans.
Place one inch apart on a parchment paper lined baking sheet.
Press your thumb into the center of the cookie to make a well. Add about 1/2 – 1 tsp of the jam to the well of each cookie.
Bake at 375 for 12 minutes or until the edges of the cookies and the pecans start to turn golden.
Allow to cool on a wire rack for 10 minutes before serving or transferring to a storage dish.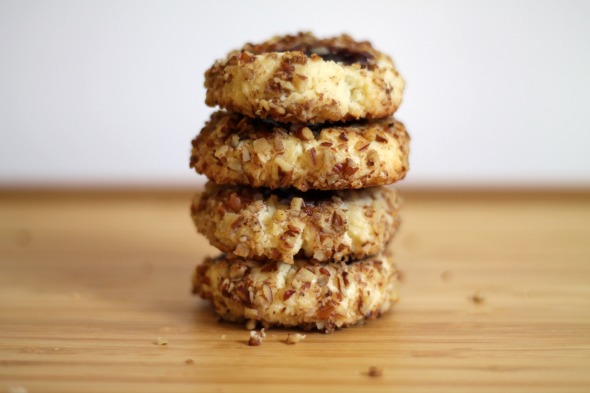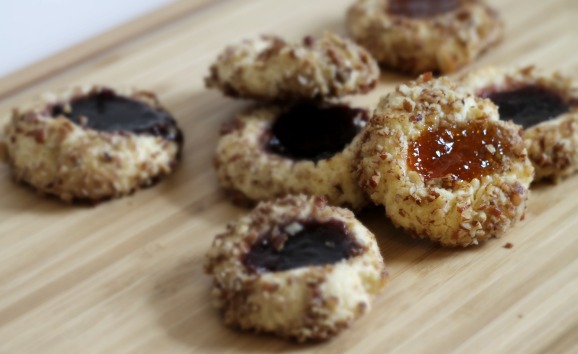 Linking up to: Whimsy Wednesdays, Make the Scene Monday, Mom's Test Meal Mondays