Recipe: Strawberry Champagne Jam – Spiked! Recipe Challenge
Good morning and welcome to the Spiked! Recipe Challenge reveal day! Today everyone who participated reveals their champagne recipe. You can find the recipes at the below linky. If you're interested in participating in the next Spiked! Recipe Challenge, stay tuned. The next one will be in March. What happens in March? St. Patrick's Day. What happens on St. Patrick's Day? Lots of beer drinking. So we shall see what the secret ingredient in March is!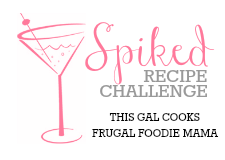 So, what did I make for this recipe challenge? Strawberry Champagne Jam! It's pretty good. I made enough to fill 3 small 8oz jars so I sealed those jars up and I am going to send one to my mom. I'll share the recipe with you in just a minute but first, let me go over a few rules.
Sign ups occur on the secret ingredient reveal day (next one is in March.) You must sign up on either mine or Frugal Foodie Mama's blog.
The Spiked! Recipe Challenge button must be in your post in order for your post to be considered eligible for being crowned the winner.
The recipe you submit must be your own. You can use inspiration from other blogs but please be sure to link back to that blog(s)
Your recipe must feature the beverage of choice. Of course, this time around it's champagne (or sparkling wine – we're not super picky)
You must link up your booze infused recipe when the linky goes live on recipe reveal day (which would be today)
All recipes will be judged by myself and Carrie from Frugal Foodie Mama. The winner will be announced one week after the linky goes live.
The winner will win ad space from Frugal Foodie Mama and a spot as a fabulous Friend of This Gal Cooks.
Now, on to my recipe. I got the inspiration for this recipe from Rosemarried.
Strawberry Champagne Jam
Ingredients
2 C strawberries (I used frozen since I had a bag in the freezer that needed to be used)
1 1/2 tbsp fruit pectin
1/4 C champagne
2 tbsp lemon juice
2 1/2 C sugar
1 tsp fresh mint, chopped
Directions
In a large sauce pan, combine the strawberries, pectin, mint, champagne and lemon juice. Bring to a boil. Continually whisk as the mixture is boiling. Use something to mash the berries so they break up.
Add the sugar and mix well. Allow to boil for a few minutes. Don't worry, the rising foam is supposed to happen. Just give it a mix and that should calm it down.
Remove the mixture from heat and place in sterilized mason jars. I used the  8oz jars. Place the lids on the jars and allow to set. They should seal on their own. ***disclaimer: I am not a canning expert. I am doing this the way my mom used to do it when she canned food (never got sick from anything that she canned.) I know many people do a hot bath for their jars but I did not do this with these.***