Recipe: Fried Green Tomatoes
Tomatoes. Me and Tomatoes go way back. I used to HATE tomatoes. Well, I should clarify; I used to hate raw tomatoes. I liked canned tomatoes, spaghetti sauce, ketchup, basically any tomato in its cooked form but if it was raw, or if it tasted anything like a raw tomato, I thought it was horrible. Fast forward about 25 years and you have a gal who actually likes tomatoes. And I still like 'em. Especially fried green tomatoes. Yum. Tangy green tomatoes coated in a cornmeal batter and fried until crispy. Now that's a grand snack or appetizer right there.
I don't eat fried green tomatoes often enough. One reason is that most restaurants don't serve them and I just can't find them that often. But on Sunday I stopped at a little vegetable stand and they actually had green tomatoes. My day was made. I bought three and I fried them up that very same night. My boyfriend and I enjoyed these little gems. And do you want to know a secret? This was actually the first time I had ever made them. I had always eaten them when someone else had made them. I know, a gal from  the south who likes to cook but never cooked up a batch of fried green tomatoes. It's almost a crime!  Anyways, I hope you enjoy  this recipe. Oh and if you're  a fan of ranch dressing like I am, then you'll love these babies dipped in it. I based my recipe off of this recipe.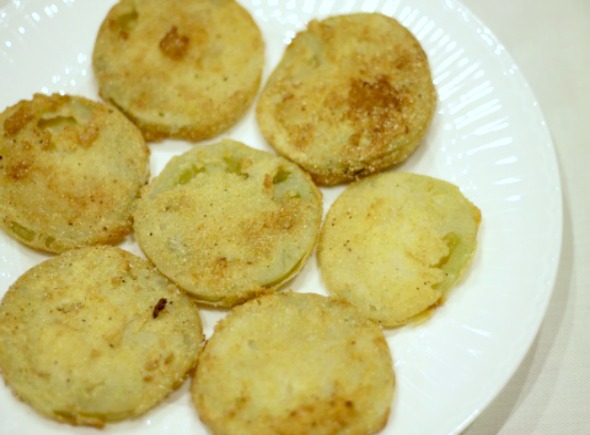 Ingredients
3 medium green tomatoes. Make sure they are firm or you will end up with soggy tomatoes.
1/2 C all-purpose flour, divided
1/2 C cornmeal
1/2 C milk
1 large egg, beaten
1 tsp seasoned salt
1/2 tsp ground pepper
About 1 C of peanut oil (you can also use vegetable or canola oil)
Cast iron skillet. If you don't have a cast iron skillet, use another deep skillet.
3 bowls
Directions
 Slice the tomatoes about 1/4 inch thick.
Heat the peanut oil in the cast iron skillet over medium to medium high heat (I had my burner set to setting 6)
In one bowl, combine the seasoned salt, cornmeal and 1/4 C of the flour.
In another bowl, combine the milk and beaten egg.
Place the remaining 1/4 C flour in the remaining bowl.
Coat each tomato slice in the flour, egg/milk mixture and then cornmeal mixture.
Fry for about 2 minutes. If your oil isn't deep enough to totally cover the tomatoes, flip after about a minute or after the bottom side is golden.
Enjoy alone, with ranch dressing or on a sandwich (we ate ours on burgers as well as as a side)