Penne with Butternut Squash Cream Sauce
A few weeks ago we went to a fancy restaurant for dinner. When I say fancy, I mean $30-$50 per plate fancy. We don't usually go to usually dine at establishments that are that expensive but a gift card brought us there. The food was definitely worth the price. Presentation and taste were superb. I had a Wagyu Rib Eye that came with Potato Fritters and Portobello Mushroom and my boyfriend had an Elk Tenderloin with Roasted Faro and Butternut Squash. Both meals were delicious. If I could make my vegetables taste the way the vegetables served with the protein tasted, I could definitely become a vegetarian. If you're ever in the Jensen Beach, Florida area and have the extra money to spend, definitely check this place out. It's called 11 Maple Street.
The amazing taste of the butternut squash inspired me to try out a butternut squash recipe. I had never made anything with butternut squash before. I picked up a couple of small (about 2 lb each) butternut squash at the store one day and was going to make butternut squash soup but I decided to try out a butternut squash cream sauce instead. I served the sauce over pasta. The sauce was wonderful, although it was rather thick. I'm not complaining about how thick it was, it just didn't really look like a cream sauce. Nonetheless, it was delicious and I will definitely make it again. I hope you enjoy this recipe! Also, I obviously wasn't thinking clearly when I set up the photo set for this recipe. You definitely wouldn't be eating this with a spoon. I guess with all of the soups I have made lately I automatically went for the spoon.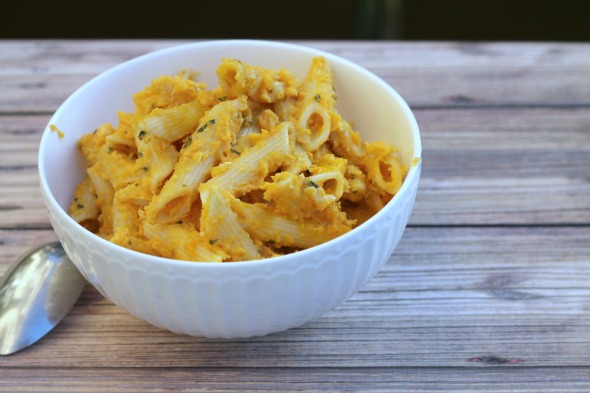 Ingredients
2 1/4 C roasted butternut squash (I cut of the ends of the squash, peeled the squash, chopped into cubes, coated in olive oil and salt and then placed on a pan lined with aluminum foil. I roasted them for about 30 minutes – until they were fork tender)
1/2 onion, chopped
2 clove garlic, chopped
1 tbsp fresh basil, chopped
1 C heavy cream
1/8 tsp nutmeg
1/4 C fresh grated parmesan cheese plus more for desired topping
3 tbsp butter
1/3 C champagne or white wine
8 oz penne pasta, cooked
Directions
In a large pot, melt the butter.. Add the onion and garlic and cook until tender.
Add the champagne and mix well.
Add the roasted squash and basil. Mix well and then puree with an immersion blender.
Add the nutmeg, whipping cream and parmesan cheese. Mix well.
Add salt and pepper to taste.
Combine the pasta with the sauce and serve in bowls. Top with parmesan cheese, if desired.