Oatmeal Molasses Rolls
These soft and buttery homemade Oatmeal Molasses Rolls are the perfect match for any soup or dinner.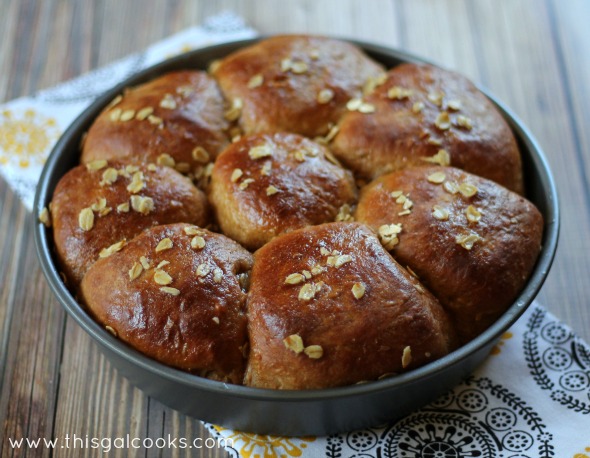 In a quest to make another delicious bread recipe during the past weekend, I turned to my beloved Better Homes and Gardens New Cookbook. That cookbook has some amazing recipes in it and it doesn't lack an abundance of bread recipes. It was Sunday. I was making clam chowder for dinner (recipe to come later this week) and I wanted a hearty roll to serve with the soup.
As you can see, my cookbook did not fail me, nor did my quest to make a delicious, hearty roll. These rolls have a subtle, sweet flavor and a rich, dark color that comes from the molasses and maple syrup. These dinner rolls are sure to leave a smile on your face and make your tummy satisfied. Enjoy!
Oatmeal Molasses Rolls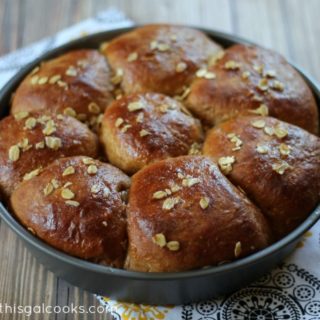 Recipe: Oatmeal Molasses Rolls
Yield: 16 rolls

Prep Time: 2 hours 20 minutes

Cook Time: 12 minutes

Total Time: 2 hours 32 minutes
Ingredients
2 3/4 - 3 1/4 C all-purpose flour
1 package dry active yeast
1 C milk
1/3 C molasses
1 tbsp maple syrup
1/4 C butter
2 eggs
1/2 tsp salt
3/4 C whole wheat flour
3/4 C rolled oats plus more for sprinkling on top
Instructions
In the bowl of a stand up mixer, combine 2 C all-purpose flour and the yeast.
In a saucepan, heat the milk, butter, molasses, maple syrup and salt over low heat until the butter is melted. Set aside and allow to cool to 115 degrees (this ensures that the mixture does not kill the yeast when added to the flour/yeast mixture)
Add the milk mixture and eggs to the flour mixture and beat on speed 4 with the flat attachment until combined.
Add the whole wheat flour and oats and beat until combined.
Replace the flat attachment with the dough hook and set to speed two. Gradually add the remaining all-purpose flour until the dough is elastic like and no longer sticking to the sides. Knead for 8-10 minutes.
Place the dough in a greased, floured bowl and swirl to coat. Cover and let rise for 1-2 hours or until double in size.
Punch the dough down and then roll into a log shape on a greased, floured surface, Cut half of it into 8 pieces (or all of it if you want two pans of rolls) and then cut the remaining into four pieces and shape into hot dog buns (we were having hot dogs so I made hot dog buns with half of my dough)
Roll the pieces into a ball shape and place into a 9 inch cake pan (as in the first picture posted in this post) If making hot dog buns, place the hot dog bun dough into a separate baking pan. If making 16 rolls, use two 9 inch pans.
Cover and let rise for 30 minutes or until double in size.
Sprinkle the rolls with oats and then bake at 375 for 10-12 minutes.
Spread melted butter on top and then allow to cool on a wire rack.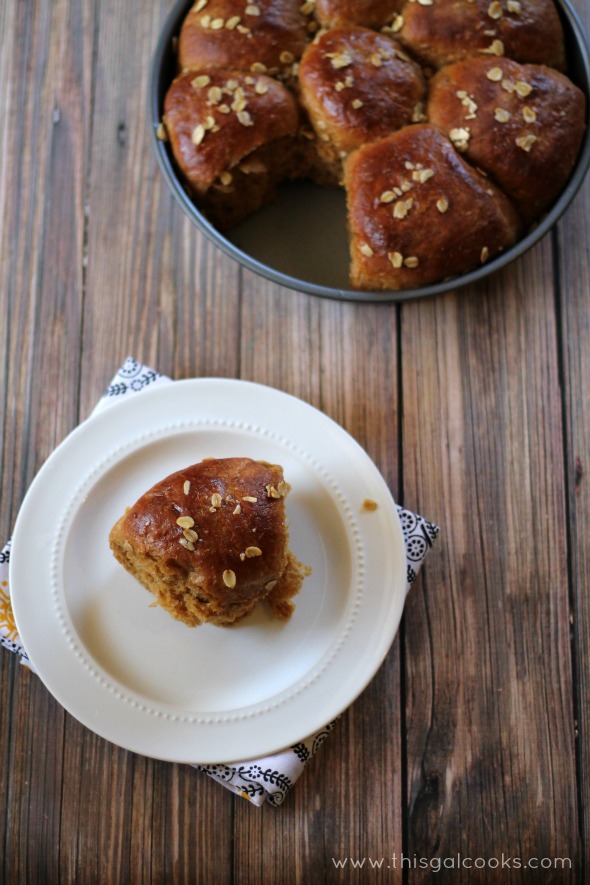 A couple more bread recipes that you may enjoy: