Lightened Up Clam Chowder
Creamy Clam Chowder gets a makeover with this healthier Lightened Up Clam Chowder. Half and Half and milk are used in place of heavy cream to cut back on fat and calories!
Last week while in the checkout line of the grocery store I was checking out the magazines. Do you ever do that? Browse the covers of the magazines, searching for anything good? I'll admit, I even scour the cover of the tabloid magazines; they either make me laugh or make me grunt in disgust. But for the most part, I browse the cooking and fitness magazines. I happened to come across a Taste of Home Heartwarming Soups magazine and I decided to buy it. I couldn't pass it up. It boasted that there were 238 soup recipes and tips!
I found quite a few recipes that I will be trying one day. The first one I decided to try was for a makeover clam chowder.
What is so different about this clam chowder? It's a lightened up version (it uses milk and half and half rather than cream) and it has curry powder in it. Yep, curry powder. Which actually compliments the dish very well. You can find the original recipe here. I hope you enjoy my version of the recipe!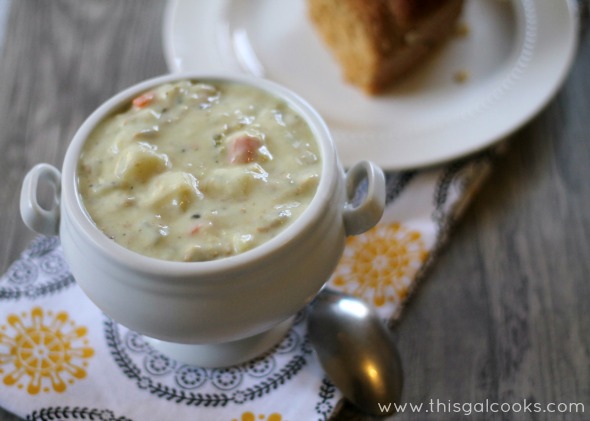 Lightened Up Clam Chowder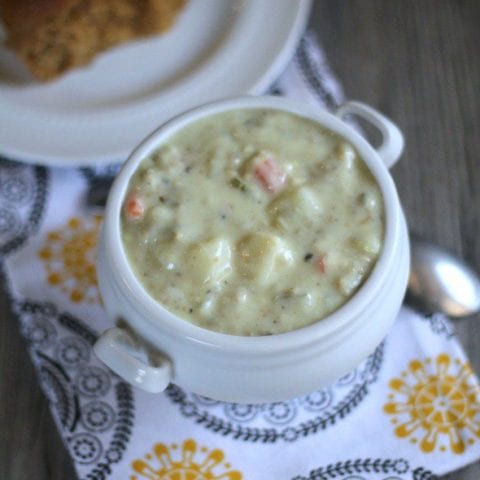 Lightened Up Clam Chowder
Yield: 8 servings

Prep Time: 15 minutes

Cook Time: 40 minutes

Total Time: 55 minutes
Ingredients
2 10 oz cans of baby clams, drained and chopped
1 8 oz jar clam juice
32 oz chicken broth
1 medium potato, peeled and diced
1/4 C butter
2 tsp chicken bouillon
1/2 tsp fresh parsley, chopped
1/4 tsp curry powder
1/4 tsp pepper
2/3 C all purpose flour
1 C half & half
2 C milk
3/4 C carrot, chopped
3/4 C celery, chopped
3/4 C onion, chopped
Salt to taste (I didn't need to add salt to my recipe)
Instructions
In a large pot, saute the carrot, onion and celery in the butter until tender.
Stir in the chicken broth, clam juice, bouillon, curry powder, bay leaf, parsley and potato. Bring to a boil and then reduce head and simmer 20 minutes.
Combine the flour and 1 C milk. Whisk together and stir into the soup. Bring to a boil for about 2 minutes or until the mixture has thickened.
Reduce heat to low and stir in the clams, remaining milk and half & half. Simmer for 10-15 minutes. Remove the bayleaf once done cooking.
Add salt to taste.
Notes
Adapted from Taste of Home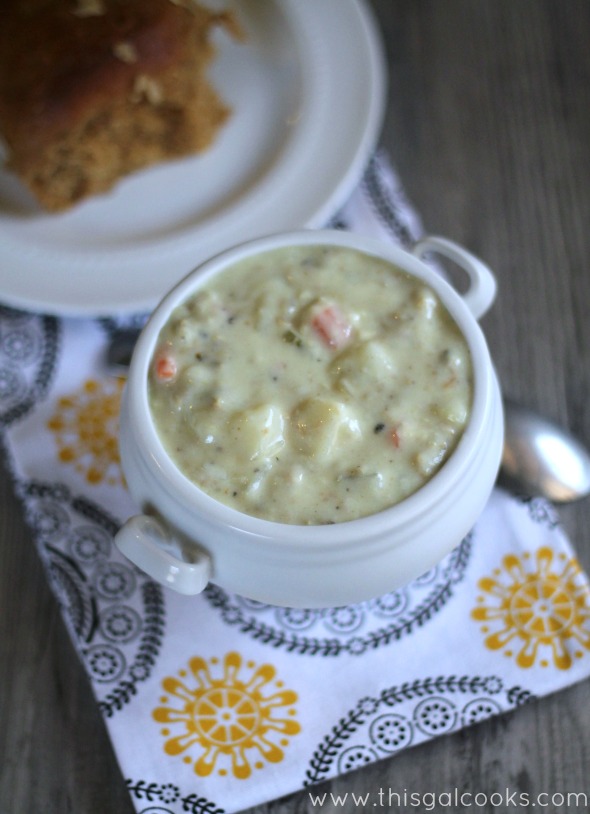 A couple other soup recipes for you to enjoy: