Hot BBQ Pork Ranch Wraps
Hot BBQ Pork Ranch Wraps. A great way to use up leftover pulled pork! Filled with pulled pork, BBQ sauce, cheddar cheese and ranch dressing.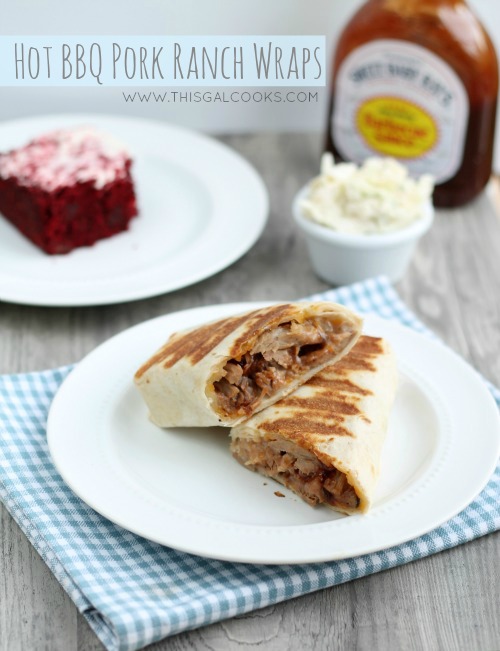 I'm a BBQ lovin' gal. If you follow any of my social media, than you probably figured that out this weekend. Photos of food, talks of my house smelling like bacon. Oh yea, did I mention that we had a BBQ on Sunday?
Publix had Boston Butt Roasts BOGO free last week which was perfect for our Sunday BBQ. I'm not a fan of freezing meats, especially roasts, so we put both of those beauties on the smoker (well, Ken put them on the smoker, I took care of the sides) at 6:00am Sunday morning and smoked them until about 6pm Sunday evening. Now that's some good BBQ! Since it's just the two of us at our house, we had a gigantic container of leftover pulled pork. And we still do. Leftovers can get kind of boring so I had to get creative with them.
Hot BBQ Pork Ranch Wraps
I present to you BBQ Pork Ranch Wraps. These delicious wraps are pretty simple to make. I used a grill pan to cook mine but if you don't have a grill pan, you can use a skillet pan. It will get the job done. You just won't get the fancy little grill lines that you see in the picture above. After you savor this recipe, check out some of the sides that would pair well with it and let me know what your favorite BBQ dishes are. I hope you enjoy this recipe!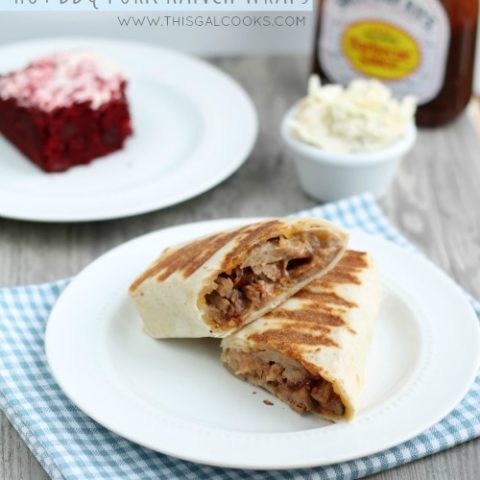 Recipe: Hot BBQ Pork Ranch Wraps
Yield: 2-4

Prep Time: 5 minutes

Cook Time: 4 minutes

Total Time: 9 minutes
Ingredients
10 inch tortilla wraps
Shredded cheese
Ranch dressing
Your favorite BBQ sauce (we used Sweet Baby Rays since we don't have any more of the local BBQ sauce)
Smoked pulled pork (or any other smoked meat that you have)
Instructions
Heat a grill skillet over medium heat. Spray with cooking spray.
Lay the tortilla flat on a plate or a clean counter top. Sprinkle the center with shredded cheese. Don't be scared; load that tortilla up! Add the BBQ pork and then drizzle with BBQ sauce and ranch dressing.
Wrap up the tortilla ensuring that none of the goodies fall out of it.
Place the wrap on the grill skillet and press down on it with something. I use the lid of a large pot since I don't have a panini press. Heat for about 1-2 minutes and then flip. Heat for an additional 1-2 minutes. You'll know it's done when the outer tortilla turns golden brown.
Slice in half and enjoy with your favorite sides.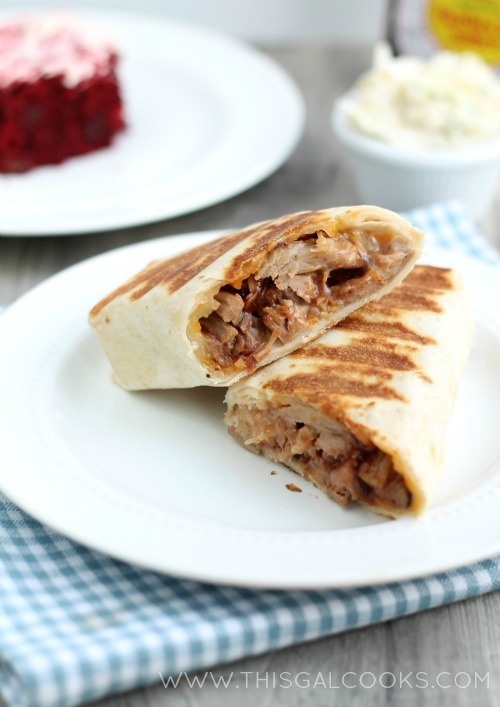 These sides would go great with this wrap!