Grilled Steak Fiesta Salad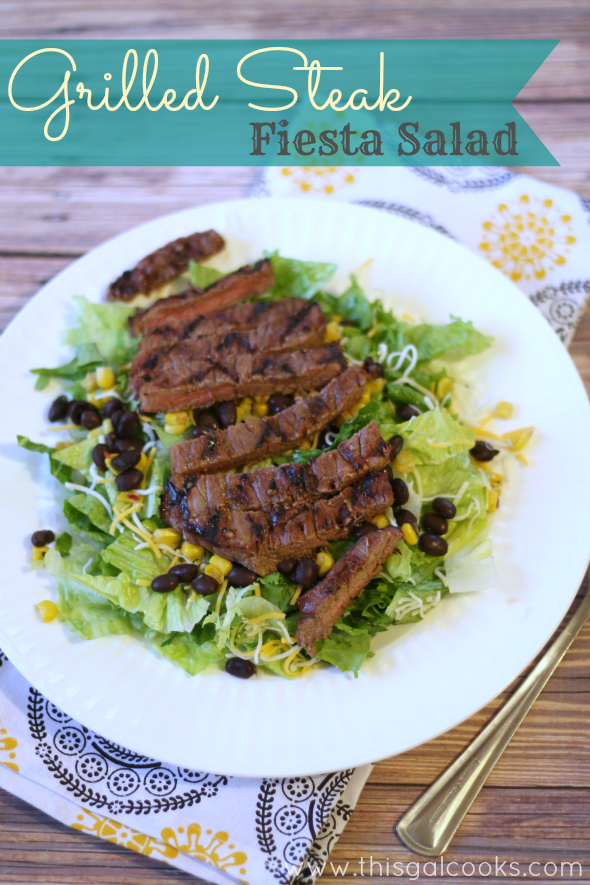 Grilled Steak Fiesta Salad
It's what's for dinner tonight. Tender, juicy steak is marinated in like my favorite marinade ever – chipotle lime marinade. Ohh yeah, you're gonna be begging for more of this healthy salad after you have a plate of it. Better get extra steaks!
I love a good salad. When I say good salad, I mean a salad that has delicious toppings and dressing, not a salad with meat, cheese and dressing. Well, I could go for meat, cheese and dressing if the meat was extraordinary in flavor, such as the meat used in the salad I am sharing with you today.
One of my favorite flavor combinations is chipotle lime. Marinade, dressing, you name it, I probably like it. I made a chipotle lime marinade for a couple of steaks that I picked up at the grocery store with the intention of creating a delicious salad. You can find the original marinade recipe here but I'll be sharing my version below. I hope you enjoy my refreshing, zesty salad recipe.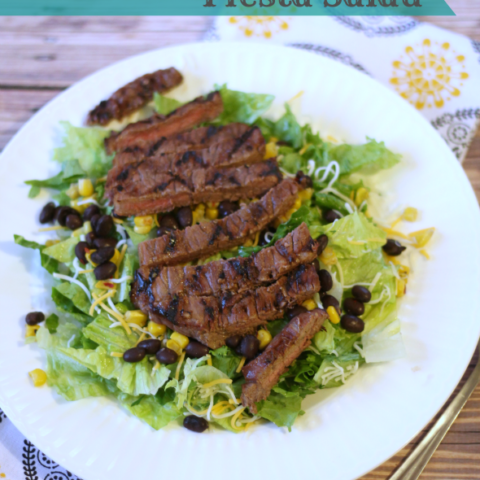 Recipe: Grilled Steak Fiesta Salad
Yield: 2 servings
Prep Time: 10 minutes
Cook Time: 1 hour 10 minutes
Total Time: 1 hour 20 minutes
Ingredients
2 steaks (total of about 1lb. I used top round but would recommend a different cut as they were quite chewy - but hey, they were on sale!)
1 tbsp honey
1 chipotle pepper in adobo sauce, seeded and chopped
1 tsp dijon mustard
Juice from 1 lime
2 cloves of garlic, minced
1/4 tsp cumin
1 tsp cilantro
1/4 tsp allspice
1/2 tsp ground pepper
Lettuce, chopped
Corn
Black Beans
Shredded Mexican Cheese
Crushed red pepper
Dressing of your choice (I used Chipotle Ranch Dressing)
Instructions
Whisk together the honey, chipotle in adobo, dijon mustard, lime juice, minced garlic, cumin, cilantro, allspice and pepper in a bowl.
Add the steaks to the bowl and generously coat with the marinade. Cover and let marinate for 30 minutes to 1 hour, tossing a few times during the marinate process.
Meanwhile, combine the corn and black beans. Season with desired amount of crushed red pepper.
Heat your grill to medium heat and grill until your desired doneness is reached.
Slice the steak across the grain.
Place lettuce in large serving bowls or plates and top with black bean/corn mixture, shredded cheese and sliced steak. Top with your desired dressing or enjoy plain.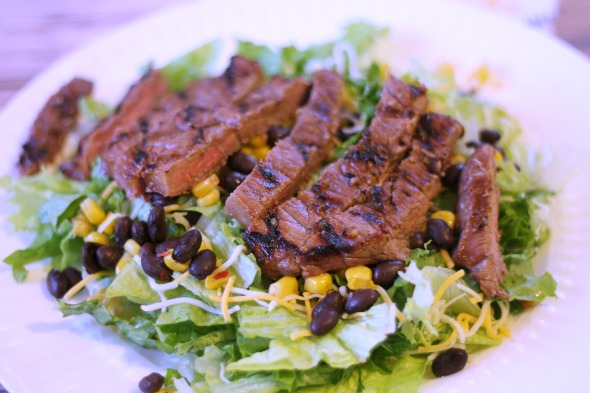 A few more salads that you may enjoy: