Mexican Style Crockpot Creamy Chicken Soup
This Mexican Style Crockpot Creamy Chicken Soup is a little spicy and a lot creamy! Cream cheese makes this soup thick and hearty and jalapenos give it the perfect amount of heat.
Last week I was on a soup kick; I made two delicious soups during the week. It was a chilly week in Florida so I took advantage of it. Did you make any soups last week? If so, what kind did you make?
While browsing through a few blogs last week, I found a clam chowder recipe over at The Kitchen is My Playground that used cream cheese in the soup. I thought this was a pretty awesome idea so I wanted to make a soup that incorporated cream cheese into the ingredients. If you've been following my blog for a while, then you know I love spicy foods. If you haven't been following long or if you're new here, let me introduce myself. Hi, I'm Julie and I'm a spiceaholic!  So of course, I decided to make a spicy soup. I hope you enjoy this recipe!
Mexican Style Crockpot Creamy Chicken Soup
Mexican Style Crockpot Creamy Chicken Soup
Author: This Gal Cooks
Recipe type: Soup
Serves: 6
Ingredients
2 boneless, skinless chicken breasts
2 jalapeno peppers, chopped
1 onion, chopped
2 stalks of celery, chopped
2 14.5 oz cans of chicken broth
1 can of diced tomatoes
1 C rice (I used Royal Blend Texamati, Brown and Wild rices)
1½ tbsp taco seasoning
1 C water
½ C milk
1 8oz container of chive cream cheese
Salt & Pepper, to taste
Instructions
Place the chicken, japapeno, onion, celery, chicken broth, diced tomato, rice and taco seasoning into a crock pot (I used a 6 qt slow cooker)
Cook on low for 8-9 hours.
Reduce the temperature to warm and stir in the cream cheese and milk.
Add salt and pepper to taste, if needed.
Nutrition Information
Serving size: 1 C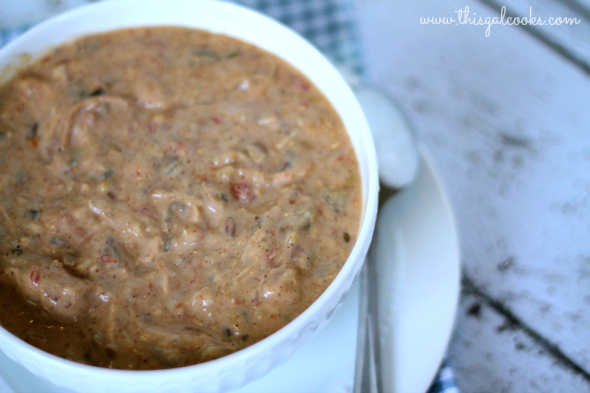 A couple more spicy soups that you might enjoy: