Copycat Wendy's Chili
I don't know about you but I love a good bowl of chili. And I thoroughly enjoying making a huge pot of chili on a cool, crisp day. I've made a few different types of chili in the past, including a Hearty No Bean Chili and a Taco Soup (it's very similar to chili.) I'm always up for trying new recipes so when I came across a Copycat Wendy's Chili recipe over at Love Bakes Good Cakes, I knew I had to give the recipe a try. Boy and I glad that I did. While the chili doesn't taste exactly like Wendy's chili, it does taste amazing. It actually reminds me of the chili that my mom used to make when I was a kid. Mom's chili always was one of my favorite chili recipes and probably the best that I ever had so I was happy to have something that tasted very similar to hers.
I made a few changes to the recipe that I found over at Love Bakes Good Cakes: I used light red kidney beans rather than dark red kidney beans, chili beans rather than pinto beans (ok, chili beans are pinto beans…dressed up in chili sauce) and I used 1/4 tsp of cayenne pepper rather than 1/8 tsp. I like my chili with a bit of a kick. I hope you enjoy this recipe!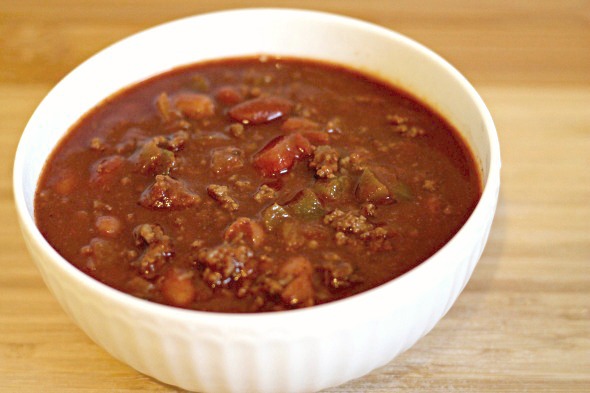 Recipe: Copycat Wendy's Chili
Author: This Gal Cooks
Recipe type: soup
Serves: 10
Ingredients
2 lb ground beef
1 onion, chopped
1 bell pepper, chopped
1 C chopped celery
1 46 oz bottle of tomato juice
1 29 oz can tomato sauce
¼ C chili powder
2 tsp ground cumin
1½ tsp garlic powder
1 tsp salt
½ tsp pepper
½ tsp oregano
½ tsp white sugar
¼ tsp cayenne pepper
1 14.5 oz can diced tomatoes
1 15 oz can light red kidney beans, drained and rinsed
Instructions
In a large pot over medium high heat, brown the ground beef along with the onion, bell pepper and celery. Drain after cooking and return to the pot.
Add the remaining ingredients to the pot, mix well and bring to a boil. Reduce heat and simmer for 2-3 hours.
Notes

Serving sizes are approximate

Nutrition Information

Serving size: 1C


Enjoy topped with cheese and sour cream or crackers. Or you can enjoy alone. For one of our leftover chili nights, I cooked some elbow macaroni and we had chili mac. You can't go wrong with chili mac.